Beginner's whole wheat cinnamon rolls
These Beginner's whole wheat cinnamon rolls are to die for. Have you ever made your own cinnamon rolls from scratch? I tell you, store bought have nothing on these. They are so much tastier and lets not forget how much healthier.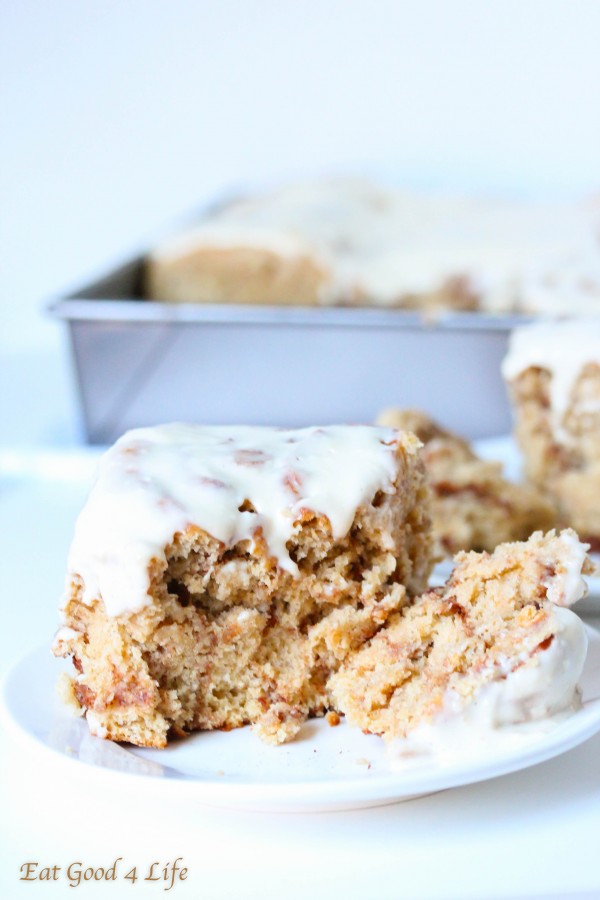 I woke up this morning wanting to have something sweet and indicative of the holidays. Cinnamon rolls came to mind. For these Beginner's whole wheat cinnamon rolls I used Fleischmann's® Yeast. If you are intimidated about using yeast, don't be. Cooking with yeast isn't as difficult and complicated as you may think.
I have added a few extra photos so that you can see a little more of the procedure but you can visit the Fleischmann's Yeast website breadworld.com as it is an amazing resource for tips and tricks to help you get started and to ensure that your baking turns out great.
One tip I learned, after the rising period, for testing the dough these two steps can help you decide if the dough is ready or not.
Press the tips of two fingers lightly and quickly about 1/2 inch into the dough.
If the impression you made stays, the dough is doubled.
My recipe is slightly different than the original. Of course I had to make the recipe healthier so I started by using whole wheat pastry flour instead of white flour. For the topping I used a mixture of low-fat cream cheese, coconut cream and maple syrup. The mixture wasn't that sweet at all so I was able to enjoy my beginner's whole wheat cinnamon rolls even more! I don't like over powering sweet treats.
I also used an egg white instead of the butter for the filling. I have used this mixture on past cinnamon roll recipes and it works perfect. It adds protein and less fat. Don't be afraid of of the egg white, I promise you won't even notice. It would like to make these gluten free as well. Will see if I can come up with the right mixture in the near future.
I haven't been baking with yeast lately but for Christmas I want to make some cheesy whole wheat rolls as well. I really like how Fleischmann's Yeast worked with these rolls so I know I will be using it for my Christmas rolls too. Stay tuned for that recipe because they are sure to be sensational.
I hope you get to make these cinnamon rolls. Don't be afraid of of using yeast. Using Fleischmann's Yeast will ensure that you end up with great results. Your rolls will be spongy, airy and delicious.
Enjoy!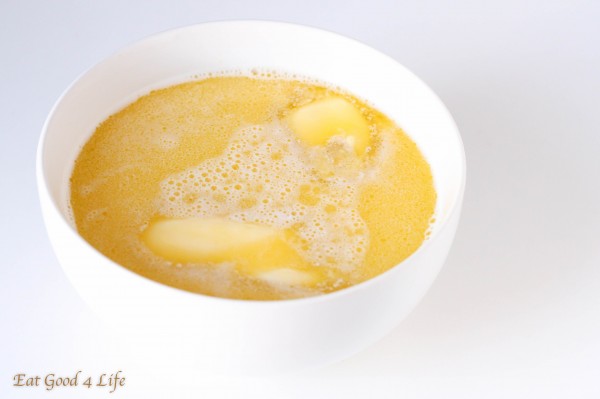 This is the water and butter after taking it out of the microwave. Just make sure is just hot to the touch but not boiling. You should be able to still see some butter that has not melted. Pour this mixture and the egg to the flour mixture in the mixing bowl and combine.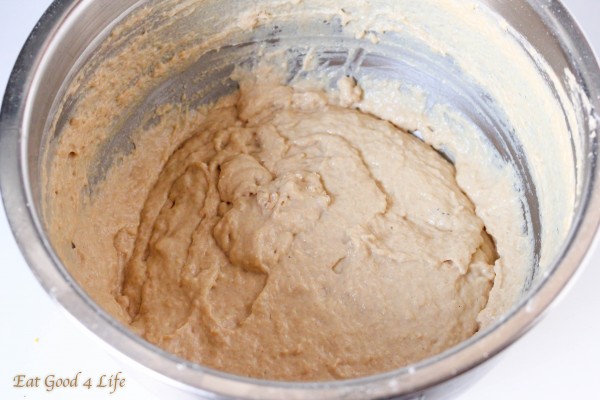 Here is how my dough looked like after adding the butter water mixture together with the egg and and extra cup of flour. At this point I added only 3 cups of whole wheat pastry flour in the bowl.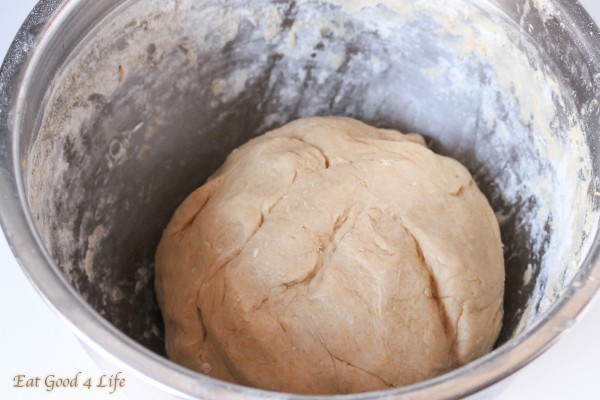 After adding and extra 1 3/4 cup to my already 3 cups of flour I obtained the desired dough ball. Just let it sit covered with a tea towel for about 10 minutes. My dough was a total of 4 3/4 cups whole wheat pastry flour.
Here you can see the cinnamon rolls before and after rising. It will take about an hour. Just cover the baking pan with a tea towel and let them rise. You can see how large my rolls are. I got 9 jumbo ones but 12 is ideal. They will be smaller and easier to handle!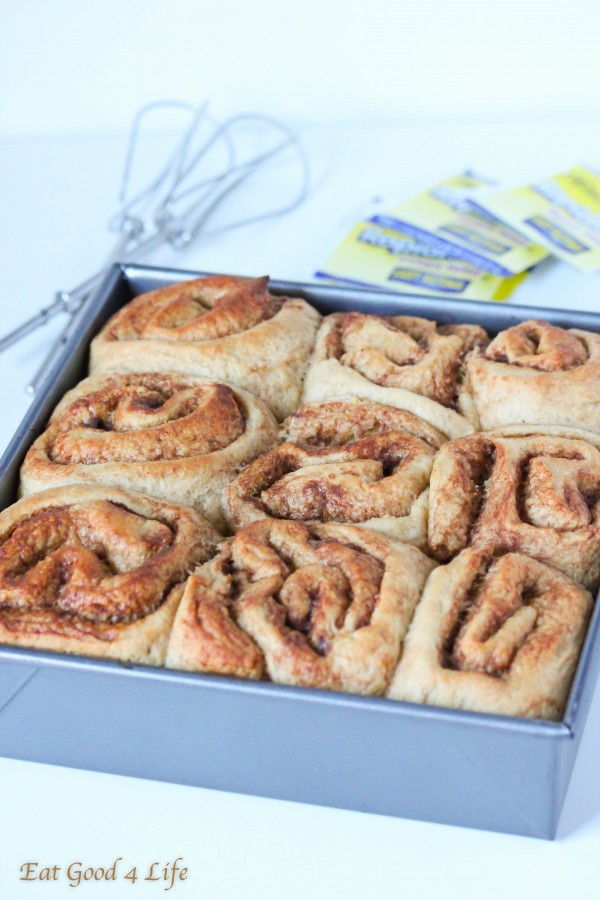 These picture shows the rolls right after being baked. It will take 25-30 minutes. Just let them cool down for a minimum of 20 minutes before placing the topping all over the rolls. Your house is going to smell wonderful. My kids were over the moon when I told them I was making cinnamon rolls and while they were baking they couldn't be patient enough due to the amazing cinnamon smell.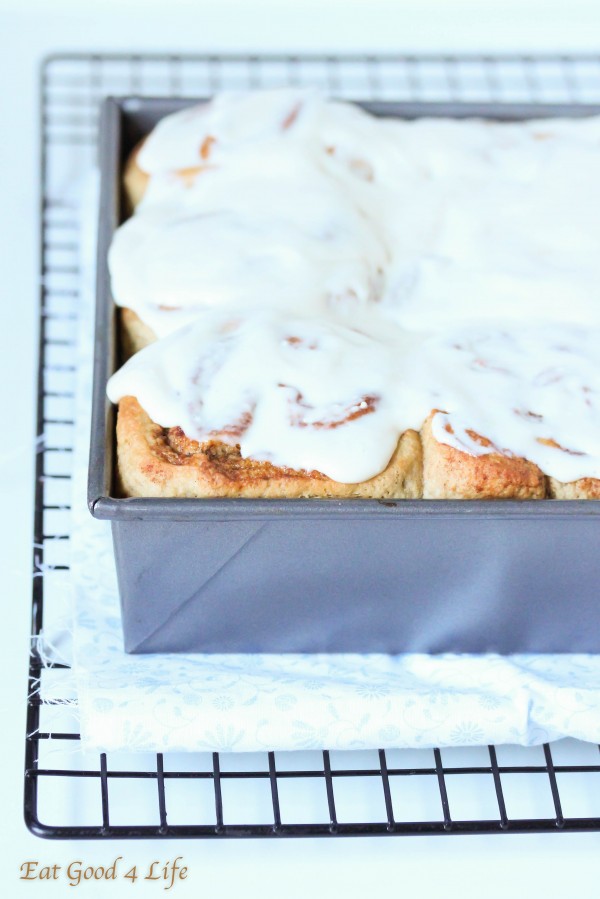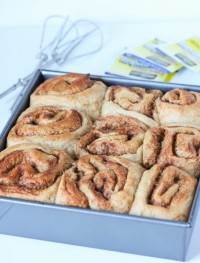 Beginner's whole wheat cinnamon rolls
Yield: 9 jumbo rolls or 12 medium rolls
Total Time: 2 hours
Ingredients:
1/3 cup sugar
2 tsp Spice Islands® Ground Saigon Cinnamon
1 egg white
Frosting
Directions:
Combine 2 cups flour, sugar, dry yeast and salt in a large mixing bowl and stir until combined. Place water and butter in a microwave-safe bowl and microwave in 15 second increments until warm but not hot to the touch.  Add to the flour mixture in the bowl followed by the egg.
Beat 2 minutes at medium speed with a hand mixer. Add 1 cup flour; beat 2 minutes at high speed. Stir in just enough remaining flour so that the dough will form into a ball. I added a total of 4 3/4 cups of whole wheat pastry flour.
Knead on a lightly floured surface until smooth and elastic and dough springs back when lightly pressed with 2 fingers, about 4 to 6 minutes. Cover with a towel and let it rest for 10 minutes.
For the filling, combine sugar, cinnamon and egg white in a small bowl.  Set aside.
Roll dough into a 15 x 10-inch rectangle using a rolling pin. Spread the filling mixture over dough stopping 1/2-inch from the edges. Roll up the dough and pinch seams to seal.  Cut into 12 equal small pieces or 9 large pieces like I did. If you get 12 pieces use a 9 x 13 baking pan otherwise you can use an 8x8 baking pan. Place, cut sides down, the cinnamon roll pieces in a greased baking pan. Cover with a towel and let it rise in a warm place until doubled in size, about 1 hour.
Bake in preheated 350ºF oven for 25 to 30 minutes or until rolls are golden brown. Cool on wire rack for 20 minutes. While the rolls cool down combine frosting ingredients in a large mixing bowl and beat with a hand held mixer until creamy.  Spread over rolls and serve.
NOTE: I don't have a stand mixer but just a hand held mixture. That was enough for the rolls to turn out perfect!
Recipe adapted from Breadworld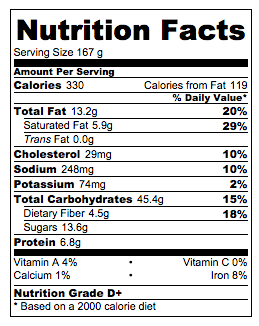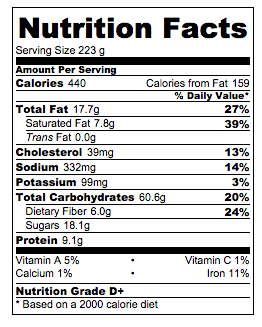 Left nutrition facts is for a 12 roll yield, the right one if for a 9 roll yield.
There's a sense of pride in sharing something you've baked from scratch. With
Fleischmann's Yeast, you won't be afraid to find your creativity in the kitchen or even get your apron a little dirty. Baking with yeast this holiday season can be as easy as pre-heating the oven. To find out more, visit foodnetwork.com/holidaybaking.
This is a sponsored conversation written by me on behalf of ACH. The opinions and text are all mine.