Barley, Spinach and Lentil Soup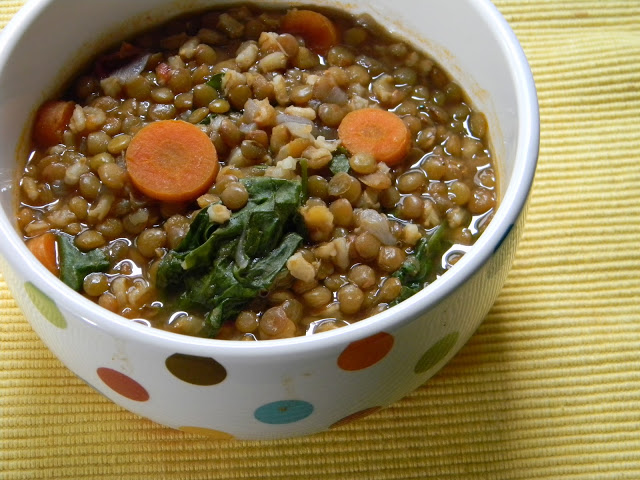 As I was saying on one of my previous posts, I think it is soup time. Soups are easy to make, nutritious and pretty economical, well or at least the ones that I make :-)
You may add or substitute with any vegetables that you would like. On this version I did add some barley that I have had for a while. You can omit this ingredient although it adds up quite nutritional value such as fiber.
Ingredient quantities can also be altered. This is not baking you all so what ever you like best you can add!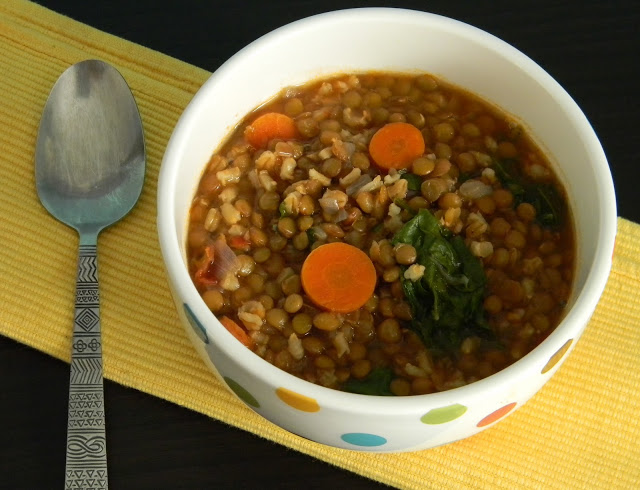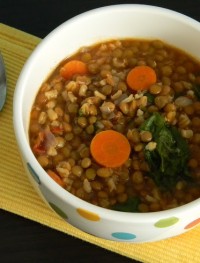 Barley, Spinach and Lentil Soup
Ingredients:
2-3 tablespoons of olive oil
1 1/2 cup chopped onion
1/2 cup chopped carrot
1/3 cup of barley
2 cup fresh spinach, you can also use frozen
4 garlic cloves
6 - 8 cups of water
1lb dried brown lentils
1 8oz can tomato sauce
Salt to taste
Directions:
Heat oil in a large pan over medium heat. Add onion, carrot and garlic.  Add water, lentils, tomato sauce, salt and barley. Bring to boil and reduce heat and simmer 30 minutes or until lentils are tender. Turn heat off and add spinach. If frozen add 5 minutes before turning off the heat.
TIP: You may add some dry spices before adding the water if you like such as dill, oregano, pepper flakes etc