Barley paella
Well happy new year to all my friends, followers and everyone reading this message. I am starting the new year with this barley paella that is sure to be liked by many. It is a different take to the conventional paella since I used barley.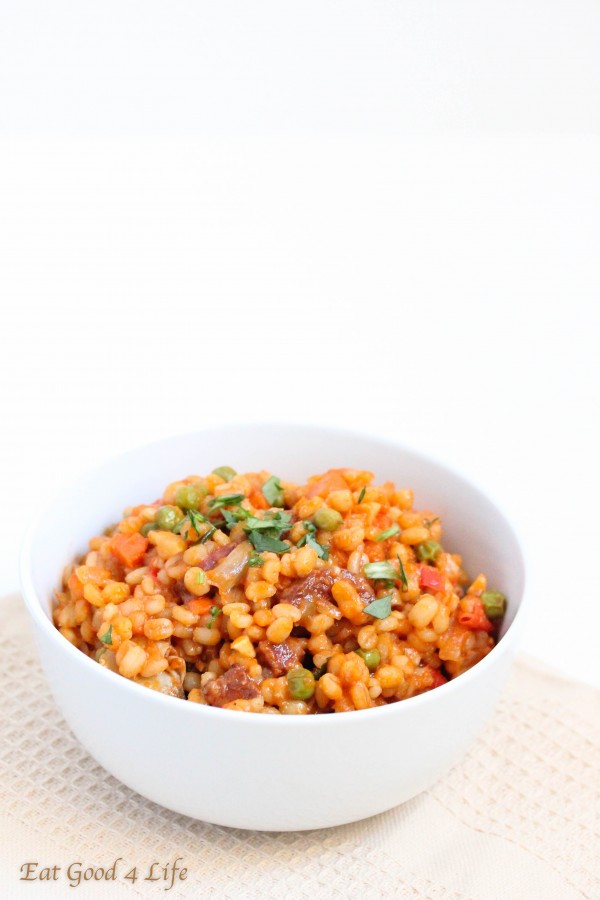 I am on a quest to start making conventional recipes this year with a healthier take. This barley paella is my starting point. While paella uses white rice, a rice very similar used in risotto, I decided to use barley which is a grain that contains more fiber, minerals and vitamins than plain old white rice.
I actually hardly ever use white rice. Even when making my own sushi I do use brown rice sushi which you can be found at Asian stores.
I actually want to make a seafood paella version perhaps even using a different grain. I have something in mind that I hope it turns out good so stay tuned for that one.
I actually made this dish for Christmas while visiting my brother in Vegas. His kitchen is not very equipped so I had to go out and buy a couple of pots and pans as well as some dishes. He hardly ever cooks at home so even when we spent $300 on groceries he made sure he let me know to finish every single item since he wouldn't be using none of it. Eating out in Las Vegas is pretty cheap and being a bachelor sometimes cooking is not a priority. Plus he works crazy hours so having a well stocked kitchen is not a must for him.
At home I actually have a real paella pan I brought from Spain. On my next paella recipes I will for sure use my paella pan. Presentation is also important for me so I will be sure to show you my pan. You can buy some here in the US as well so if you ever want to buy the real thing here is the link for it.
The barley is a great alternative to white rice so if you try this recipe you can do either one. Barley is a much healthier option so I hope you will try that.
Enjoy!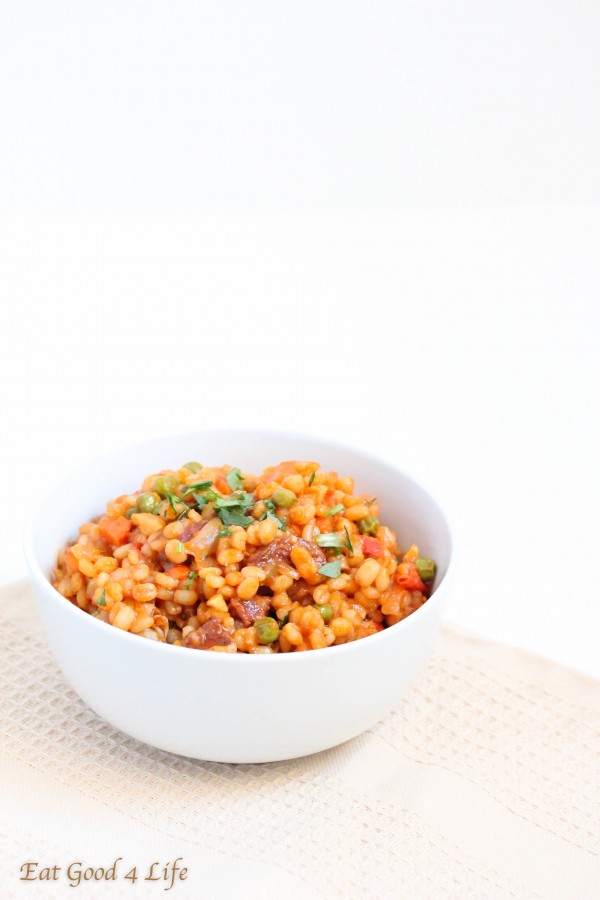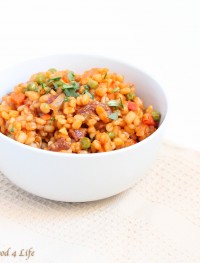 Barley paella
Yield: 6 servings
Total Time: 40 minutes
Ingredients:
1 large onion, chopped
6 garlic cloves, chopped
3 carrots, chopped into small cubes
6 oz dried chorizo, chopped
2 tbsp olive oil
3 cups barley
3 tbsp tomato paste
2 7 oz canned clams, drained
1 cup frozen peas
2 oz fresh parsley, chopped
1 tsp Himalayan salt
Lemon wedges, for serving, optional
Pepper flakes, optional
Directions:
In a 6 qt ducth oven, paella pan,  or any other pan you may have, over medium to high heat add the chopped chorizo and cook until fragrant and crispy, about 2-3 minutes. Remove from the pan and set aside.
Add the olive oil and add the onion, carrots, garlic and cook for 5-7 minutes until translucent. Add the barley, tomato paste, chorizo, peas, salt and stir. Add 5 cups of hot water. Bring to a simmer, cover and cook adding more liquid as it evaporates doing this until the barley is tender.
With the type of barley I used my cooking time was about 30 minutes until the barley become tender, however, using other varieties may take up to 50 minutes. When the barley is tender add the clams, parsley and pepper flakes if using. Stir and serve while still warm with lemon wedges.
NOTE: I do most of my shopping at Trader Joes. While you can find certain items I used for this recipe on Amazon they are extremely cheaper at the store.