Banoffee Pie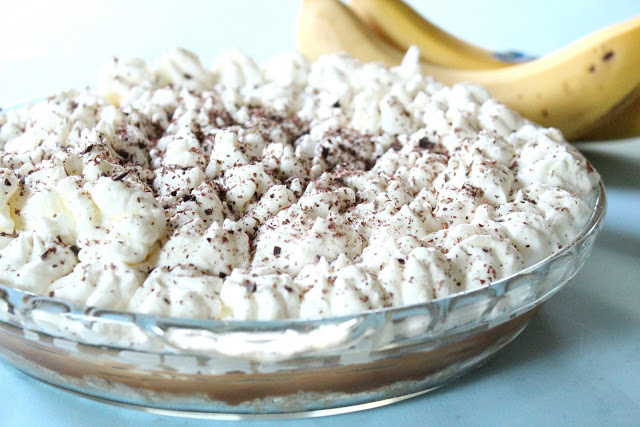 This pie, oh gosh…. it is nothing but healthy right? A small piece goes a long way, that is all I can say. I normally don't make such desserts but once in a while it's ok. I don't eat the entire thing at one sitting, although I could :-), I just pace my self and make sure my pieces are not too big……
This is a classic pie that I started making when I used to live in England, and up until today it remains one of my favorite pies. It is a very common pie among the British.
The only thing that I was able to alter was the cookie crust. I used only two tablespoons of butter, and the rest was soy milk, as well as oats and cookies mixed together.
My pie is a bit unconventional, as I don't bake the crust, but nevertheless still delicious. This is a no bake pie. Now, as far as the dulce de leche layer, I get mine in a can, like a condense milk can. I find it on the Spanish section at the supermarket, but then again you can make your own, which takes approximately 3 hours placing condense milk in a water bath. Click here for instructions if you would like to make your own.
Well in any event, I think I will post this delicious pie that is so comforting, sweet, and unique so enjoy!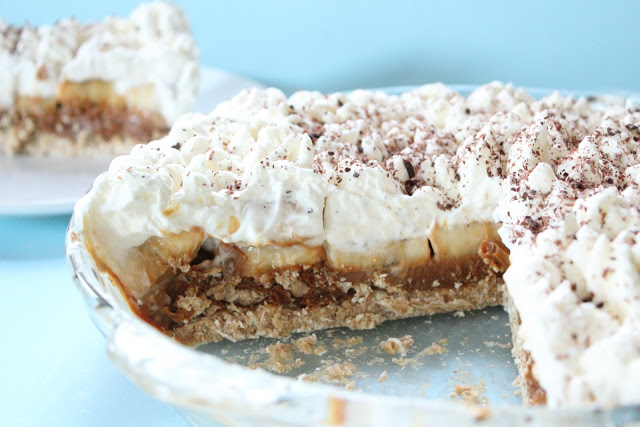 Can you see the layers here? The dulce the leche with the bananas is my favorite :-). I could eat the dulce the leche can just by itself.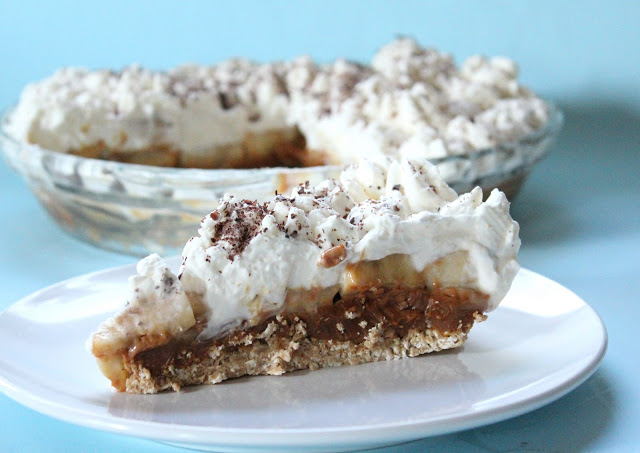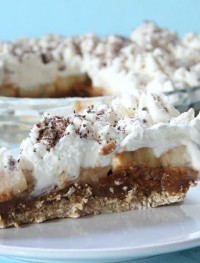 Banoffee Pie
Ingredients:
1 1/2 cups graham crackers, or cookies of your choice, I use plain cookies
1/2 cup oats
2 tablespoons butter, melted
4-6 tablespoons soy milk
1 13.5 oz can dulce de leche
3-4 bananas, sliced thick
1-2 cups cups heavy cream, I use the two
1/2 cup powdered sugar
1 oz square dark chocolate, grated
Directions:
Place cookies, and oats in a food processor and pulse until pulverized. Pour crumps into 9″ pie plate. Pour butter and soy milk over crumb mixture, stirring with fork to combine. Use hands to finish mixing, until crumb mixture is thoroughly combined. Press evenly into 9″ pie plate.
Place the dulce de leche over the cookie crust as evenly as possible followed by a layer of the bananas. Whipped heavy cream with sugar to form soft peaks and spread whipped cream over top of pie creating swirls and peaks. (I use a piping bag to make a cool effect with the cream)
Sprinkle grated chocolate over top of the pie and refrigerate until set. I refrigerate mine over night.