Baked Apple and caramel rustic donuts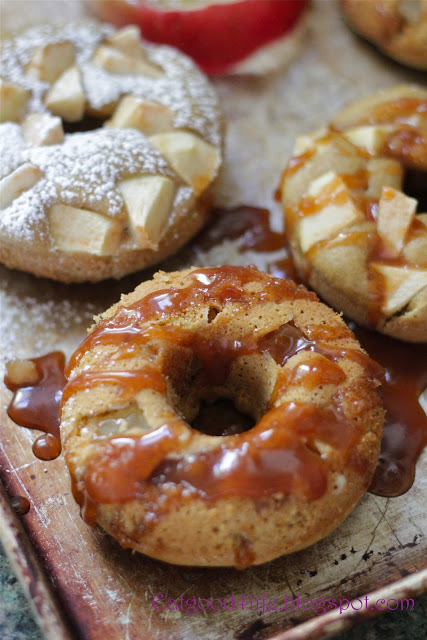 I think that is is safe to say that I have been using apples quite a bit lately. Still have more apple recipes to come though, so far I think some sort of pudding and cheesecake, which I have not made in a long time.
This donuts sure were good. A bit messy, and like always, really hard to get out of the donut pan. Even though I tend to grease and flour the baking pan really well, I always have trouble getting them out. Either way, even though they may not look perfect they are really really good.
The recipe for the batter came from my whole grain strawberry donuts recipe that I tweaked just a bit and my recipe for the caramel sauce that I used for the drizzle.
You can just sprinkle some confectioner sugar over the top of the donuts if you prefer, or just leave them as they are. However, these donuts are not sweet at all so if you plan to leave them plain you can use 1/3 cup of sugar instead.
Here are some other donut recipes I have whipped together in the past that I think you may like.
Whole grain strawberry donuts
Triple chocolate whole grain donuts
Triple chocolate donuts with home made sprinkles
Blueberry whole wheat donuts
Superb healthy donuts
Anyhow, I think my next post will probably have apples as well. Until then
Enjoy!!
Spend time buttering and flouring the donut pans really well. Even though I am pretty thorough with this step I always have trouble getting the donuts out :-( As you can see here I place some chopped apples at the bottom of each hole before adding the batter and for others I placed the apples over the batter. I don't know which I liked best.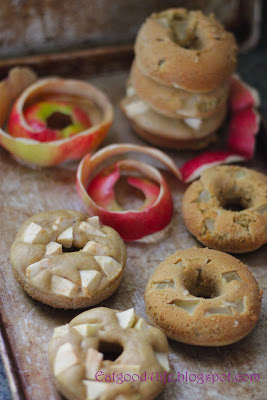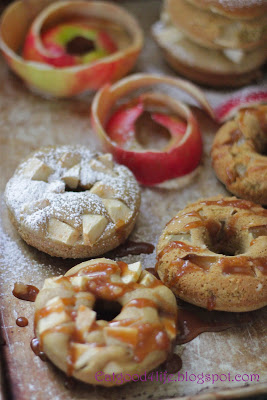 Here you can see the donuts before and after applying the topping. They were not perfect but super good. According to my husband, the best baked donuts I have made. Just don't go over board on the caramel. A little goes a long way.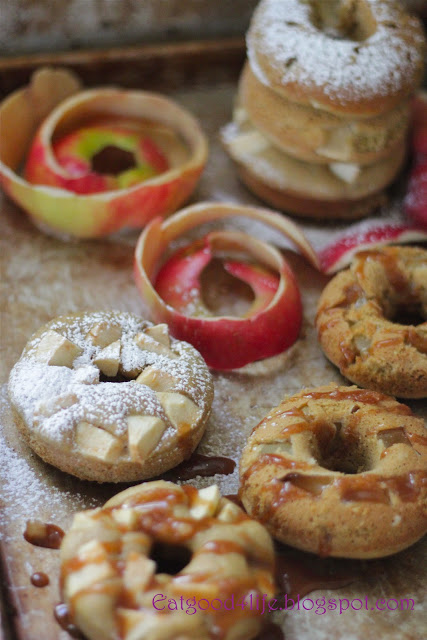 I think I might have gone a bit over board on the caramel :-) Oh well…it was good!!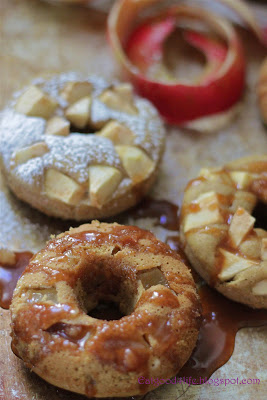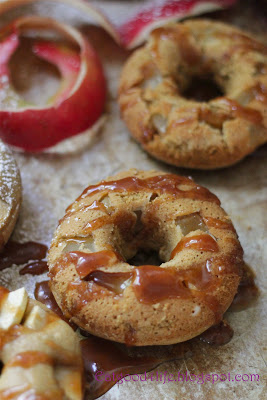 I used both confectioner's sugar and caramel for these donuts but you can use which ever you like or just leave the donuts as is. Also for some apples I placed the apples in the bottom before adding the batter and for others I place the apples on top of the batter. I don't know which ones I liked best.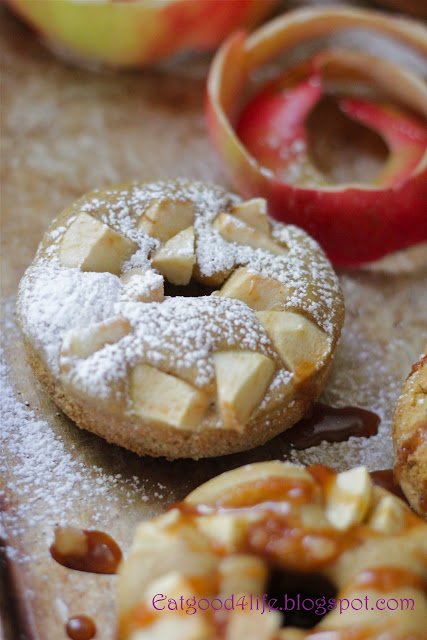 Baked Apple caramel donuts
Ingredients:
Directions:
Preheat oven to 325°F. Prepare pan by spraying donut pan with cooking oil and dusting with flour.
In a bowl, with a wire whisk, whisk eggs, milk, sugar, vanilla extract, and oil. Add flour, baking powder and baking soda. Whisk until combined. Divide apples and place them at the bottom of each donut hole. Fill each 3/4 full.
Bake for 17-20 minutes. Cool for about 20 minutes in the pan and then remove the donuts to a wire rack to cool completely.
Drizzled the caramel over the donuts and serve.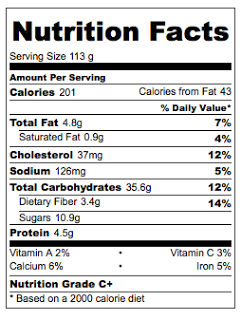 Nutrition facts calculated based on the recipe giving 9 donuts