Healthier baileys fudge
Remember I told you I wanted to make my original Baileys pistachio fudge recipe over? Well today I did. I still did put Baileys in it as well as chocolate chips but this healthier Baileys fudge is way better than the regular version.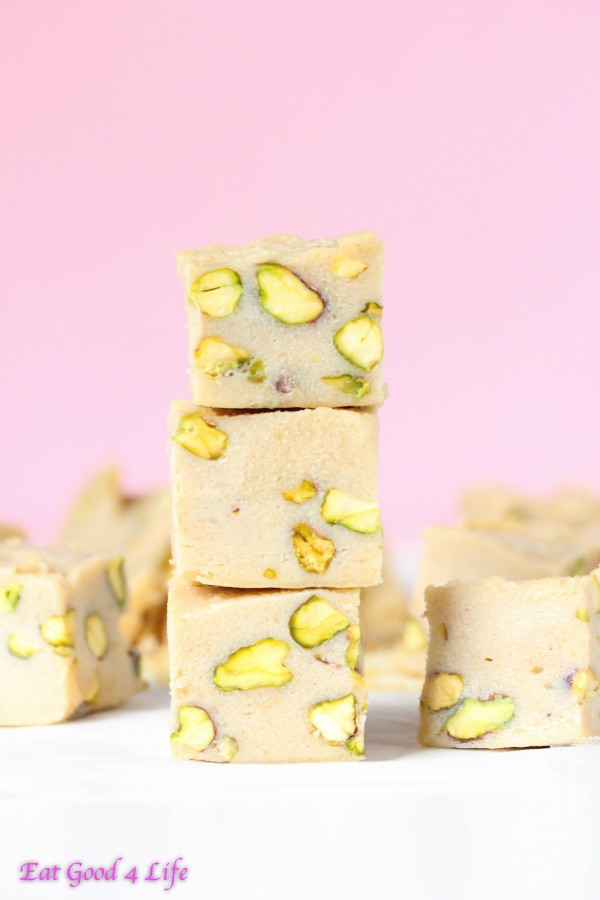 Granted each piece should be considered as a treat but this recipe has 1 cup of white chocolate chips instead of 3 bags. Don't get me wrong, the other recipe is good but the sweetness is a bit over-powering for me. I will take a piece here and there but I rather have something a bit less sweet and healthier for me!
This is my first fudge recipe of the year and I think it will be my last. I wanted to tackle another mint candy cane version but I think I won't have time. Between my last two finals next week and moving back into my house, well that is taking all the time, maybe next year!
In about 12 days me and my family will be going to Las Vegas, Nevada for the first time ever to spend Christmas with my brother. We are super excited to be out of NJ for a few days as well as be able to go and eat out to many of the amazing restaurants Vegas has to offer. I will let you know how it goes but we are really excited to say the least.
Well, I think this healthier Baileys fudge will be a much better alternative than regular versions out there. It is still sweet but nothing like a sugar bomb in your mouth. I tell you, I can't tolerate those type of sweets anymore.
I keep this  healthier Baileys fudge in the fridge. I have not in the counter just yet so I don't know if it will keep too long there otherwise I think the fridge will be a better option.
Enjoy!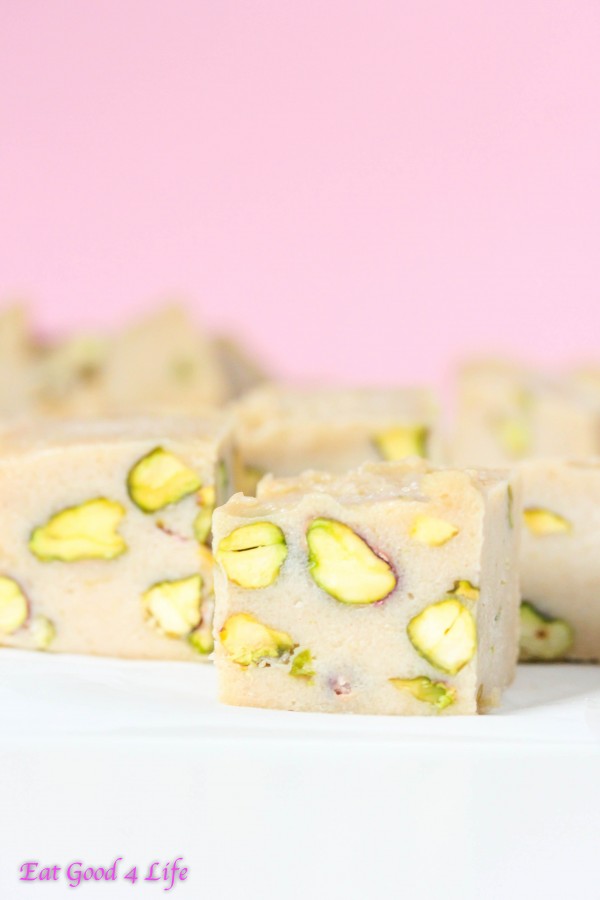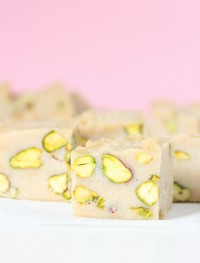 Healthier baileys fudge
Yield: 24 pieces
Total Time: 15 minutes
Ingredients:
2 cups raw cashews, soaked in water for 2 hours
1 cup white chocolate chips, melted
1/2 cup Baileys
1/2 cup raw pistachios
Directions:
Lined a loaf baking pan with unbleached parchment paper. Set aside.
Place the cashews in your food processor and pulse for 1-2 minutes until the cashews are completely pureed. Add the Baileys and pulse for 20 seconds until incorporated.
Place chocolate chips on a microwave heat proof dish and microwave in 20 second intervals until melted. I only needed 40 seconds for mine. Just move around the chocolate chips with a spatula after the 40 seconds has past. The heat from the plate will take care of melting them completely. If not microwave for another 10-20 seconds.
Add the melted chocolate to the food processor mixture and pulse for another 30 seconds.
Transfer the mixture to a mixing bowl and add the pistachios. Combine. Transfer the mixture to the prepared baking dish and spread evenly. Place the mixture in the freezer for 2-3 hours until it solidifies.  Cut fudge into small squares and serve.
Store fudge in a airtight glass container covered in the freezer.