Avocado, lime and cilantro rice
I have just made this Avocado and lime rice a couple of days ago. Not only this was tasty, delicious and easy to put together but it was gluten free and healthy.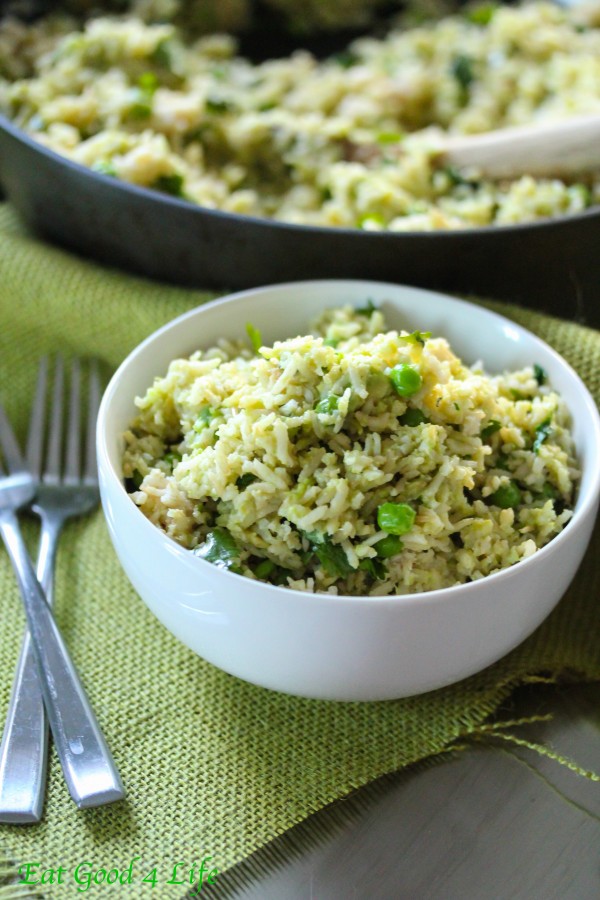 I thought this avocado lime and cilantro rice would be bland for some reason, boy was I wrong. The lime flavor was just awesome and the cilantro gave this avocado rice extra flavor. Originally this dish didn't have any peas but I thought it would complement the other ingredients rather well, besides adding more veggies to any dish is a win win situation.
Avocado is becoming one of my favorite ingredients to cook with. I love that it is super healthy. Avocados are extremely versatile so I really want to find other ways to use it in my cooking and baking.
I cooked my brown rice in a rice cooker. To tell you the truth, I couldn't live without my rice cooker. We eat tons of rice through out the week and this inexpensive rice cooker cooks the rice to perfection. I also use it to cook quinoa. My quinoa used to be mushy and over cooked when I prepared it on the stove, but not anymore with the rice cooker.
The avocado lime and cilantro rice recipe originally comes from my blogger friend at Honey What's Cooking. She has great recipes. This is not the only one I have tried from her blog. I know I will continue to try many more.
I actually served this rice with some grilled cheese sandwiches but you can serve this rice as is or with a protein side or a mixture of  veggies. There is no wrong way on serving this avocado rice.
On another note, the weather seems to be getting slightly better. I can't believe how cold it has been the past 2-3 days. I really can't take this extreme weather, especially coming from Spain. Hopefully we just have to endure it a few more years, since we are planning on moving some where else. We are not sure where to move yet butI will let you know, maybe the Caribbean…that sure will be nice.
Anyhow, I leave you with this amazing avocado and lime rice that is sure to satisfy anyone.
Enjoy!
Here you can see the pureed avocado with the cilantro, juice and salt. When the rice is done just add it with the peas and mix it through. You can add more lime if you like.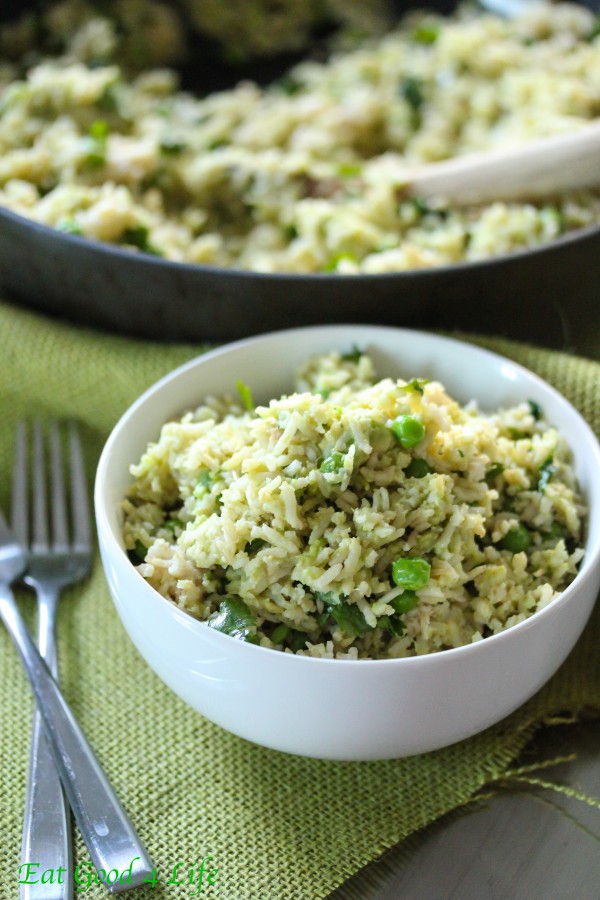 Avocado, lime and cilantro rice
Yield: 6 servings
Total Time: 25 minutes
Ingredients:
3 avocados, mashed
3 limes, juice
1 cup fresh chopped cilantro
2 1/2 cups organic brown rice
Zest of 1 lime
1 cup frozen peas
1 tsp celtic salt
1 jalapeño, chopped, optional
Directions:
In your rice cooker cook the brown rice. Alternately you can cook it in your stove top. Place the peas in your microwave and cook for 2-3 minutes until warm.
In a large saute pan, or large bowl, mashed the avocados. Add the chopped cilantro, lime juice, lime zest, peas, salt and jalapeño if using. Mix the ingredients until combined.
When the rice is cooked through add it to the avocado mixture and incorporate well. Serve warm or cold. I like it warm better.
Recipe slightly adapted from Honey What's Cooking