Asian Orange tofu
Have you ever had orange chicken or tofu before? I have tried orange chicken but not orange tofu. Most of my protein recipes are done using tofu instead of meat or chicken so my kids are used to eating tofu. This asian orange tofu was a hit. Not only it was extremely easy, healthy and quick to put together but delicious.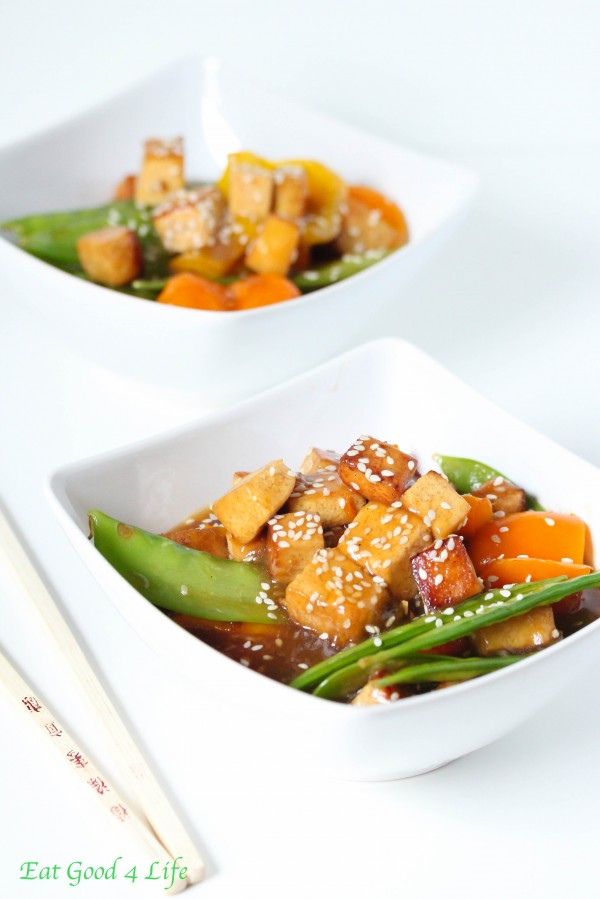 This is my first time making this type Asian orange tofu. I have seen orange chicken many times but because we hardly eat any poultry or meat I figured I could make it with tofu. This recipe worked really good, my kids gave it a thumbs up so I know that from now I will be making this recipe pretty often.
I must confess that I am quite lucky because I don't have picky eaters in my household. It makes cooking much more enjoyable since there aren't any food restrictions I need to consider.
To serve this Asian orange chicken I used brown rice but you can use quinoa if you like. I think that is what I am going to do next, however, rice works very good.
This is my first time using Mori-Nu tofu but I know it will not be my last. I love the fact that Mori-Nu tofu needs no refrigeration and has a long shelf life (without use of preservatives!) so it is especially convenient for storage without sacrificing nutrition, flavor, or function.
Mori-Nu Tofu is also made with non-GMO soy and verified Non-GMO by the Non-GMO Project, as well as certified Kosher, Halal, and gluten-free (soy is naturally gluten-free but our certification demonstrates that we are not at risk of contamination). A huge plus for me. If you are concerned with GMO's are want to have GMO free tofu this is the one to consider. It is readily available at most grocery stores so make sure you look.
I hope you get to make this Asian orange chicken. It is truly the bomb, easy, and delicious.
Enjoy!
Giveaway:
You can win the following from Mori-Nu by liking any of the following from the rafflecopter widget. There will be 25 prizes total and winners can enter by:
1. Like Mori-Nu Facebook fan page
2. Follow Mori-Nu on Twitter
3. Like Mori-Nu on Pinterest
Winners will be selected at random from October 10th – November 4th, 2014 and contacted by our team for prize fulfillment.
Prices:
Mori-Nu Tofu Prize Package ($130 ARV), $100 Visa gift card, Mori-Nu Tofu recipe book ($20), 6 packs of assorted Mori-Nu Tofu ($10)
a Rafflecopter giveaway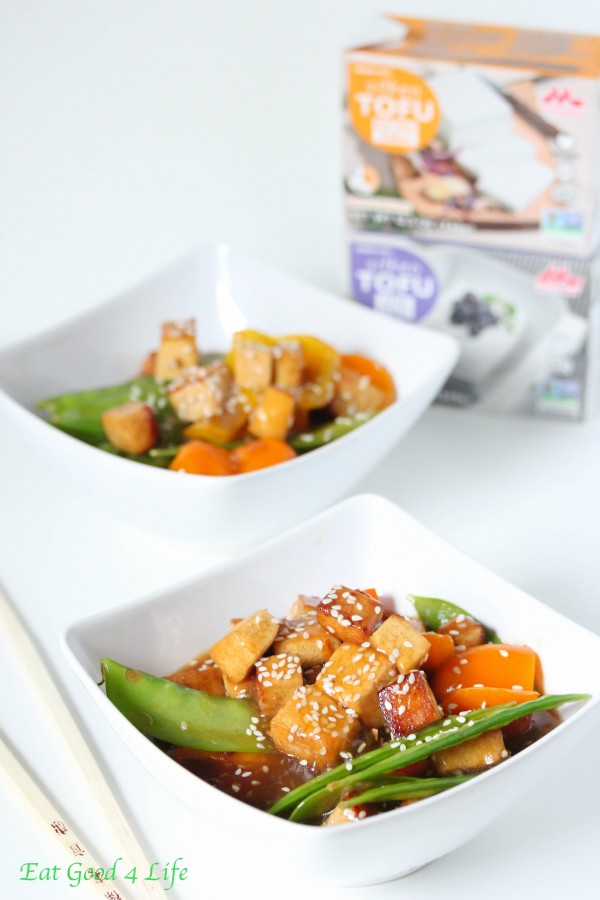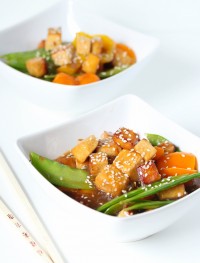 Asian Orange tofu
Yield: 4 servings
Total Time: 20 minutes
Ingredients:
1 lb extra firm tofu, cubed
9 oz snow peas
3 peppers, cut into chunks
3 tbs olive oil
1 tbs sesame seeds
2 tbsp ginger, chopped
Orange Sauce
1 cup vegetable stock
1/2 cup orange juice
1/4 cup soy sauce
3 tbsp rice wine vinegar
5 tsp arrowroot powder or corn starch
1 tbsp orange marmalade or jam
2 tbsp unrefined sugar
Directions:
In a small mixing bowl mix the sauce ingredients and set aside.
In a nonstick skillet, over medium to high heat, add the olive oil followed by the tofu. Stir occasionally until it has browned on most sides.
Add the peppers and ginger and stir fry with the tofu for an extra 3-5 minutes or until the pepper is cooked through stirring occasionally. Add the snow peas and cook for 1 minute. Add the sauce and cook until it thickens, 1-2 minutes.
Serve over brown rice. I always cook my rice and quinoa in my rice cooker. It always comes out perfect!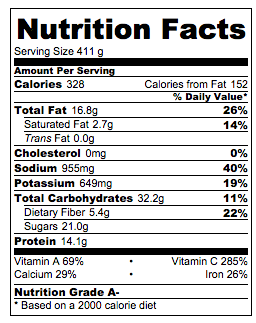 This is a sponsored conversation written by me on behalf of Mori-nu. The opinions and text are all mine.