Apple pie oatmeal
This Apple pie oatmeal is one of my kids favorite. I actually double the batch every time I make it so that we can have it for longer periods of time. Healthy, gluten free and vegan.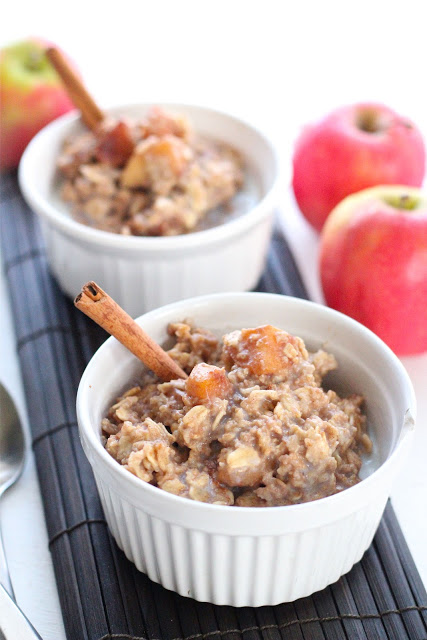 I have been making oatmeal for the past week and I can't get enough. I made the dark chocolate and peanut butter version a few days ago that was awesome. This one sure does not stay behind. According to my 6 year old son, he would not know which one to pick.
I guess I recommend you make both so that you can decide for yourself :-)
I find that the oatmeal mixture may turn a bit dry after it sits for a little while, just don't be afraid to add more milk if you like.
I store the left over in the fridge for the next mornings to comes. I just add a little extra bit of milk and microwave for 1 minute or so.
You can also served this apple pie oatmeal with any dried fruits or nuts. It will complement it really well. If you opt for adding some nuts it will add some extra healthy fats to your breakfast.
Enjoy!!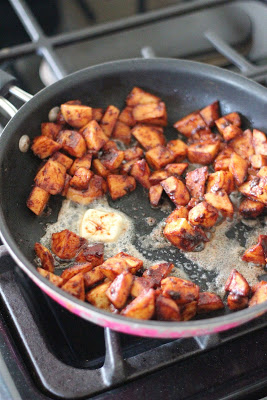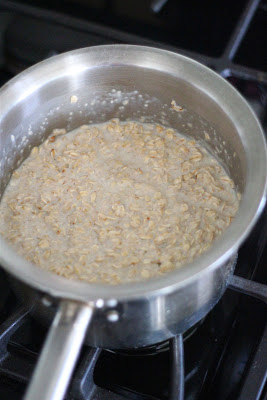 Here you can see the apples cooking away with the 2 tablespoons of butter and 1 tablespoon of unrefined sugar. On the right picture is the oatmeal, milk and 2 tablespoons of maple syrup cooking on a separate pot.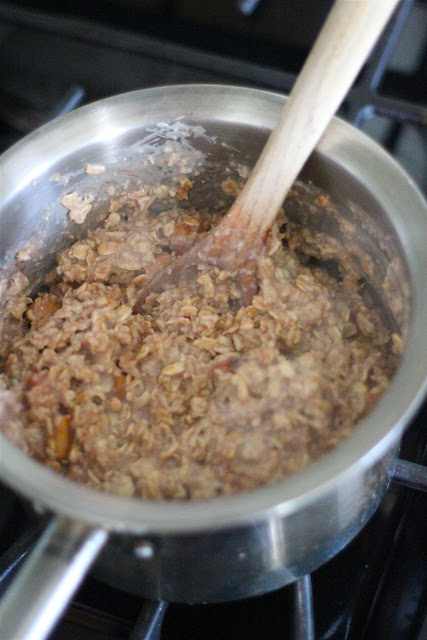 After the oatmeal and apples are separately cooked you can add the apples onto the oatmeal and mix through. You are done!!
This apple pie oatmeal is to die for. You can also add some dried fruits or nuts for some added nutrition.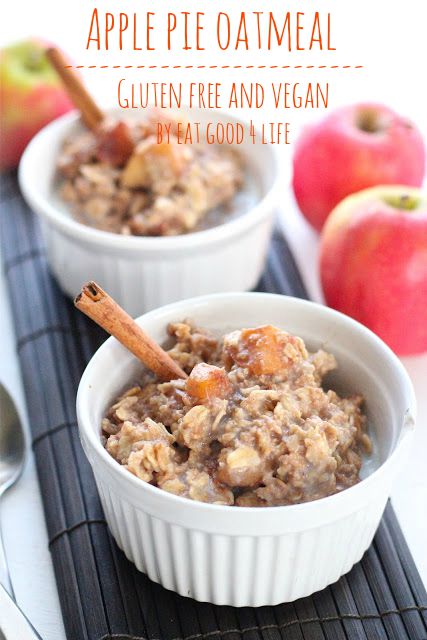 Apple pie oatmeal
Yield: 4-6 servings
Total Time: 10 minutes
Ingredients:
2 1/4 cups old fashioned rolled oats, gluten free
3 1/4 cups almond milk, any other milk will work too
3 tbsp maple syrup
2 tbsp butter, or coconut oil
2 teaspoons cinnamon, more if you like
3-4 medium apples, chopped
4 tbsp flax seed meal, optional, wheat germ or oat bran will also work well
Directions:
Place oatmeal, soy milk and 2 tablespoons of sugar in a heavy saucepan and cook over medium to high heat, stirring frequently until it boils. Reduce heat and simmer for 5-10 minutes, or until milk has been absorbed and the oats have softened.
On a skillet place apples, 1 tablespoon of maple syrup, cinnamon and butter. Cook over medium heat stirring frequently until apples have soften up a bit, it takes about 6-7 minutes.
Mix apples with oatmeal and serve. You can add some nuts or dry fruit which complements this oatmeal really well. You may need a bit more milk to serve as well.
I have not tried making this in a microwave but I am sure it will also work well as long as you stir in between.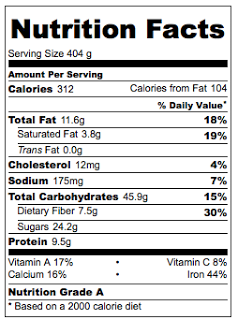 Nutrition facts are calculated based on 5 servings. This is high in manganese, iron and thiamin as well as fiber.