Apple granola
I love granola and this Apple granola is just fantastic. I love it.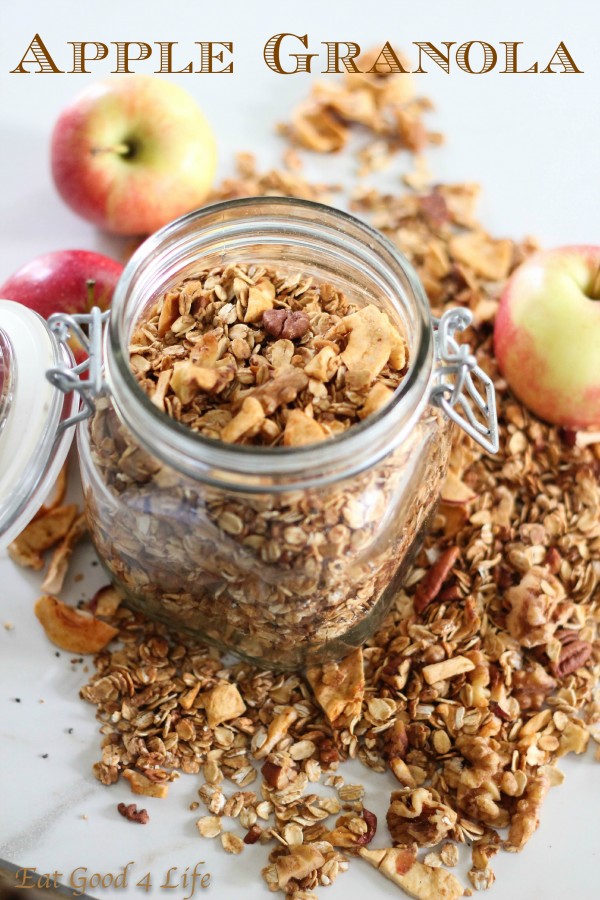 This apple granola is the bomb.
I have been making granola for quite some time now. While this was a really good flavor to try, with the apples and the nuts, I think I have not found any granola that tops my dark chocolate and peanut butter kind.
Each time I make granola I make tons of it. I mean, a 3-4 cup amount wont cut it, so I tend to make at least five pounds. I am not yoking, we love granola that much. You would be surprise at how much granola we can eat. We mix it with yogurt, ice cream, cereal etc
You should see my huge mixing bowl I have especially for when I make granola. It is a professional restaurant huge bowl that I have to store in the basement it is that big.
I also bought super gigantic glass storage containers, two of them to be exact. I love these containers. I also use them for the massive amount of cookies I bake sometimes and other goodies. The granola will keep In these air tight containers for weeks, so don't be afraid if you have it for a while.
For this specific Apple granola recipe I scaled it down because I am sure not everyone was to make as much granola as I do. I also make huge amounts to give to friends and family. I have earth friendly containers I purchased years ago that are perfect for packaging it.
This apple granola makes a great gift for the holidays. I think there is nothing better than homemade goodies.
In a few weeks I will give you some baking goodie ideas in case you want to bake for the holidays and surprise your loves ones but until then,
Enjoy!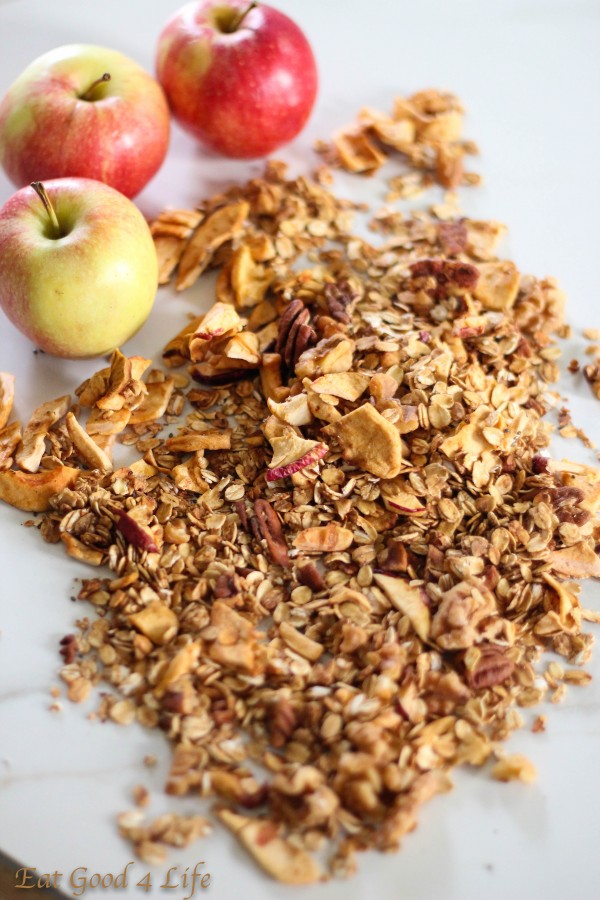 You can add other nuts of your choice if you like. I found the walnuts and pecans to be a good combination though. This granola will keep for weeks in an air tight container. I normally keep mine for up to 3-4 weeks.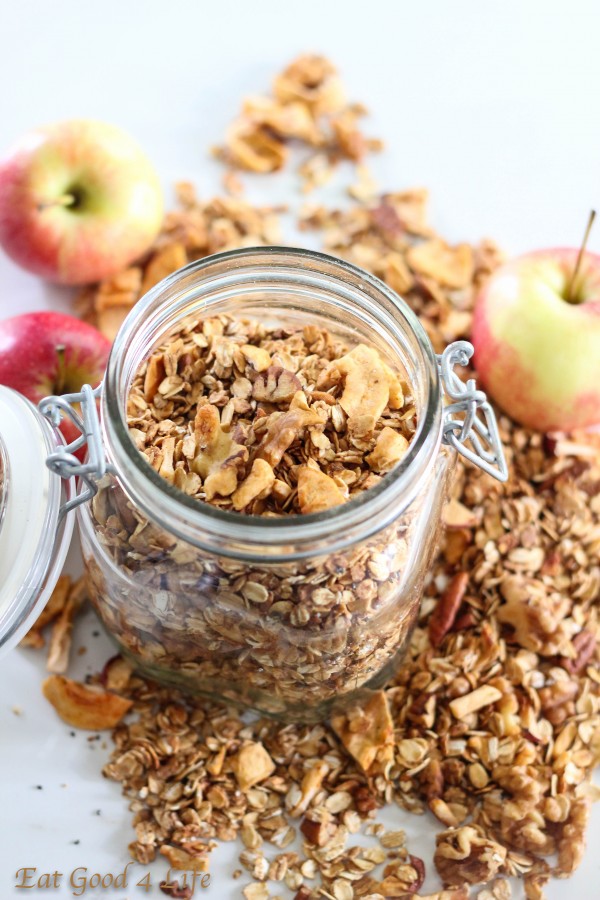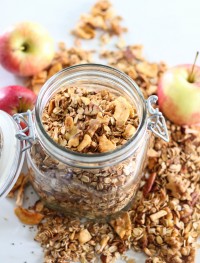 Apple granola
Yield: 8 cups- 24 servings- 1 serving = 1/3 cup
Total Time: 2 hours
Ingredients:
Directions:
In a medium saucepan, over high heat, cook the cider until it has been reduced to 1 cup. On the mean time, in a large bowl, mix the rest of the ingredients, except the apples and raisins if using and set aside.
Preheat the oven to 275F. When the apple cider has reduced to 1 cup, turn heat off and add the honey, oil and spices  to it and combine. I used a wire whisk for this step. Pour this mixture over the oats and toss until the oats are evenly coated.
Spread the mixture over two large cookie sheets and bake for 25 minutes. Transfer the granola to the large bowl you previously used and toss around. Divide over the cookie sheets again and bake for another 25 minutes or until the granola has browned a bit. Because I make such large amounts my granola takes about double the time. I normally have to repeat this step 4 times.
Cool the granola completely before transferring it to an air tight container.  At this stage you can add the apples and raisins if using. These are the glass containers I use. I have two of them and they are great.
The granola will keep for at least 3 weeks.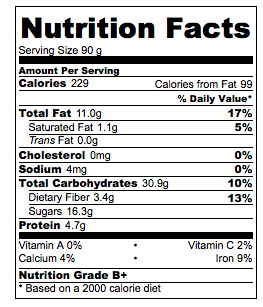 Nutrition facts calculated based on the recipe giving 20 servings. About 1/3 cup per serving, perhaps a little bit more.