Apple crisp – Gluten free and vegan
How yummy does this apple crisp look? Not only this is a healthier version of an apple crisp but it is also gluten free and vegan.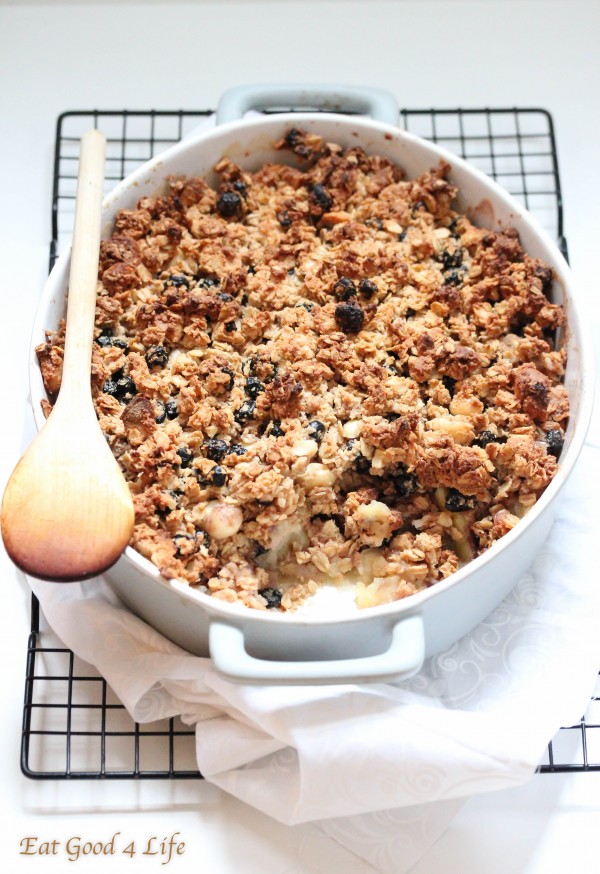 Wow I didn't realize I didn't post any recipes since Monday. Well, being in my crapy new apartment with tons of boxes all around and getting no work done in my newly flooded house is no fun. I think I am a bit taken back and on top of that school started… I think we might have to stay in this apartment longer than I anticipated and that is making go insane. I can't hardly get any decent lighting for my photography and the kitchen is super tiny to accommodate my cooking and baking…Oh well, I guess it could be worse so let me stop complaining!
On another note, this is one of my favorite desserts to make around the fall not only because it is super easy to put together but because my kids love to help make it. I have done one last week using fresh blueberries and that one was out of this world. Which ever type of fruit you decide to use I am sure you will love it.
This version is considered a crisp rather than a crumble because crisps contain oats. Either combination is great so which ever you decide I am sure it will still be great.
For the apple crisp recipe go on over to my friends at Nuts.com and make sure you check out many of the amazing healthy products they offer. There is where I get some of my healthy supplies!
Enjoy!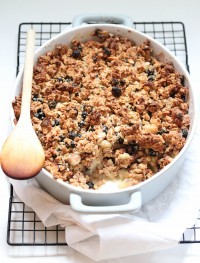 Apple crisp - Gluten free and vegan
Yield: 8 servings
Total Time: 45 minutes
Ingredients:
Directions:
Preheat your oven to 350F. In a 9'' x 13'' baking dish, add the cubed apples, lemon juice and arrowroot powder. Mix thoroughly and set aside.
In a large mixing bowl, mix the rest of the ingredients until you obtain a cohesive mixture. Spread this mixture evenly over the apples.
Bake for 40-50 minutes or until the top starts to brown. Turn the oven off and let the crisp cool in the oven for 30 minutes.
Serve warm or as desired. We like to serve ours with vanilla ice cream