Apple and Almond Crumble Cake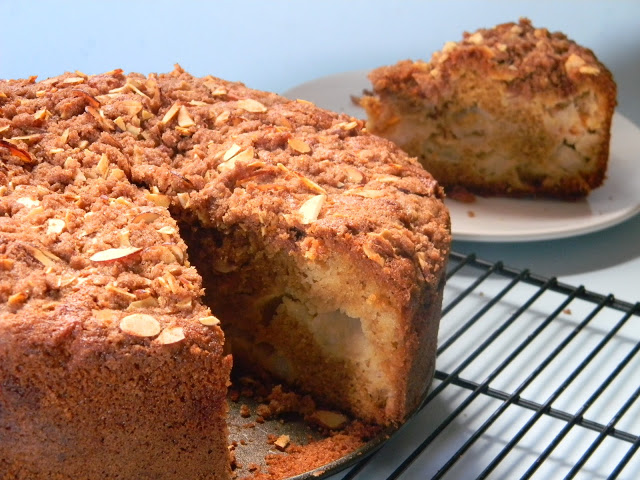 Yesterday I got the news that my blog made it at the Jamie Oliver cite as the blog of the month. Super static and happy about it I must say. You can check it out here.
I have been following Jamie for a long time now. Bought some of his books and made quite a few of his recipes, since they are simple, tasty and healthy. I love his personality, accent and humor in the kitchen, somehow in some level, I do identify with him and I must also add that he is doing a great job here in the US with his food revolution campaign. You go Jamie!!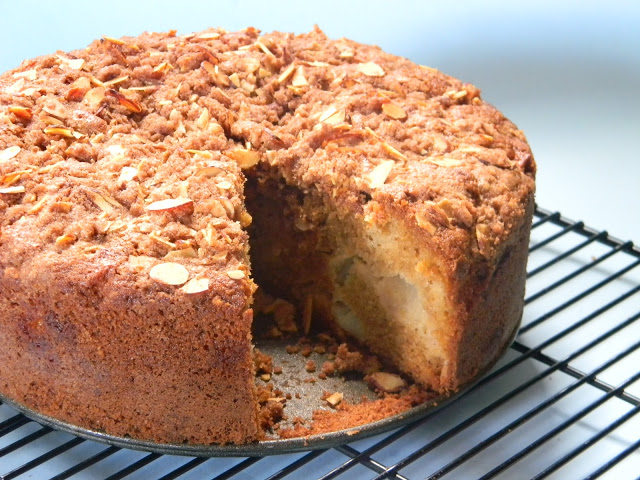 Anyhow, so apple almond crumble cake is what I came up with today. I have tried this recipe a couple of weeks ago but somehow failed. I hardly fail at making cakes but when I made this one two weeks ago I undercooked it, oh well.
For the crumble topping you may use other nuts on hand. Pecans and walnuts work well. Also, you may use pears instead of apples if you wish, that is what I used two weeks ago and would have been great. On any event, this is a very simple and tasty cake so I hope you try it soon. Enjoy!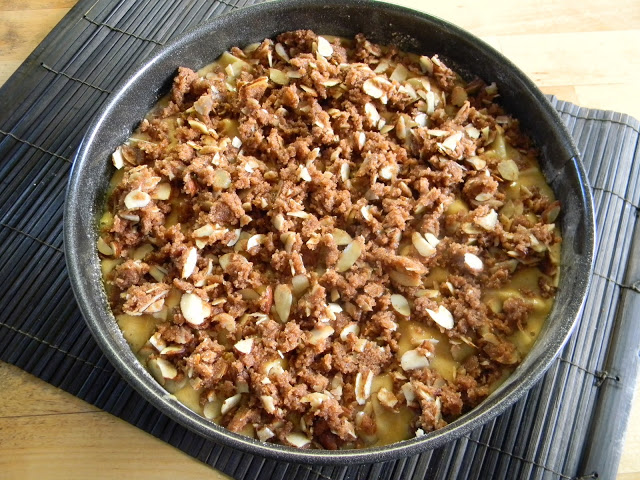 This is how it looks like right before placing the cake in the oven.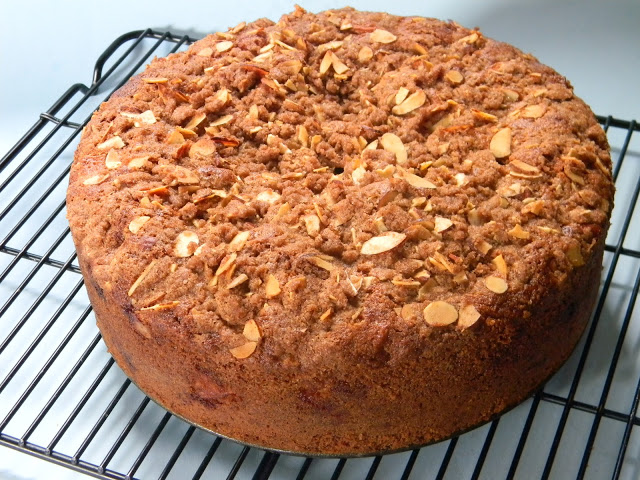 Final product, just perfect and divine at last!!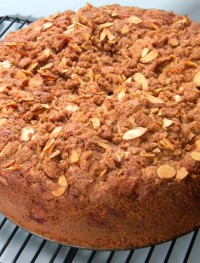 Apple and Almond Crumble Cake
Ingredients:
2 1/2 cup whole wheat pastry flour
1/2 cup reduced fat milk, I always use organic
3 eggs, I always use organic
1 cup unrefined sugar
1 tablespoon vanilla extract
3/4 cup olive oil, canola oil also is fine but olive oil has better quality fat content
3 teaspoons baking powder
1/2 teaspoon baking soda
3 cups apples, chopped, about 4 to 5 medium apples
Topping
5 tablespoons sugar
5 tablespoons raw sliced almonds
4 tablespoons butter, soften
1 tablespoon olive oil
4 tablespoons whole wheat pastry flour
1/2 teaspoon cinnamon
Directions:
Preheat oven to 350 degrees. Grease and flour a 9 inch springform pan. Set aside.
In a bowl whisk eggs, sugar, olive oil, vanilla extract and milk. Add flour, baking soda, baking powder and combine. Incorporate chopped apples. Pour batter into the pan.
Combine topping ingredients and sprinkle evenly over batter. Bake for 1 1/4 hour  to 1 1/2 hours or until tester comes out clean.
TIP: You may sift flour, baking soda and baking powder before adding to the wet ingredients. I just never do :-) You may also use some cinnamon in the batter mixture.