Almond butter Chocolate crunch bars
I have made these almond butter chocolate crunch bars while still on vacation in Spain. Since I always crave sweets, no matter where I am, I figured I make something easy and still healthy. To the rescue? These easy bars which were still vegan and gluten-free.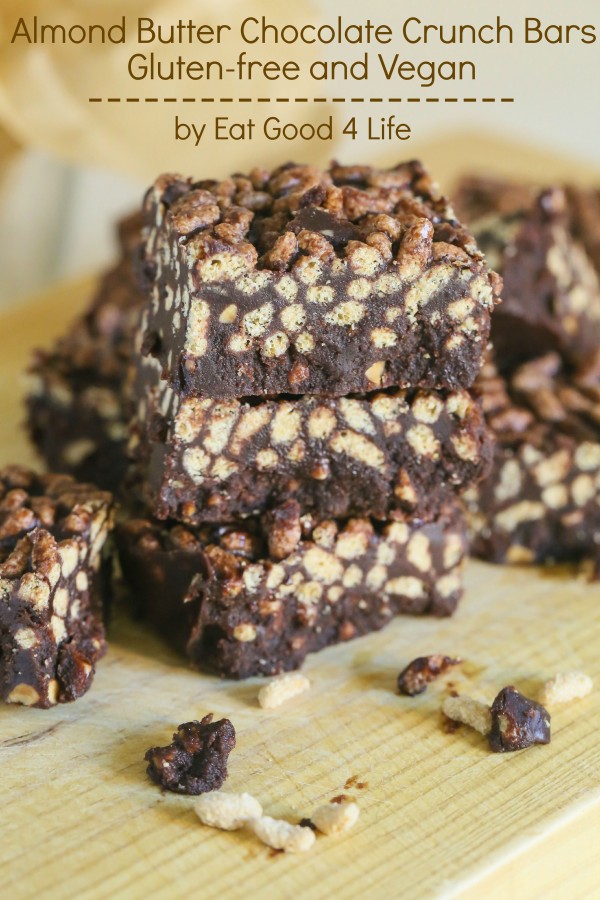 I am still in South Spain visiting family and friends. At the same time, since we are staying in this area for 6 weeks, we are visiting a lot of amazing spots that I want to share with you in several blog pots when I get back. Some of the towns we are visiting are out of this world. Surreal to say the least. You are not not going to believe your eyes, so stay tuned!
These almond butter chocolate crunch bars are super easy to make. I actually did a video for you so that you can see how easy they really are. While I used almond butter, you can still use any other butter you wish. For those with a nut allergy using sunflower butter will work perfectly.
These Almond butter Chocolate crunch bars are also gluten-free and vegan. A win win in my book, so for those with these dietary restrictions these bars are perfect.
As you can see by the pictures, my brown rice puff cereal was a little bit different than the ones you will find in the USA. These are chunkier and bigger but the principle is the same. I actually liked them a lot. Now, if you are in Spain, you will find them in any supermarket. I was up North Spain when I made these bars and I bought them at LUPA supermarket.
I think you can also add any other mix-ins you like. If you like to increase the protein content chocolate protein powder will work. If you like to add chia seeds or flaxseed meal you can also do that. These ingredients will make the almond butter chocolate crunch bars even more nutrient dense.
Anyhow, I hope you get to make these easy almond bars. I am going to try to make a few more easy recipes while here in Spain. Will see how it works because at the moment my kitchen equipment and space is very limited!
Sill from Spain,
Enjoy!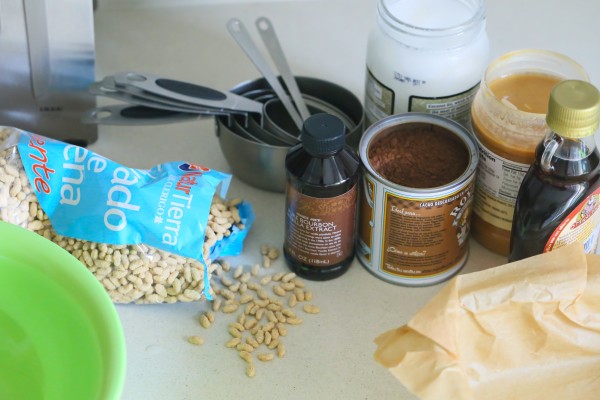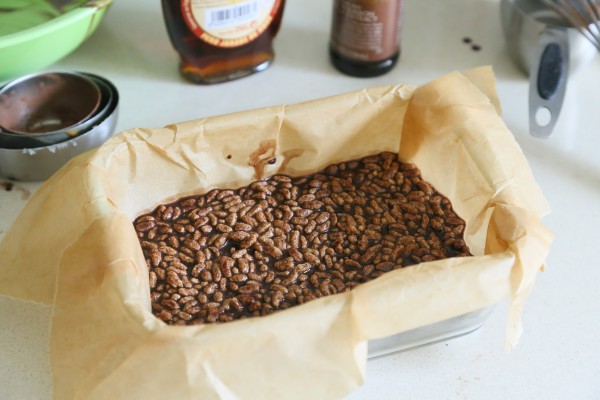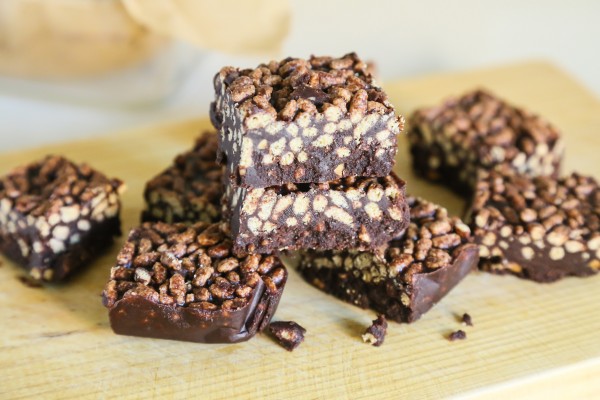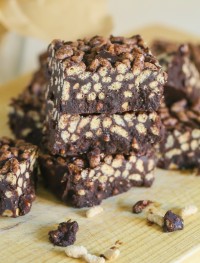 Almond butter Chocolate crunch bars
Yield: 12 bars
Total Time: 10 minutes
Ingredients:
Directions:
Line a square glass pan with unbleached parchment paper and set aside. In a small mixing bowl mix all the ingredients and stir. Pour the contents into the prepared baking dish and freeze until solid. 3-4 hours.
Place bars on a chopping board and cut into bars. Store in the fridge.
Note: You can use either almond, peanut or sunflower seed butter for this recipe.