Almond bark
How many times have you seen chocolate bark at stores for sale? I have tons but never cared to purchase given how easy it is to make. This almond bark is an example.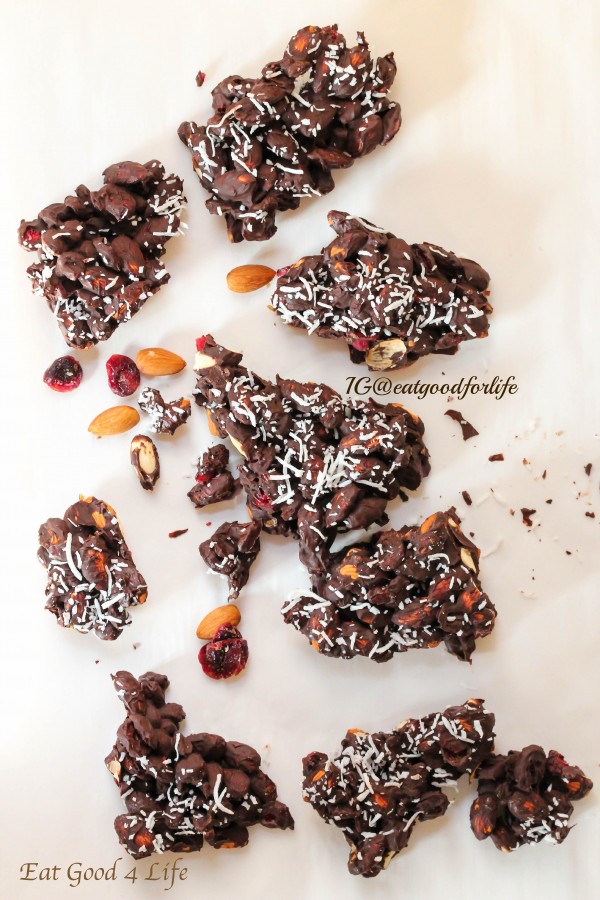 I don't know if you know that my house flooded on Thursday, well we actually found out on Thursday because it didn't just take one day for the house to get flooded but several days. This happened while we were on vacation so it kind of sucks. We don't even know where we are staying yet. I just hope I have a decent kitchen to continue making my recipes as well as my cooking book. I will keep you posted.
For this almond bark I used 60% dark chocolate chips but you can use any type of chocolate you like. Vegan chocolate would work great or even a higher content cacao to decrease the amount of sugar would also be perfect.
You can also use any nuts of your choice as well as dried fruit. The combinations are endless. For my version I just kept it simple and just used raw almonds, dried cranberries and dark chocolate. Then I just sprinkled a little bit of unsweetened shredded coconut over it and it was done in a flash. I placed it in the freezer to speed up the setting of the chocolate. You can also use your fridge and just leave it on your  counter top until the chocolate solidifies.
I also used my microwave to melt the chocolate chips but you  can use a double boiler. For me the microwave works best since it is faster.
I don't know how my recipe posting is going to be affected by what happened to our house. I am hopping to keep my recipes coming so I will try my best to keep consistent. Lets see what housing arrangement my insurance company allows because I really don't want to spend the next three months in a kitchenette especially given the fact that I have to work on my cooking book!!
Enjoy!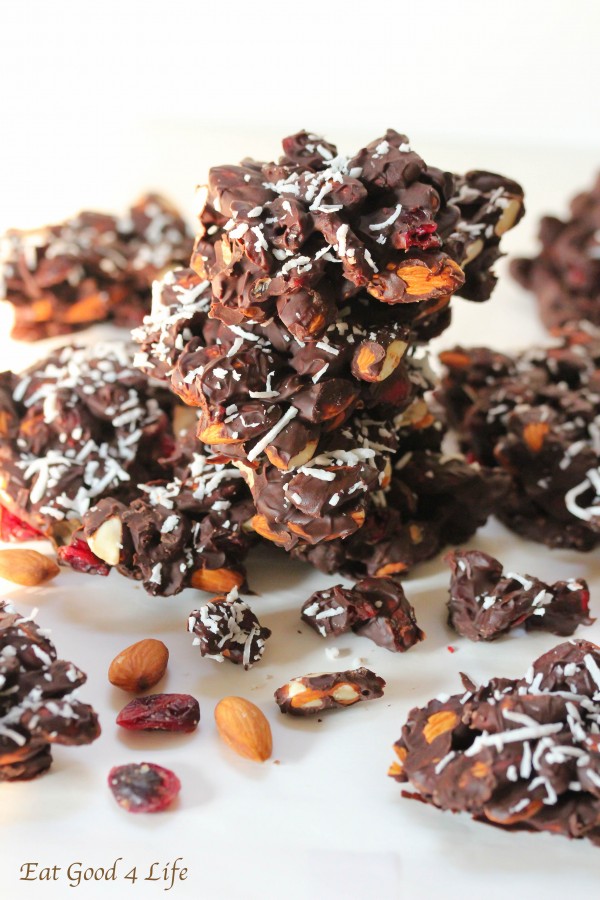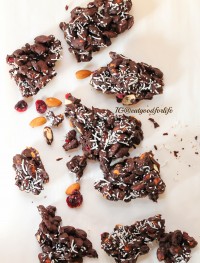 Almond bark
Yield: 20-30 pieces
Total Time: 15 minutes
Ingredients:
Directions:
Line a cookie sheet with foil paper and set aside.
On a double boiler, over medium to low heat,  melt the chocolate chips. Alternatively you can use your microwave and melt the chocolate over 45 second intervals and stirring in between.
Place the cranberries and almonds in a large mixing bowl. Pour the melted chocolate over it and with a spatula mix until all the cranberries and almonds are coated with the chocolate.
Pour mixture over the prepared baking sheet and spread it to an even layer. Sprinkle the shredded unsweetened coconut over the mixture. Place it in the refrigerator until set. I placed mine in the freezer to speed up the process.
Break the bark into chunks and store in an air tight container.