Almond and apricot cake
Lately have been running around like crazy without having much time to get in the kitchen and make some goodies. I think this week has been the craziest ever!!
You see, we are trying to buy a vacation condo in the TN Appalachian mountain area. The paperwork and loan procedures are just unreal…… super stressful to say the least. We are pretty much running around getting documents together. Not only this is not fun, but it takes for ever!!
Anyhow, onto the baking now :-)
This cake is just dreamy. I actually used a very little amount for the glaze so you will probably have to double it. Just a warning :-)
I also made a few alterations to the batter recipe and it did turn out wonderful. I think this is going to be a cake that we will be eating pretty often over the winter.
I have not been doing much baking over the summer because it is just too hot, however I really wanted to try this cake so I am glad I made it.
Let me know if you get to try this one, and until my next post….
Enjoy!!
Here you can see the cake before and after baking. It took me about 40 minutes on a 350F oven.
Making this cake in a 8 inch baking pan, like the original recipe calls for, may be better. You can do like I did though and bake it on a 9 inch instead :-)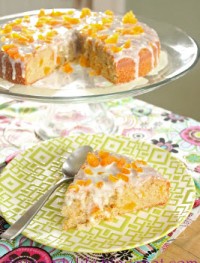 Almond and apricot cake
Ingredients:
1/2 cup olive oil
1/2 cup sugar, Next time I will use 1/4 cup because I thought it was sweet with 1/2 cup
4 eggs, at room temperature
1/2 teaspoon vanilla
1/2 teaspoon almond extract
1/4 cup soy milk
1 1/4 cups almond flour
1/2 cup whole wheat pastry flour
1/2 teaspoon baking powder
1/4 teaspoon baking soda
1 cup dried apricot soaked in hot water for 10 minutes, make sure you pad it dry before adding to the batter
For the glaze
1 cup powdered sugar, I used 1/2 cup with 1 1/2 tbsp of milk
1/2 teaspoon vanilla
2 to 4 tablespoons water
Chopped dry apricots, optional
Directions:
Preheat oven to 350F. Grease and flour a 9 inch round baking pan. You can use a 8 inch if you have one. I think it will look prettier, I just don't have it.
In a bowl, with a wire whisk, mix first 7 ingredients. Add the rest of the ingredients and incorporate well.
Pour batter onto the prepared baking pan and bake for 40-45 minutes or until a cake tester inserted in the middle comes out clean.
After about 20-30 minutes remove cake for the baking pan and cool completely before glazing.
For the glaze. Mix all of the ingredients, except apricots, and pour over cooled cake. Sprinkle the apricots over the top and serve.
Adapted from Evil shenanigans
Nutrition facts calculated based on the recipe giving 8 servings.