5 minute mixed berry and dark chocolate Greek frozen yogurt
There is nothing easier than this 5 minute mixed berry and dark chocolate Greek frozen yogurt. You are done in a flash. Healthy, delicious and gluten free.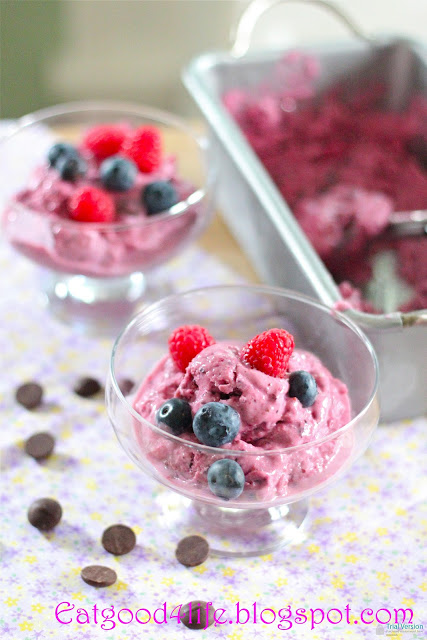 Hello there,
I am back and happy to be in my kitchen again!!
Remember I told you a few days ago on facebook that I had a few easy desserts to share with you upon my return? Well this is the first of them. I have a couple more coming up as well, so stay tuned for those because they are really, really good :-).
We were away for about three weeks total and for sure I needed to have some sort of dessert in my day to day menu. Like I said before, I have a very sweet tooth, and because I wasn't going to have my tools and equipment handy, plus it was a gazillion degrees out there, I needed to think of something that didn't required baking or any fancy equipment.
For this 5 minute mixed berry and dark chocolate Greek frozen yogurt there is no ice cream maker needed, just a food processor. You may be able to get away with it and also use a blender :-)
I was able to keep my sweet tooth satisfied with a few simple desserts, and this one was one of my favorites. You can omit the dark chocolate chips and add graham crackers instead if you like.
You can also use frozen raspberries, blueberries, bananas, mangoes, any frozen fruit of your choice really.
If you like frozen yogurt, this is a recipe you must add to your collection. This is easy, simple and super versatile and even better than the new Ben and Jerry's Greek yogurt versions out there.
Enjoy!!
This is that fast and simple :-) The right picture was right after pulsing it. We had some left over and placed it in the freezer until that same day, which we finished!!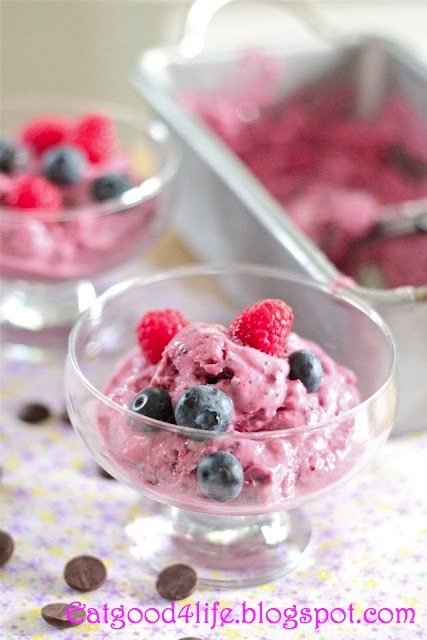 This sample was after freezing the mixture about a couple of hours or so. Either one was great.  Also, if you want a more thicker consistency, drain the yogurt over night in the fridge with a cheese cloth and discard the liquid.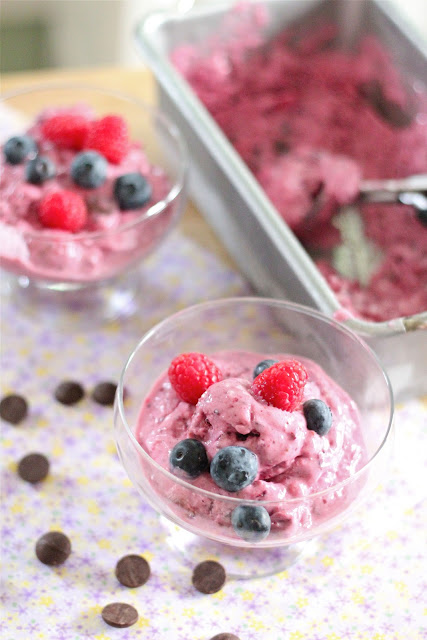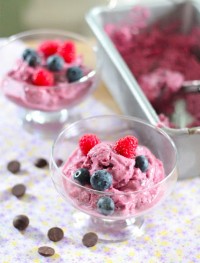 5 minute mixed berry and dark chocolate Greek frozen yogurt
Ingredients:
16 oz (1 lb) Greek yogurt
12 oz frozen mix organic berries
2 tbsp dark chocolate chips
4 tbsp honey, more or less if you like
1 tbsp Vodka, optional, use if you are planning on freezing
Directions:
Place dark chocolate chips in the food processor and pulse for 20 seconds or so until they are chopped somewhat. Add the remaining ingredients and blend for about 20-30 seconds extra.
Graham crackers or any other mix-ins of your choice may be used as well or in place of the dark chocolate chips. If you use graham crackers, just chopped them by hand and add them after you have blended the yogurt mixture in the food processor.
Keep left over in the freezer. If you think you may have some left over add 1 tablespoon of Vodka to the mix to make sure the yogurt doesn't freeze rock hard!!
Note: To get a creamier and thicker frozen yogurt you can strain the yogurt in the fridge over night using a cheese cloth.
Also, the more fat content the creamer the result, so if you like you can use full fat Greek yogurt. It may be more to your liking :-)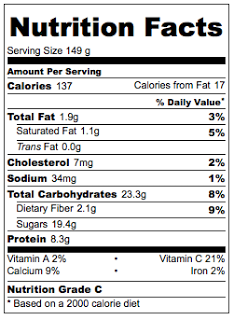 Nutrition facts calculated base on the recipe giving 6 servings. I used 4 tablespoons of honey for the calculations.