15 minutes soba noodle salad
I am really excited to post this amazing, easy, healthy and tasty recipe. If you are like me and like Asian food you are going to love this recipe. A lot of people think Asian food is intimidating and complicated to prepare but that couldn't be further from the truth. Prime example, this amazing 15 minutes soba noodle salad.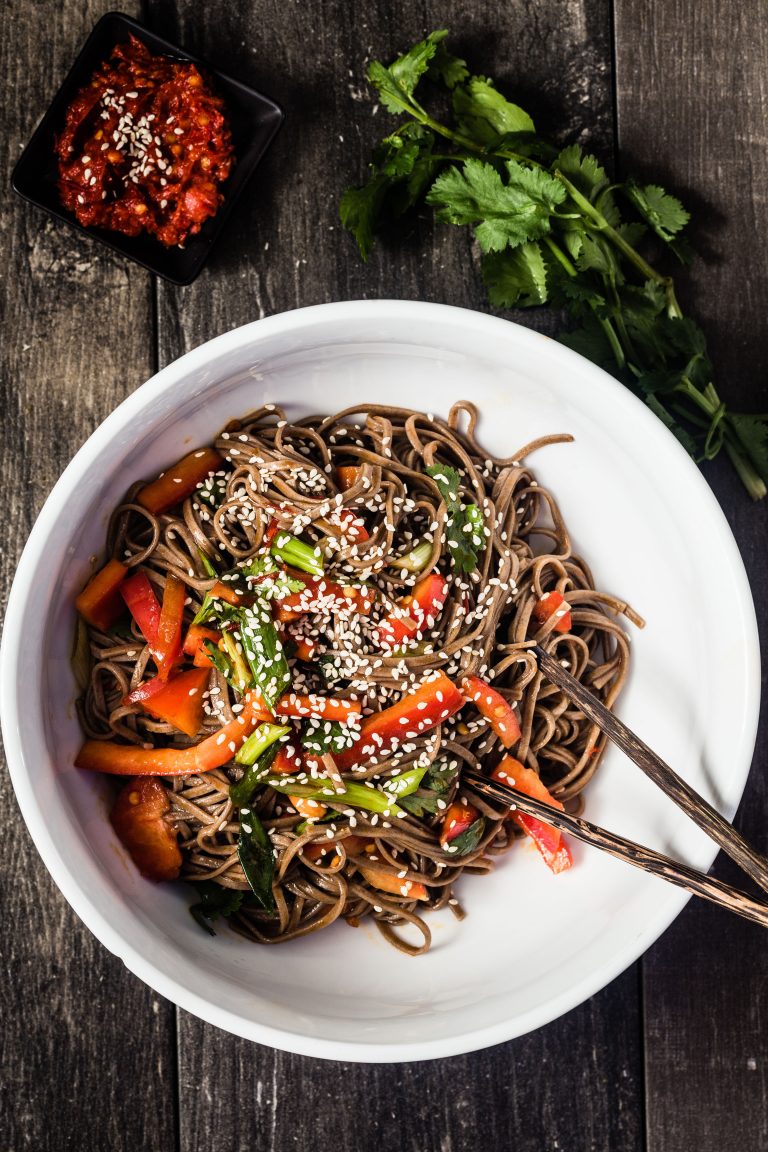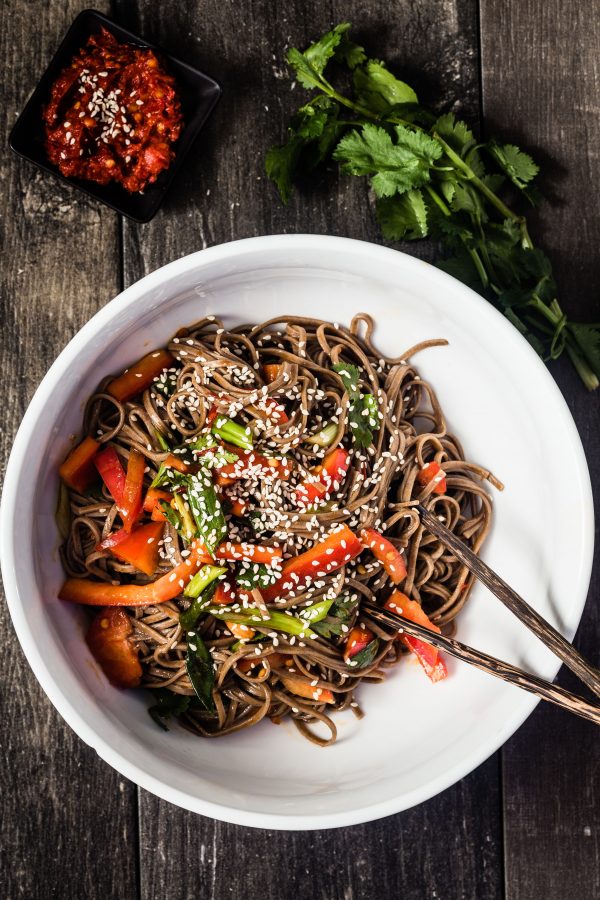 The only thing about making Asian food, whether it is Thai, Japanese, Chinese, etc…the important thing is to obtain the main ingredients which are the sauces and spices. Once your kitchen is equipped with them the sky's the limit.
I always keep my pantry well stocked with Asian ingredients. Since I cook a lot of Asian inspired recipes it is a must for me. Lucky enough, I have an Asian market nearby so I have access to most of the ingredients there.
I called this recipe 15 minutes soba noodle salad because it literally takes about 15 minutes to make if not less. While the soba noodles are boiling in water I pretty much prep the red pepper, green onions and cilantro. Enough time for all that chopping since the soba noodles only need about 5-8 minutes max.
On another note, I am almost done with Physician Assistant school…I can not see the day I am done studying to the intensity I am currently studying. I can't wait to be able to relax a bit and spend some more time with my kids at home.
Anyways, my daughter has requested this salad two times on a row. This 15 minutes soba noodle salad it is truly refreshing, easy and incredibly tasty. The sesame oil really gives this salad a great flavor so make sure you don't omit it.
Enjoy!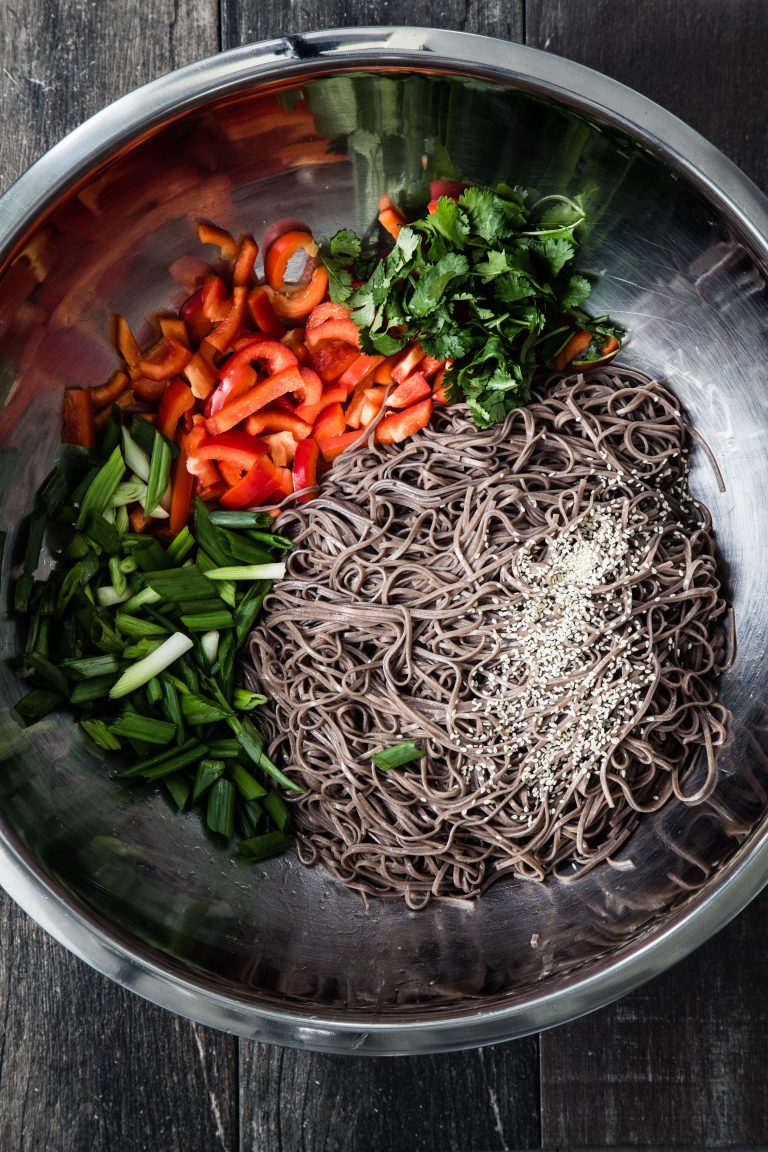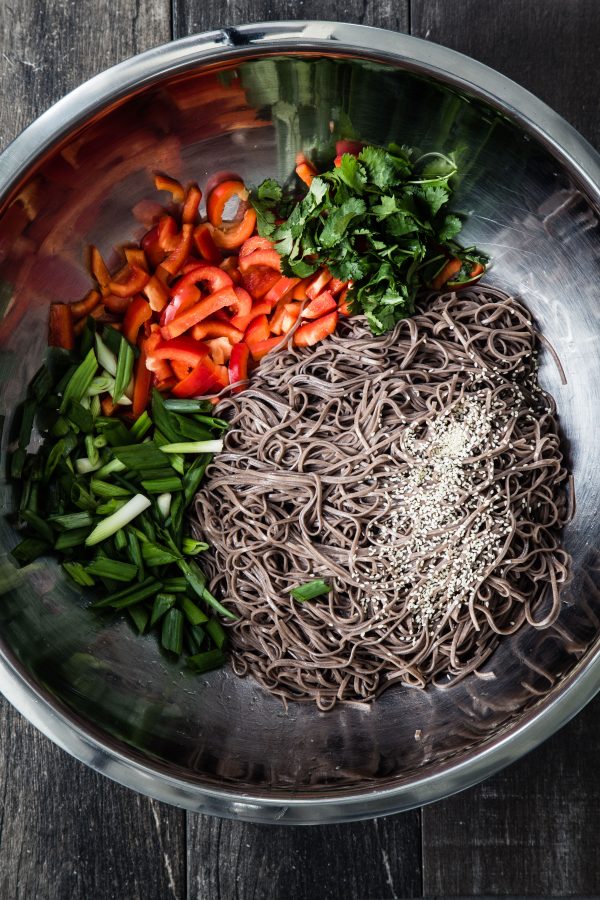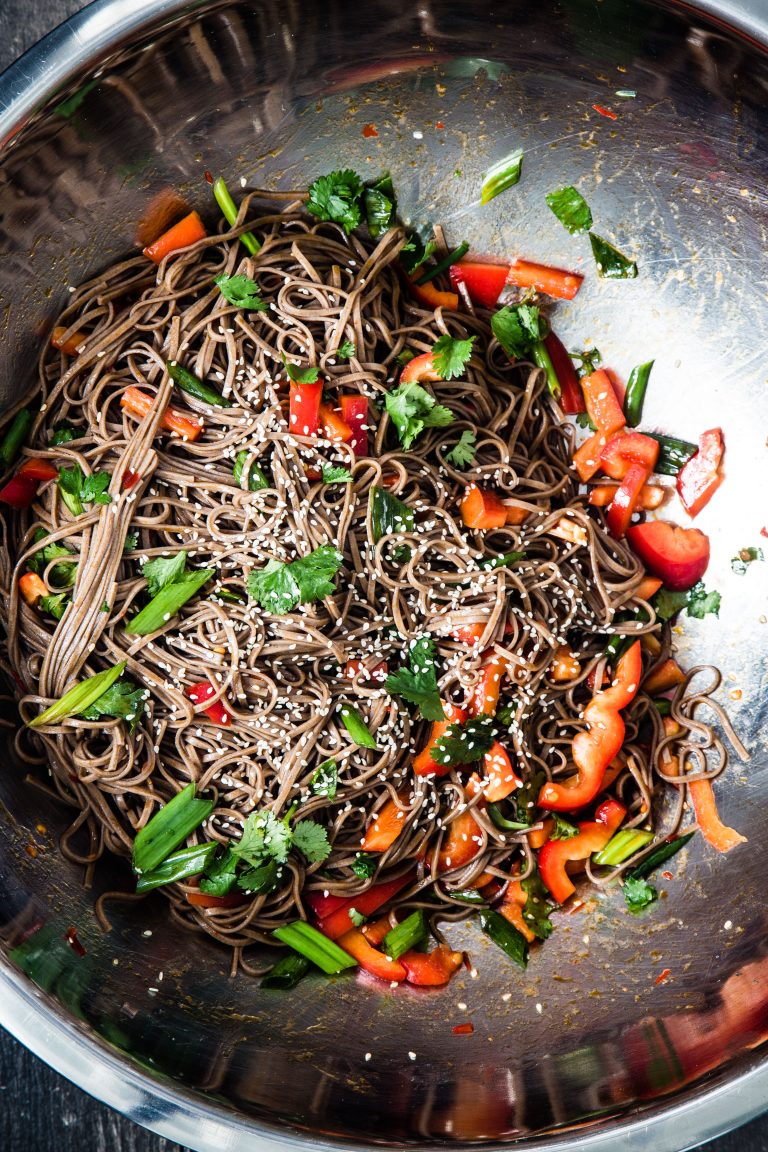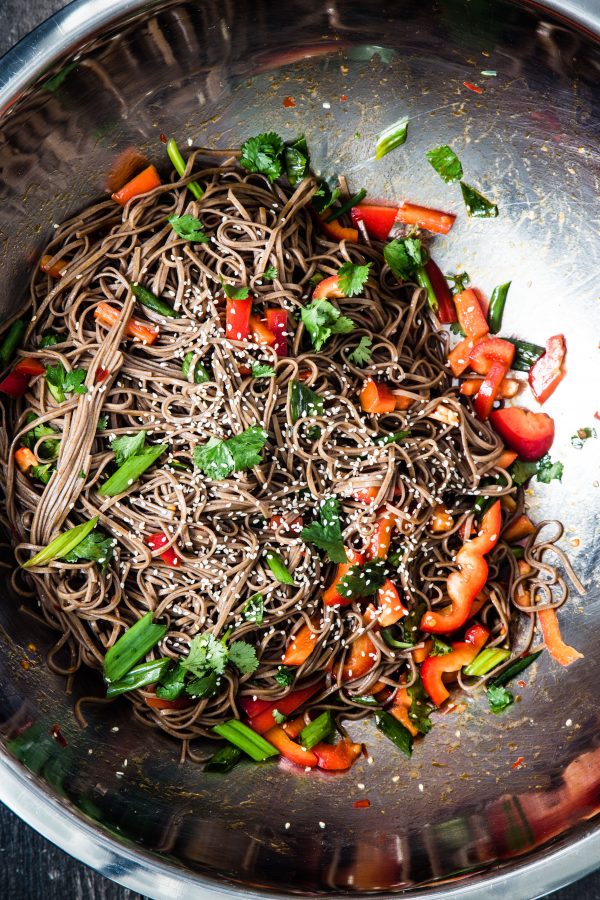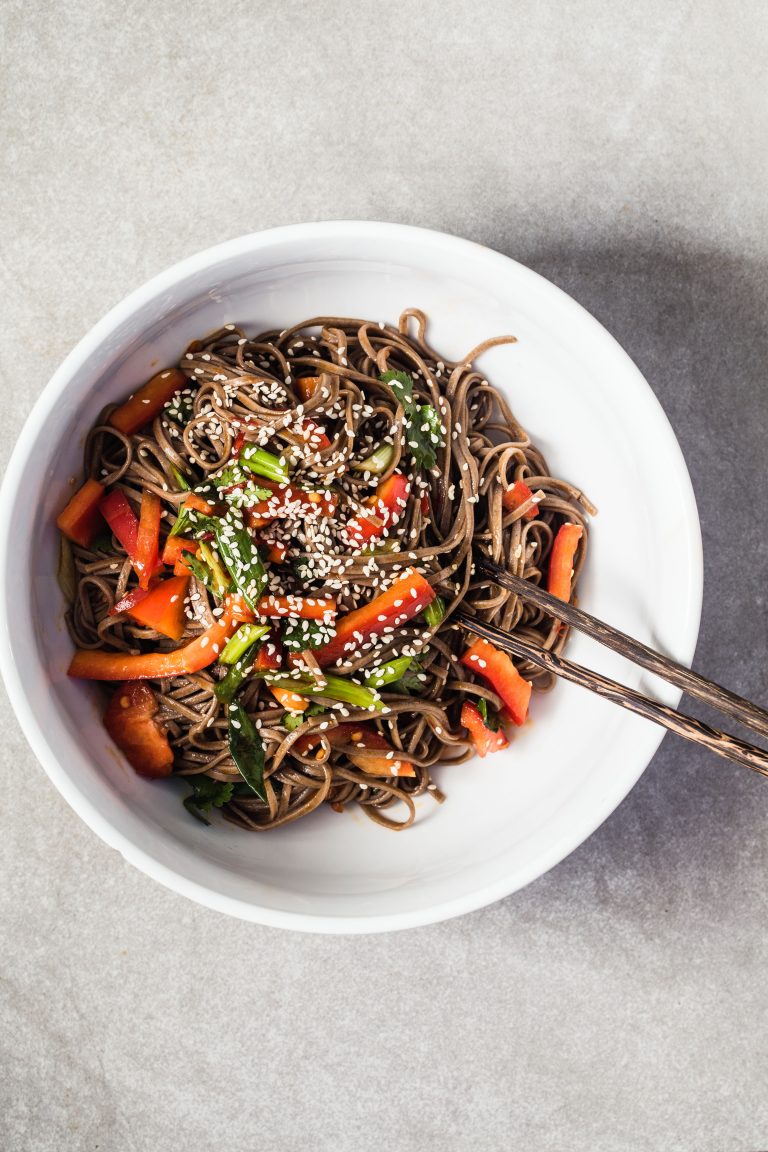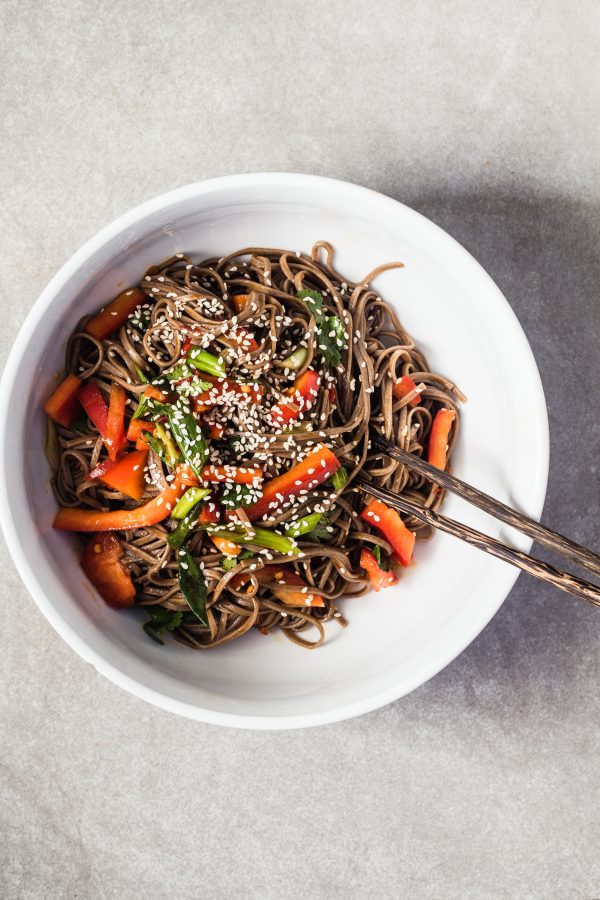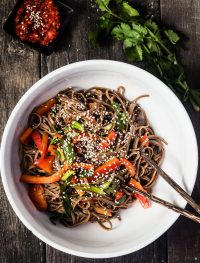 15 minutes soba noodle salad
Yield: 6 servings
Total Time: 15 minutes
Ingredients:
16 oz soba noodles
2 red bell peppers, julienne
6 oz Green onions, chopped
2 oz fresh Cilantro, chopped
2 tbsp sesame seeds
Sauce
Directions:
Cook soba noodles according to package instructions. Make sure you run some cold water through them once they are cooked. You want the soba noodles sort of chilled.
In a small mixing bowl combine the sauce ingredients. Set aside.
In a large mixing bowl place the chopped veggies and sesame seeds. Add the cooked soba noodles and pour in the sauce. Mix through and serve immediately.
This makes a great salad to take to work for lunch. I do all the time!