15 minutes Asian shrimp and broccoli
This post has been sponsored by Marina Del Rey. I received product and compensation, but all opinions are my own.
Making quick dinner recipes is my jam. Because I love Asian flavors I figured I used these beautiful Wild Caught Argentine Red Shrimp to make something tasty, quick and easy. This 15 minutes Asian shrimp and broccoli turned out to be the perfect creation.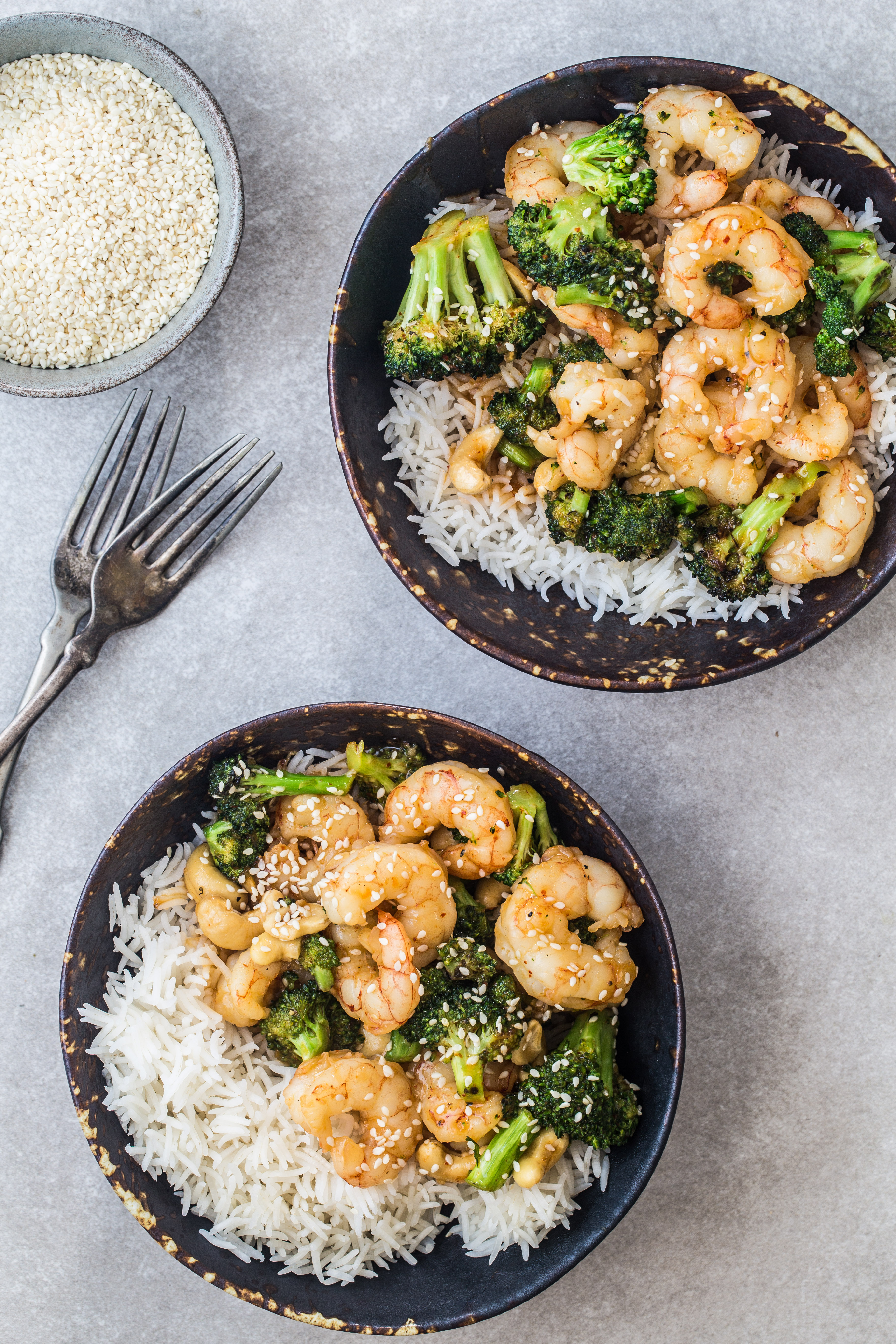 I used Marina Del Rey Wild Caught Argentine Red Shrimp to make this recipe.  Not only everyone enjoyed it but my husband said he will be making this easy, quick recipe for time to come. That is how much he loved this recipe.
My husband that has been involved in making dinner for the past months, since I have been in school for the past year and a half, can't stand spending too much time in the kitchen cooking. This is one of those recipes that would be perfect for him.
I love the fact that Marina Del Rey shrimp is already peeled and deveined so all you have to do is drained it after it has thawed and add any other simple ingredients to the mix while cooking.
For my family, when it is time to consume seafood I like to use wild caught and that is why Marina Del Rey products are perfect for us.
Marina Del Rey shrimp is not farmed, it thrives in its natural habitat ~ the pure ice cold waters off the coast of Argentina, free from chemicals and pollutants.
Wild shrimp eat their natural diet, with no added hormones or color.
Wild shrimp are not only a cleaner option, but carry significantly lower sodium levels as well.
The health benefits of wild caught seafood are tremendous, not to mention the environmental issues that arise with farmed seafood (aquaculture).
This 15 minutes Asian shrimp and broccoli will literally take you 15 minutes to make. The only thing I had to do was to lightly chop the green onions and mix the sauce ingredients. Prep time is almost none existent.
Another awesome thing about this recipe is that you can use any type of vegetables you like. If you would like to replace the broccoli and use kale, fresh spinach, green beens etc you may go ahead and do so. It works with pretty much any vegetable. Next time I make it I might choose red peppers and carrots instead.
I hope you like this 15 minutes Asian shrimp and broccoli. If you like quick, easy and healthy recipes you are going to love this one.
Also, for more yummy wild caught seafood recipe inspiration follow Marina Del Rey on Facebook and Instagram.
Enjoy!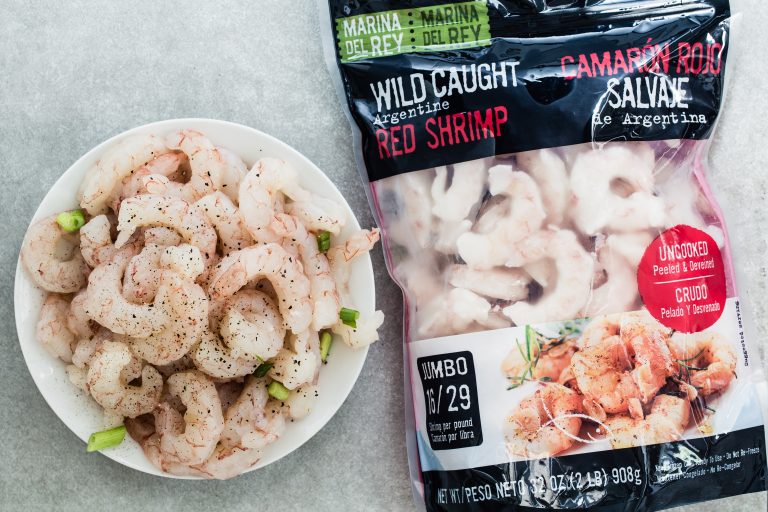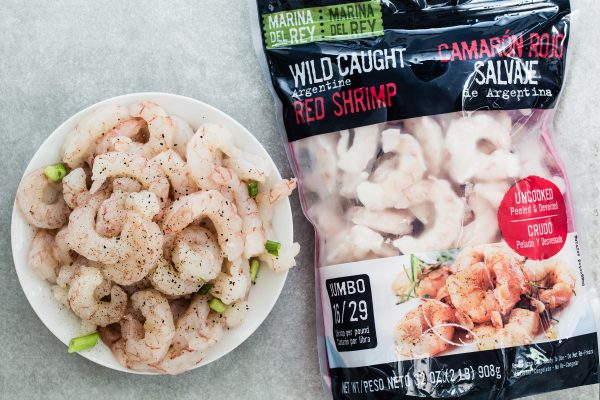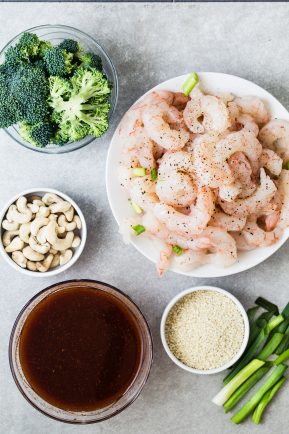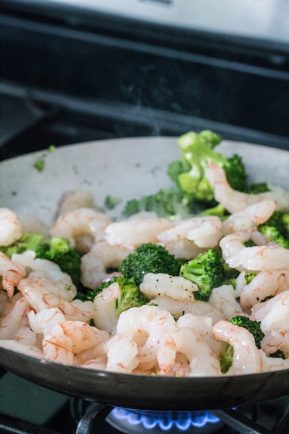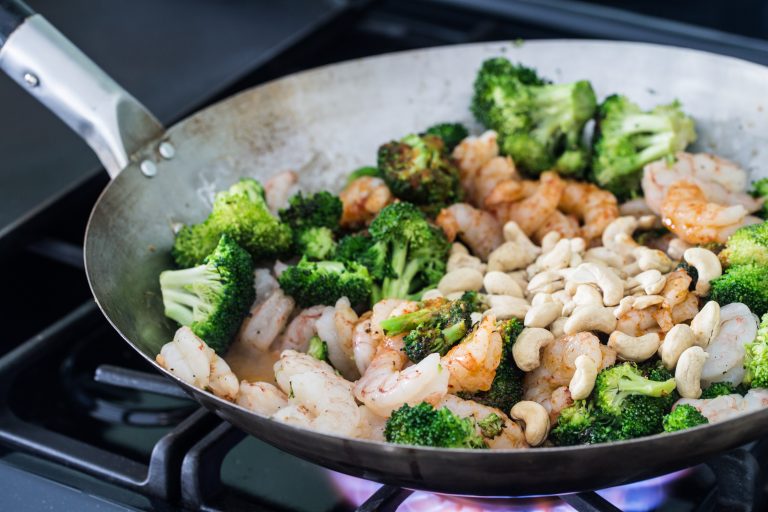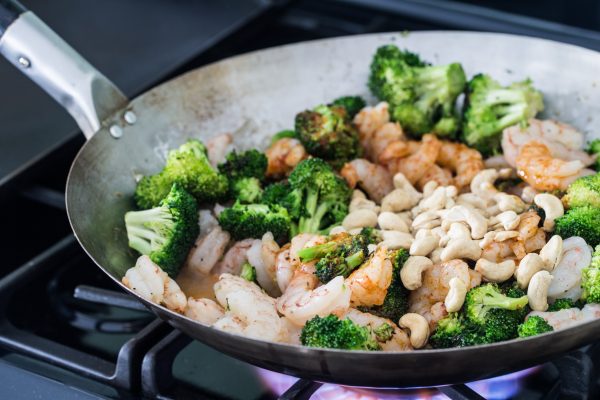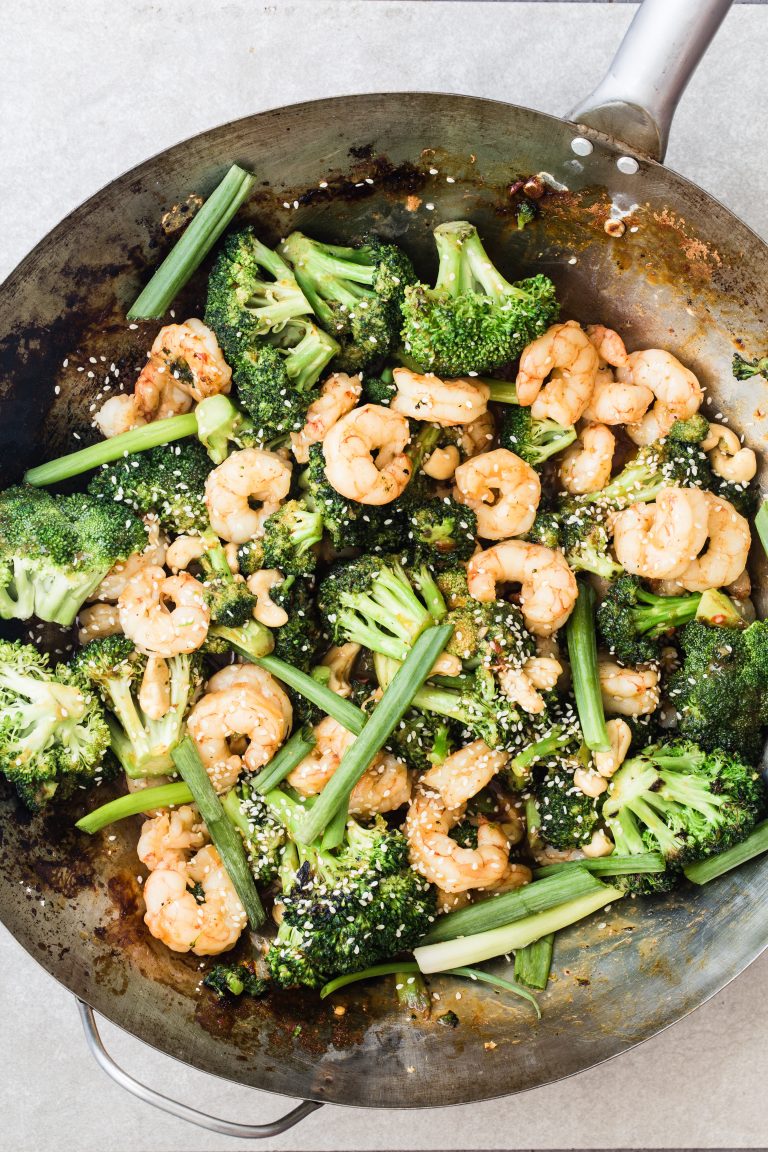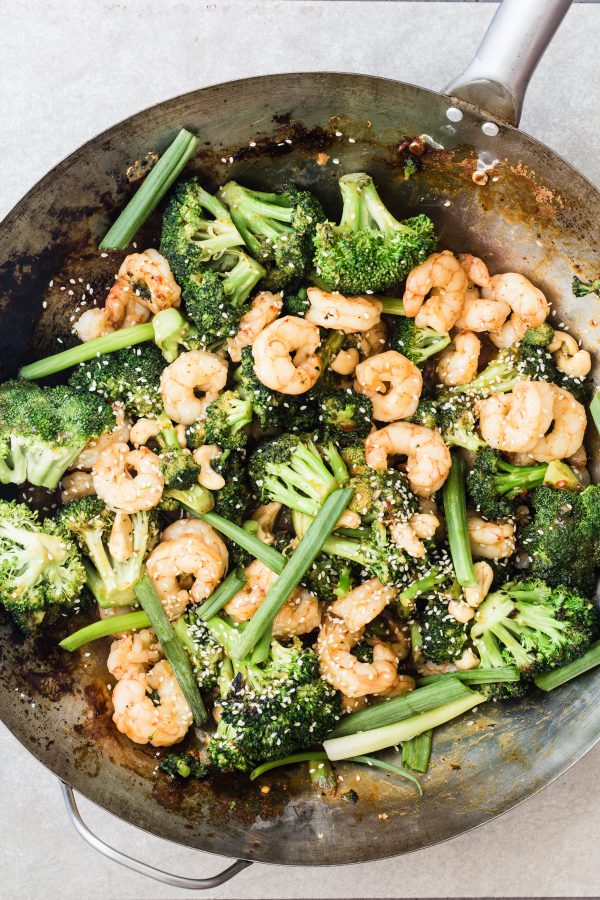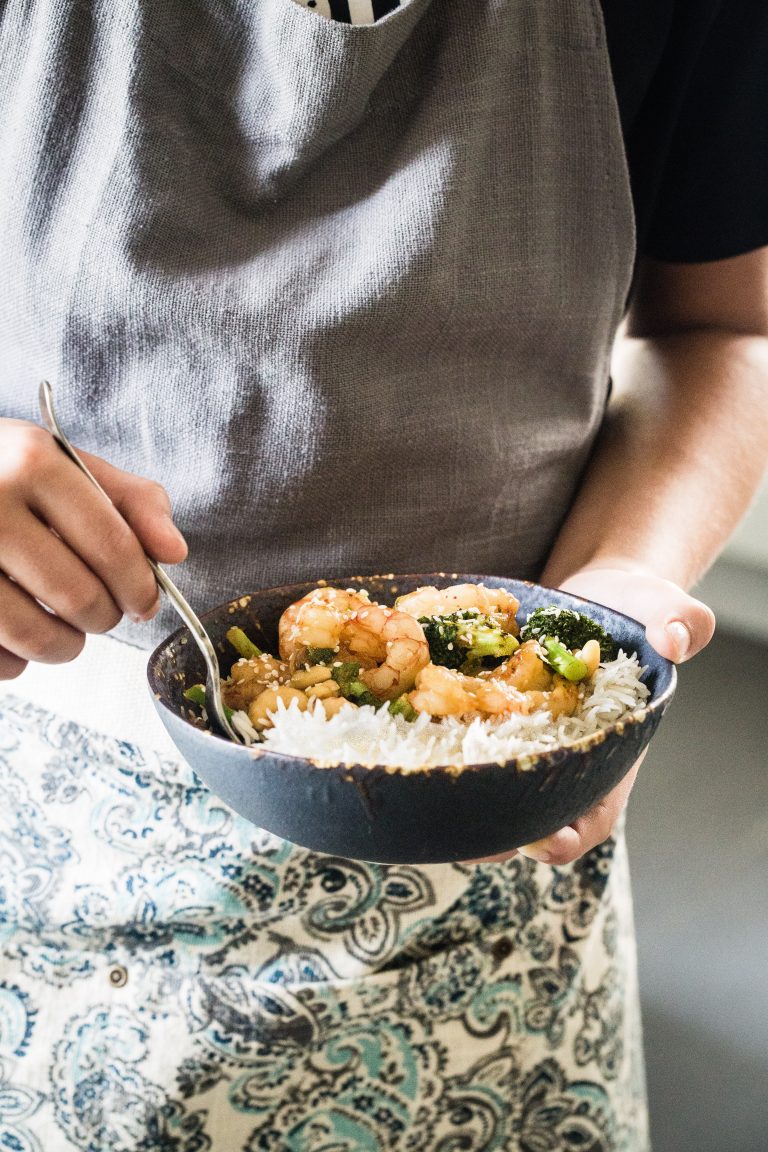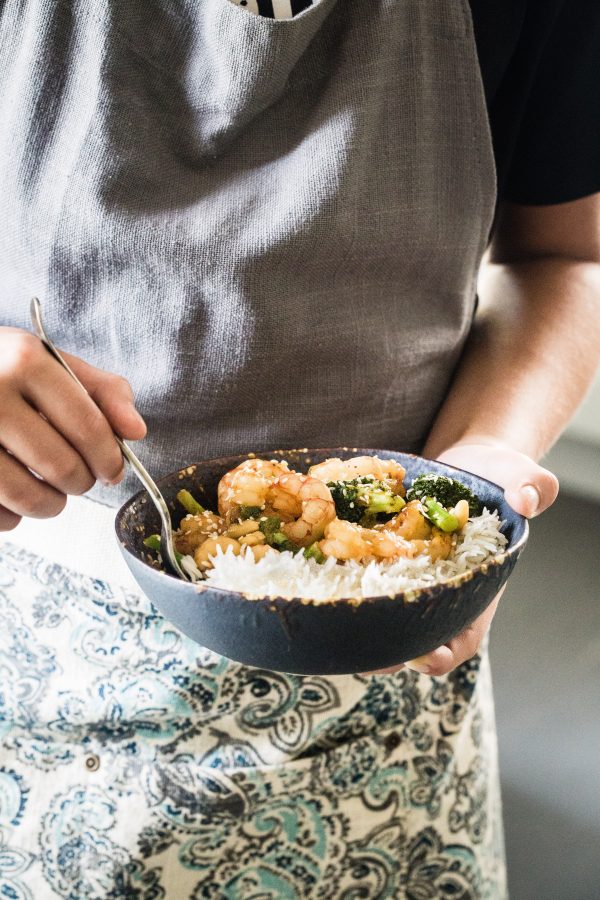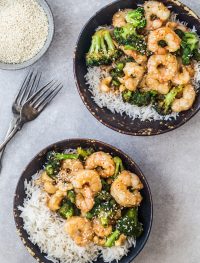 15 minutes Asian shrimp and broccoli
Yield: 6 servings
Total Time: 15 minutes
Ingredients:
For the sauce
1/2 cup soy sauce
1/2 cup sweet and sour sauce
2 tbsp red curry paste
1/4 cup water
2 tsp arrowroot powder
Directions:
Cook rice according to package instructions.
In a small mixing bowl add the sauce ingredients and combine. Set aside.
In a large skillet add the olive oil and broccoli. Toss for 3-5 minutes. Add the shrimp and cook for about 5 minutes or when they start to turn pink. Add the sauce and toss it to cover the broccoli and shrimp.
Add the green onions and sesame seeds and serve over rice.