100% whole grain valentine's cookies Round 2
I made these beautiful valentine's cookies a while back, and while they were really good I wanted to find an even healthier option. We know that valentine's day it's just around the corner so I figured I make these again.
I experimented with the coconut oil and they turned out beautifully. They are not that sweet and the coconut flavor is even better now that I added the coconut oil. I also opted for using a smaller cookie cutter this time so the cooking time was less.
You can just go ahead and used the 3/4 cup of butter instead if you don't have the coconut oil, they will still be perfectly fine and yummy. Next time I make these, which I will for my daughter's birthday party, I will add an extra 1/4 cup sugar though.
Anyhow, you can make these valentine's coconut cookies which ever shape you prefer. I got a new hello kitty cookie cutter for my 2 year old daughter so I figured I make some for her as well.
If you try them let me know….I hope they turn out as good as they did for us :-)
This is how I rolled the cookies. In between plastic wrap. Make sure you don't cut the cookies too think otherwise they won't cook very good, they will become crumbly when you eat them!!
You can see the slight brown color around the cookies after baking them for 10-12 minutes. I made some pink and some purple.
My kids of course ate the hello kitty shaped cookies first :-) and as you can see no fancy decoration techniques here :-)
My job decorating the cookies was not very elaborate and I actually hardly used any glaze on them. They weren't too sweet at all so next time I will use and extra 1/4 cup of sugar.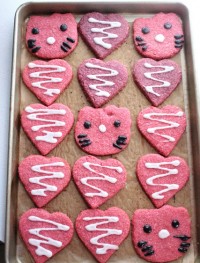 100% whole grain valentine's cookies Round 2
Ingredients:
1 cup unsweetened shredded coconut
1/2 cup unrefined sugar, you may want to do 3/4 cup because the cookies aren't that sweet at all
2 cups whole wheat pastry flour
1/2 cup butter, room temperature, 1 stick
1/4 cup coconut oil, room temperature
5-7 tablespoons milk, I used low fat
1 teaspoon coconut extract, optional
A couple of drops of pink food coloring
GLAZE
7 tablespoons confectioner's sugar
3-4 tablespoons low fat milk
Directions:
In a bowl, with your hands mix flour and butter until it resembles fine bread crumbs. Add coconut oil, sugar, coconut, milk, coconut extract and food coloring. Mix until you form a soft dough.
Preheat oven to 350F and line two cookie sheets with parchment paper.
Roll out the dough to about 1/4 inch thick and stamp out hearts using a cookie cutter (I roll out the dough in between plastic wrap which I find very easy to do also you can use any other cookie cutter shape you like).
Bake cookies for 10-12 minutes. Let them cool in the baking sheet for 5 minutes or so and then transfer the cookies to a wire rack to cool completely before glazing.
To decorate cookies mix glaze ingredients and drizzle it over the cookies.