Whole Grain Chocolate Mousse Cream Puffs
This is my other whole grain chocolate mousse cream puffs. These are better than my previous version.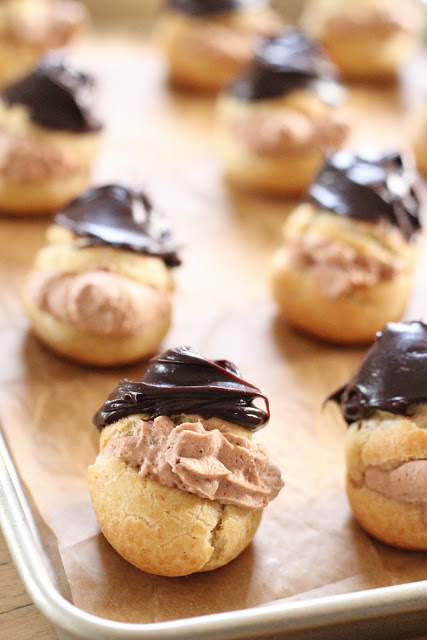 This is round 2 perfected cream puffs. Yeah! perfected is the word…these Whole Grain Chocolate Mousse Cream Puffs are just to die for.
I think they will not get better than this. I am extremely pleased with the results as these ones are much better for you and the flavor is just unreal. What a winner recipe, you can't even tell these mousse cream puffs are whole grain and that olive oil was actually used on this, I LOVE THEM.
I did two batches today as one batch was for one of my Spanish friends bday party. The batch with the smaller puffs was the one I took to the party. I actually made those ones plain, just whipped cream and powdered sugar on top, just like these ones I made a while back.
The ones we kept were the more elaborate ones. After all that work I could not see myself giving those away, they were to good to give up :-) I actually ate 8, bad girl.
Anyhow, I hope you get to make these puffs. They are a little bit of work but worth every minute.
Enjoy!
You can see how the pastry looks like on the left picture just before placing on the piping bag, very thick, and in the right picture you can appreciate the chocolate glaze.
Left picture depicts the smaller puffs. On the right picture both smaller and medium puffs side by side. Can you tell the difference? and make sure you get rid off the tips of each puffs before baking, I forgot :-(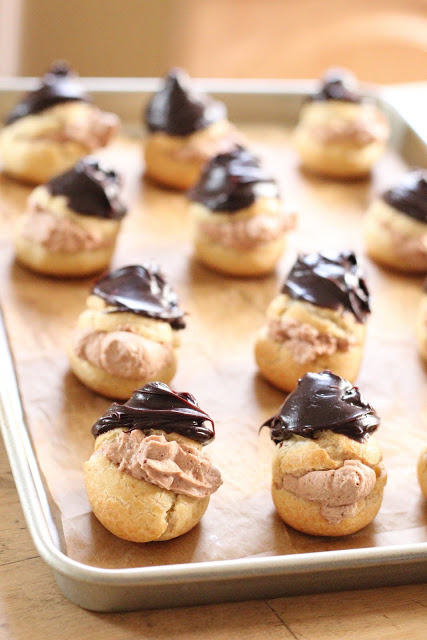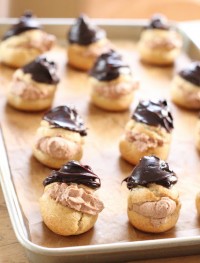 Whole Grain Chocolate Mousse Cream Puffs
Yield: 35-40 medium cream puffs
Ingredients:
1 cup water
4 tablespoons butter, 4 ounces
4 tablespoons olive oil
1 cup whole wheat pastry flour
1/4 cup all-purpose flour
1/4 teaspoon salt
4 organic eggs
Mousse
2 cups of heavy cream
1/3 cup of maple syrup
2-3 tablespoons cocoa powder
Chocolate Glaze
4 tablespoons heavy cream
6 oz dark chocolate chips
2 tablespoons organic milk
Directions:
Preheat oven to 425F. Line two baking sheets with parchment paper.
Put water, butter and oil in a medium-size saucepan over medium-high heat and melt. When the butter has melted, add the flour and salt all at once and stir vigorously.  Cook and stir until the mixture forms a ball that doesn't separate, about 20 seconds.
Remove from the heat and cool for about 5-10 minutes. Add the eggs, one at a time, beating after each one and until the dough is smooth. I use a wire whisk for this, just like in the picture.
Drop heaping tablespoons of dough about 2-inches apart onto a greased baking sheet.  Or transfer the batter to a pastry bag with a round tip and pipe circles about 2-inches in diameter and about 1-inch apart onto baking sheets previously lined with parchment paper (make sure you get rid of the tips on each puff that forms when you pipping them on to the baking sheet, they tend to burn)
Bake puffs for about 11-12 minutes at 425 F (medium sized ones, for small ones 10-11 minutes at 425F and 6-7 minutes at 375F). Reduce the temperature to 375 F and bake for an additional 6-8 minutes until they are golden brown and puffy.Turn off the oven and open the door a crack and leave cream puffs inside to cool for 20-30 minutes. Remove the cream puffs from the oven.
For the filling:
Beat  heavy cream with a hand mixer. Before it is almost whipped add the maple syrup and whipped until final stage. With a spatula, fold in the cocoa powder.
For the chocolate glaze:
Combine heavy cream, and chocolate in a bowl and microwave on high for 30 seconds. Stir well. Continue microwaving in 20 second intervals, stirring in between, until chocolate is melted and mixture is smooth.
Set aside to rest until spreadable but not runny.The mixture will set as it sits. Give it about 30-45 minutes at least.
To assemble the cream puffs, I carefully cut the tops off the puffs (almost completely). Add the filling to each puff using a piping bag. With a spoon or small spatula spread a little bit of the chocolate glaze to each puff or dust with powdered sugar for an easier version.
TIP: You can store unfilled cream puffs in the freezer in a zip log bag. Thaw at room temperature then rewarm in a 350°F oven until warm and crisped.
I like my glaze thick but you can add an extra tablespoon of heavy cream and an extra tablespoons of milk for a runnier version.