Upside Down Pineapple Cake with a Twist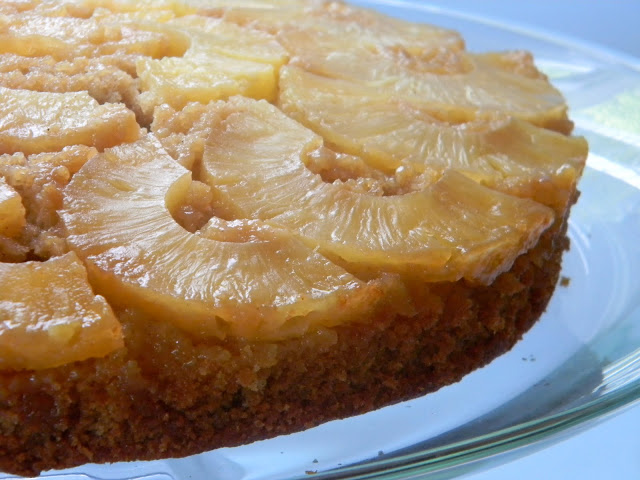 Sorry for not posting in a few days. I had to have my apple computer be worked on so now is up and ready for use :-).
Anyhow, I am excited to introduce my own version of upside down pineapple cake. The twist comes from introducing my secret ingredient into the batter, Cardamon. I love this spice thus I sometimes use it on cake batters. If you don't like the taste of this spice you can substitute it for nutmeg. This recipe contains healthier ingredients than regular upside down pineapple versions thus you don't feel as guilty when eating it.
If you don't know me by now, you must know that I have a very sweet tooth. I need to have some type of cake, cookie, pretty much any baking good, or sugar that is, every day of the week so desserts have to be much healthier :-). In any event, I hope you enjoy this cake if you make it.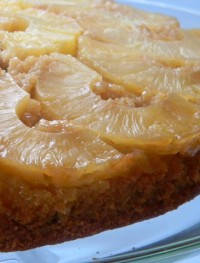 Upside Down Pineapple Cake with a Twist
Ingredients:
1 14 ounce can drained pineapple rings
1/3 cup light or dark brown sugar
3 tablespoons butter
1 cup sugar
1/3 cup olive oil
3/4 cup soymilk or 3/4 cup fat free milk
1 cup whole wheat flour
1/2 cup oat flour
2 teaspoons baking powder
3 eggs
1/2 teaspoon ground cardamom
1/2 teaspoon cinnamon
Directions:
Preheat oven to 375 degrees F. Melt butter and pour onto a round 9 inch baking pan. Pour brown sugar over the top and arrange pineapple rings cut into half or fourths over the sugar. Mix remaining ingredients together. Pour mixture into the pan and bake for about 45-55 minutes depending on the oven. Let cake cool in the pan for about 5 minutes. Turn cake upside down onto a plate and let it stand so that juices run down the cake for about 1 minute and then remove the pan. Eat warm or cool. Enjoy