I have been posting quite a few sweet recipes lately but today I finally opted for making this amazing shrimp scampi pasta with sun dried tomatoes. I have actually never made shrimp scampi before so I couldn't wait to dig into this amazing recipe after getting the aromas while cooking.
I have tried shrimp scampi before, however, never got a chance to make it until today. For my recipe I actually used a mixture of butter and extra virgin olive oil to make it a tad healthier. The recipe turned out superb and even leftovers were gone in no time.
October is National Seafood Month. I have always loved seafood since very little. I grew up in Spain eating the Mediterranean diet so seafood is a big part of it. From shrimp, mussels, tilapia, tuna, salmon, pollock etc you name it. I truly couldn't live without seafood.
Seafood, which includes fish and shellfish, received particular attention in the 2010 Dietary Guidelines because of evidence of health benefits for the general populations as well as for women who are pregnant or breastfeeding. In the 2015-2020 Dietary Guidelines for Americans seafood has actually received the attention it deserves. The health benefits have been thoroughly outlined.
For the general population, consumption of about 8 ounces per week of a variety of seafood, is associated with reduced cardiac deaths among individuals with and without preexisting CVD. Similarly, consumption by women who are pregnant or breastfeeding of at least 8 ounces per week from seafood choices that are sources of DHA is associated with improved infant health outcomes.
I also have a few seafood recipes that you can find in this link to start experimenting. Instead of using meat and poultry switching to seafood would be an healthier option so give it a try. My kids love fish so I tried to have it at least twice a week. They rather have fish than meat anyways so that is better for me!
I encourage you to try this shrimp scampi pasta with sun dried tomatoes that you can make in just a matter of 15 minutes. It is extremely easy and the taste is just superb. My family enjoyed it and even asked for seconds. I wish I doubled the batch, next time I will.
I leave you with this amazing shrimp scampi pasta with sun dried tomatoes recipe that I hope you get to try soon.
Enjoy!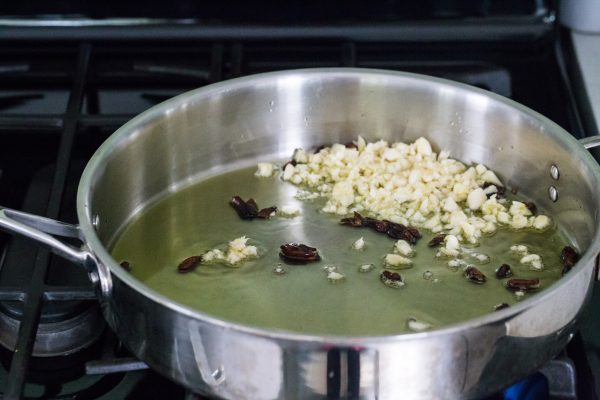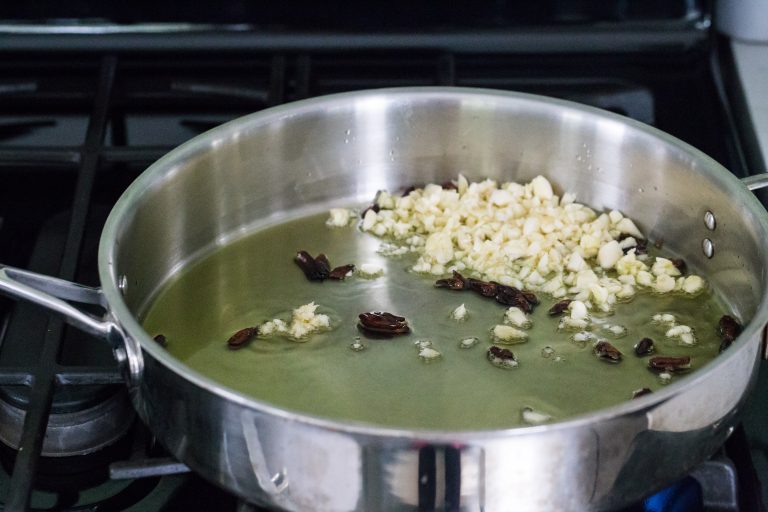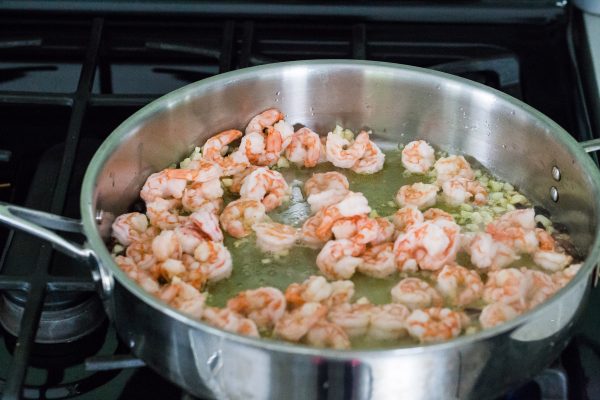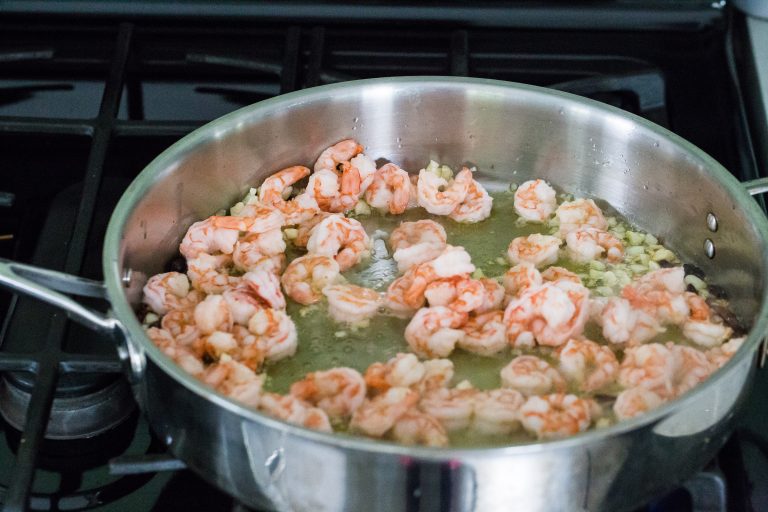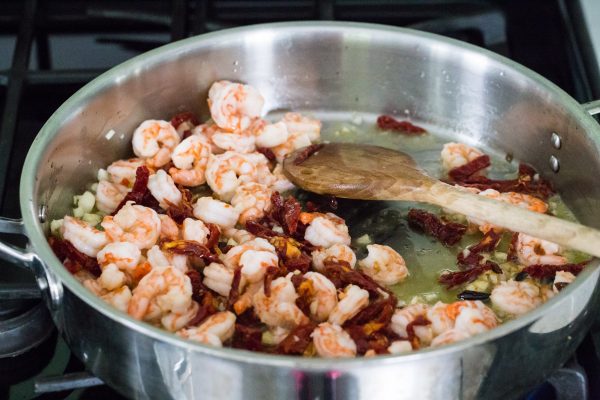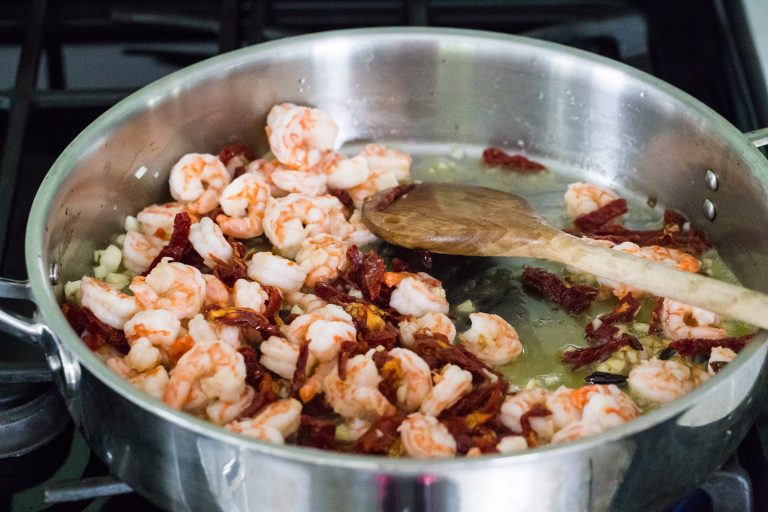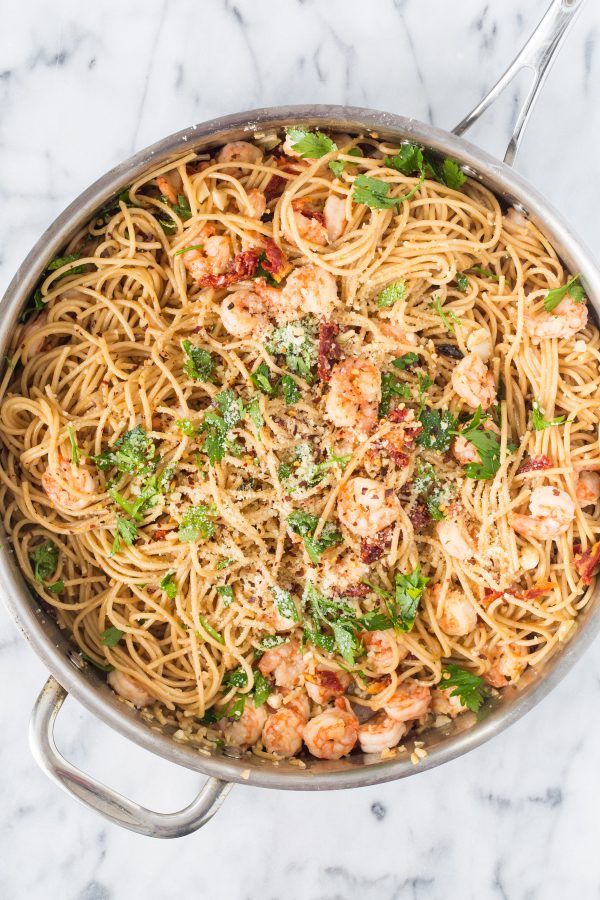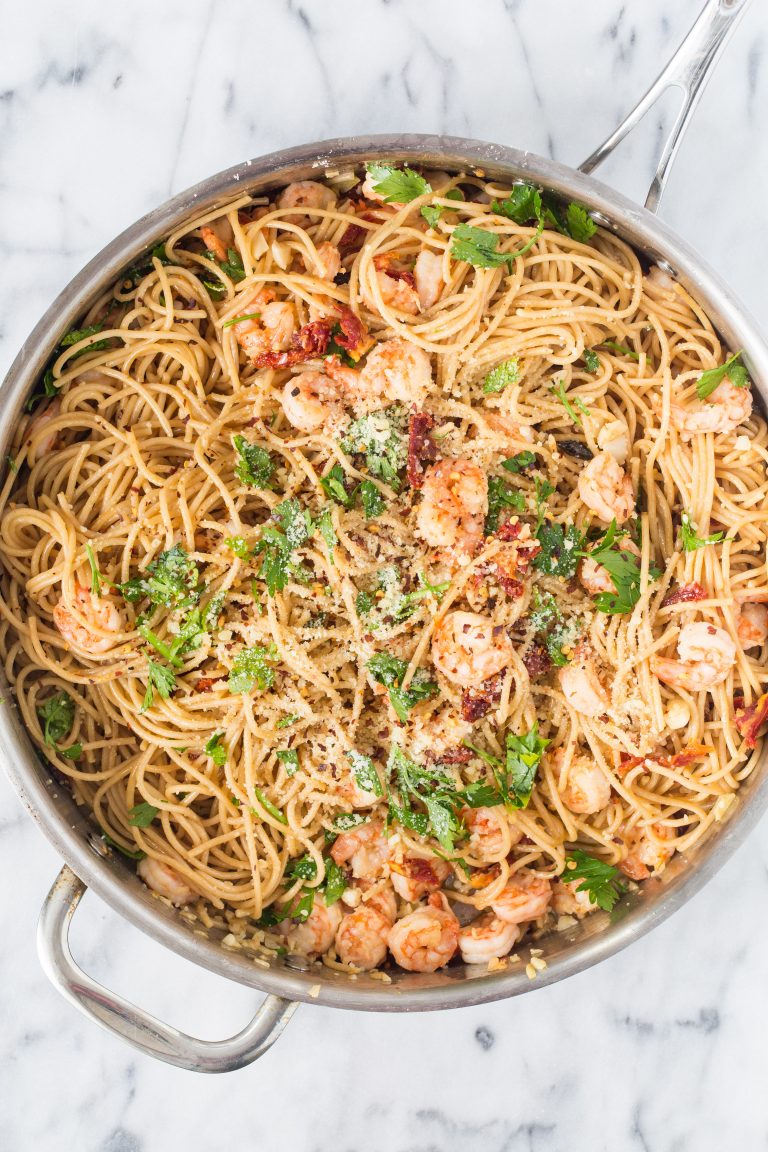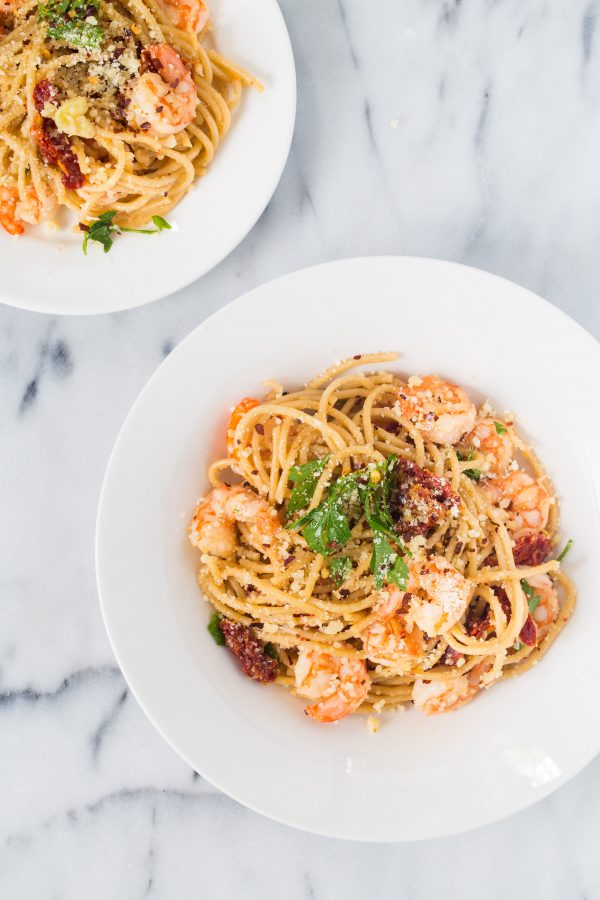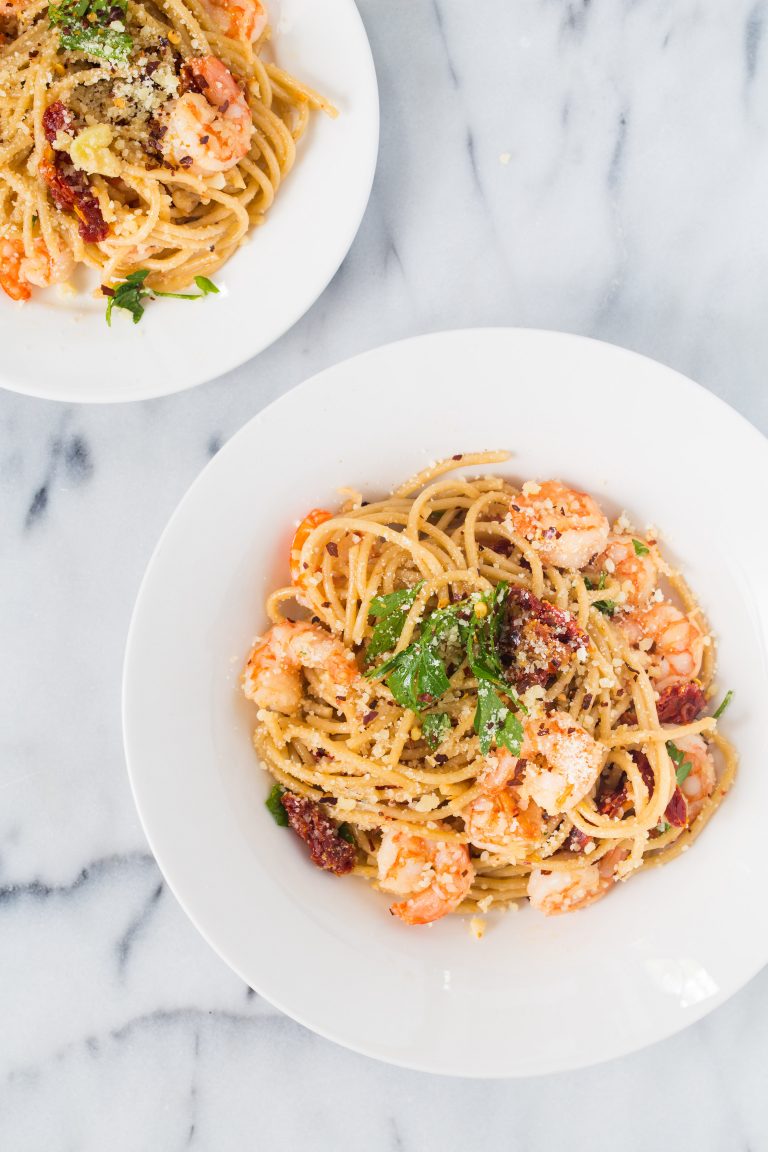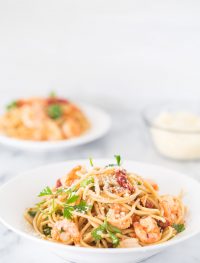 Shrimp scampi pasta with sun dried tomatoes
Yield: 6 servings
Total Time: 20 minutes
Ingredients:
16 oz whole wheat spaghetti
16 oz shrimp
3 tbs extra virgin olive oil
4 oz butter, cubed
3 oz sun dried tomatoes
1/2 cup grated parmesan cheese
1/2 tsp celtic salt
1/2 tsp whole red dried chilis or pepper flakes
Chopped parsley
4 cloves or garlic, chopped
Directions:
Cook pasta according to package instructions.
In a large skillet add the olive oil with the whole chilis and cook for 1 minute until the oil obtains some of the fragrance. Add the garlic and cook for another minute.
Add the shrimp and if the shrimp is already cooked just saute for another minute or so. If the shrimp is uncooked just cook further for another 3 minutes or until it is cooked. Add the sun dried tomatoes toss and turn the heat off. Add butter, grated cheese, salt and cooked pasta.
Toss and sprinkle the chopped parley. Serve immediately.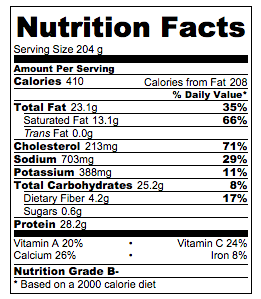 This is a sponsored conversation written by me on behalf of National Fisheries Institute. The opinions and text are my own.