Roasted vegetable salad with orange vinaigrette.
This recipe is sponsored by Florida's Natural. I used their product to make this roasted vegetable salad with orange vinaigrette. The opinions and text are all mine. The end.
How are your new year resolutions going so far? New eating habits are one of the most popular new year resolutions, so I decided to share this roasted vegetable salad with orange vinaigrette. The dressing is what makes this salad superb. It's a perfect pairing in this recipe, but you can get creative and use it on others!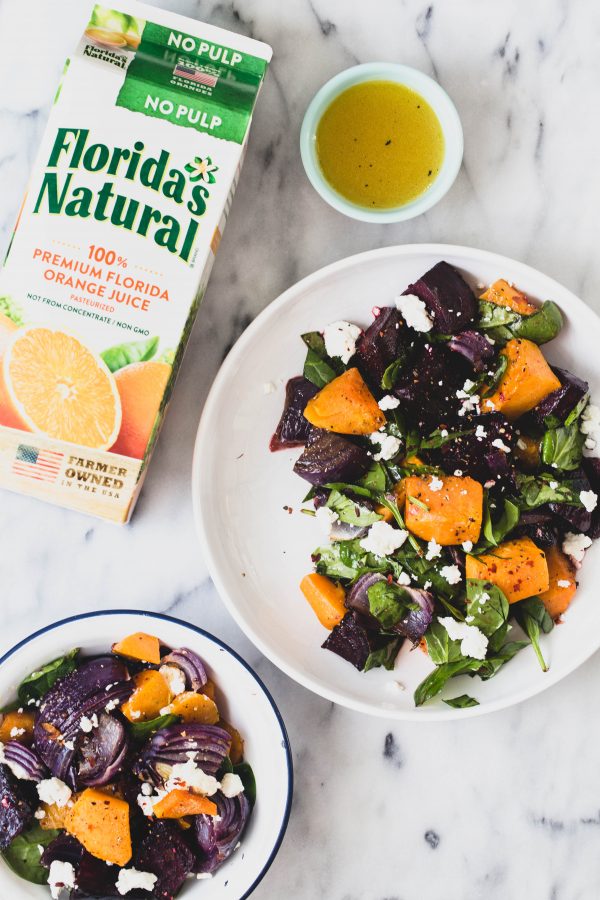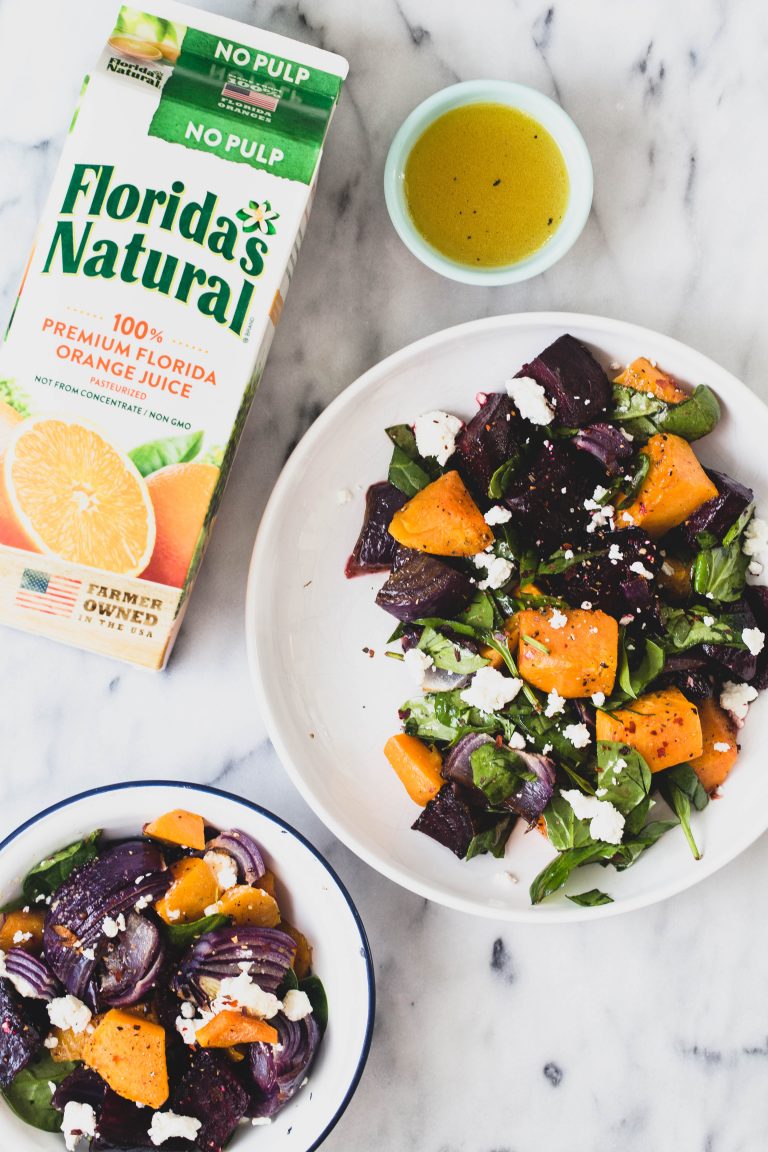 In short, the dressing is simple yet flavorful. I think it has become one of my favorite dressings to use across salads because of its citrus flavor profile. I've all together quit buying dressing at the grocery store because of the long ingredients list. Store bought salad dressings often have a long ingredients list, with some being artificial. Making your own and keeping it in the fridge for future consumption is perfect. And, salad dressings keep well. I have had homemade salad dressings for over two weeks in the fridge and they are still good. Making your own is a win-win. Since making your own dressing is super easy, I would rather do that because it also allows me to get creative.
For this roasted vegetable salad with orange vinaigrette, I used vegetables that are in season, but you can use any vegetables you prefer. I thought the butternut squash, red onions and beets made for a great combination. I am usually not a fan of butternut squash or beets, but I am striving to introduce new and different vegetable combinations into our family meals this year. We really enjoyed how the salad came together.
When you use orange juice in this recipe, opt for Florida's Natural® Brand Orange Juice which is made from one simple ingredient — Florida oranges. And only Florida oranges. No water, sugar or preservatives are added.
Florida's Natural orange juice comes from pure Florida oranges. There are no artificial flavors or ingredients. Florida's Natural doesn't fuss with their farmers' oranges — they're simply squeezed, gently pasteurized and poured into cartons that ensure a straight-from-the-grove taste that my family loves. I feel good about using Florida's Natural as a key ingredient in many of my recipes and dressings.
If your new year resolution is centered around your diet, try for small changes at first. For example, try to incorporate one new veggie each week, have one less drink, or even try a new kitchen hack to keep you inspired and enjoying meal prep. Starting right now, you can make your own salad dressing!
Try this roasted vegetable salad with orange vinaigrette. Swap any veggies of your choice, the dressing is truly what makes the recipe, so I hope you like it.
Enjoy!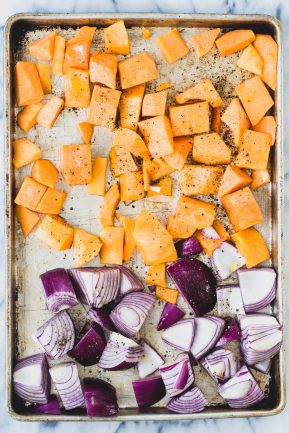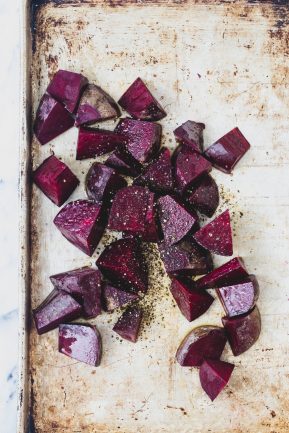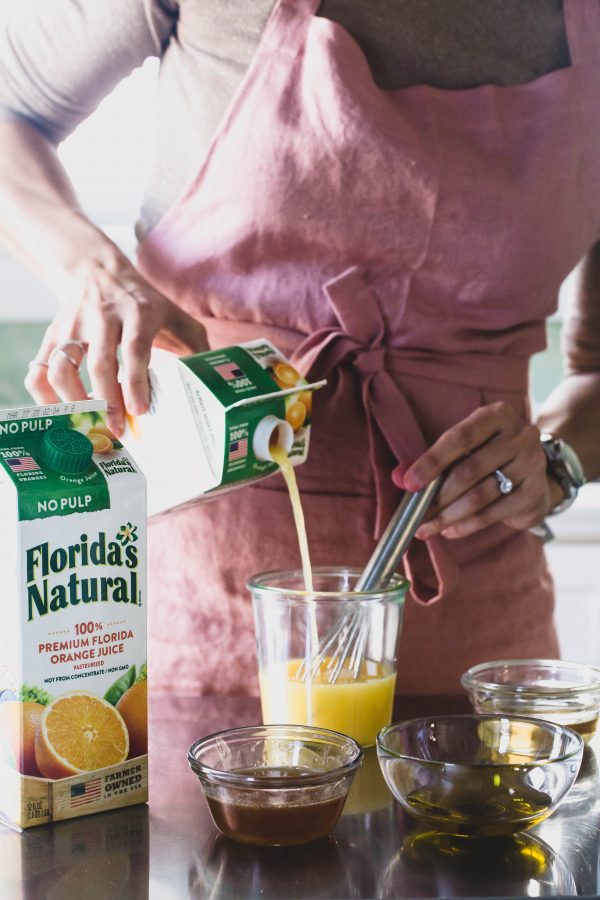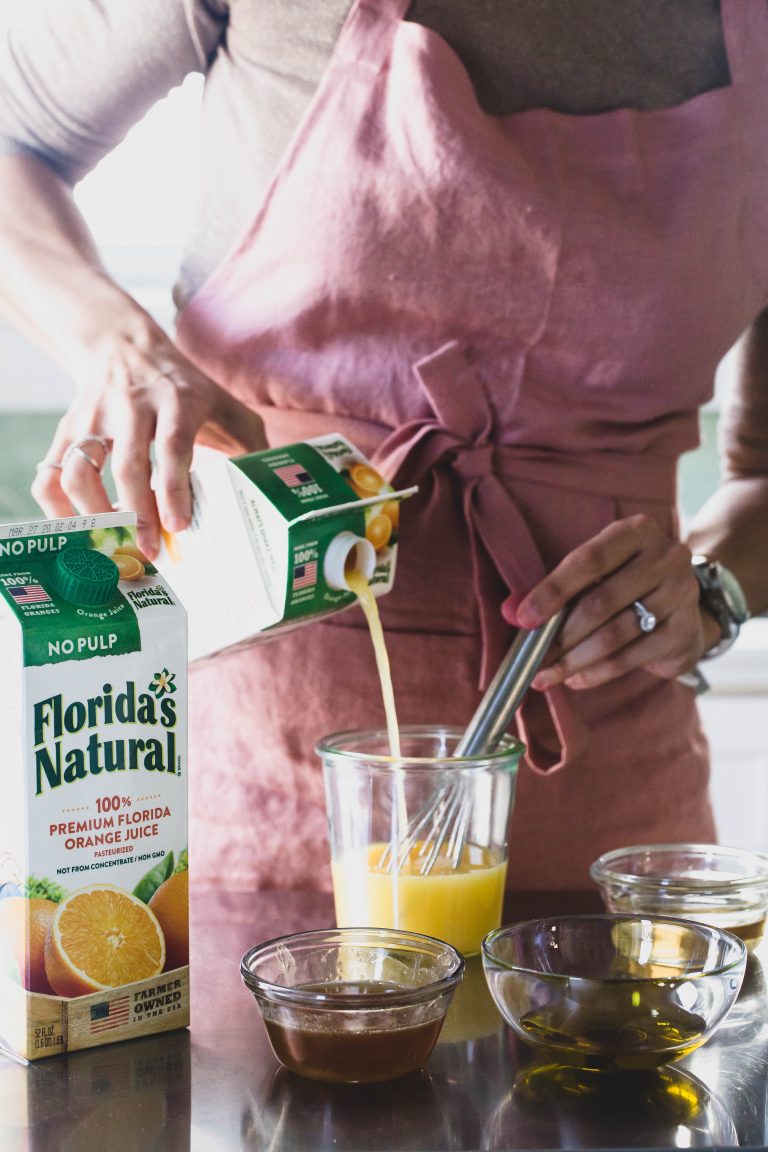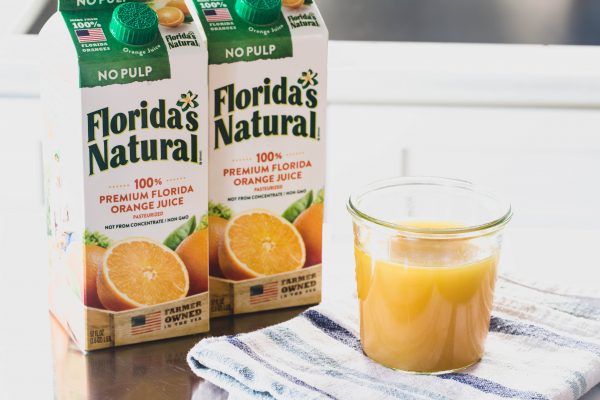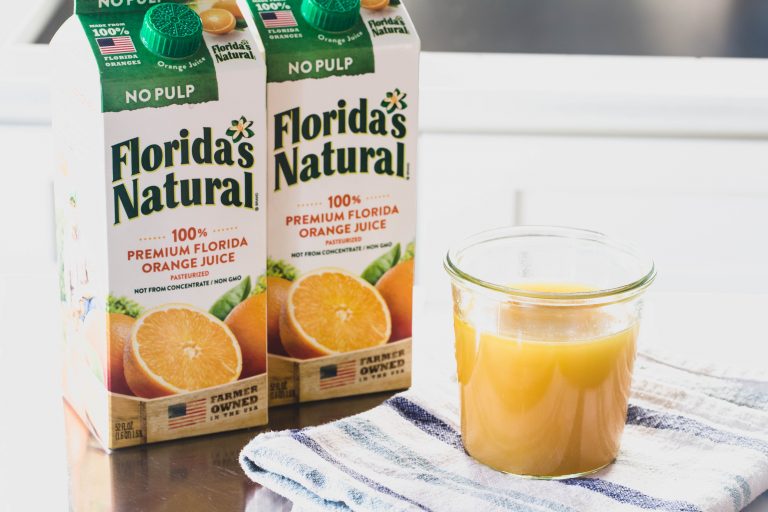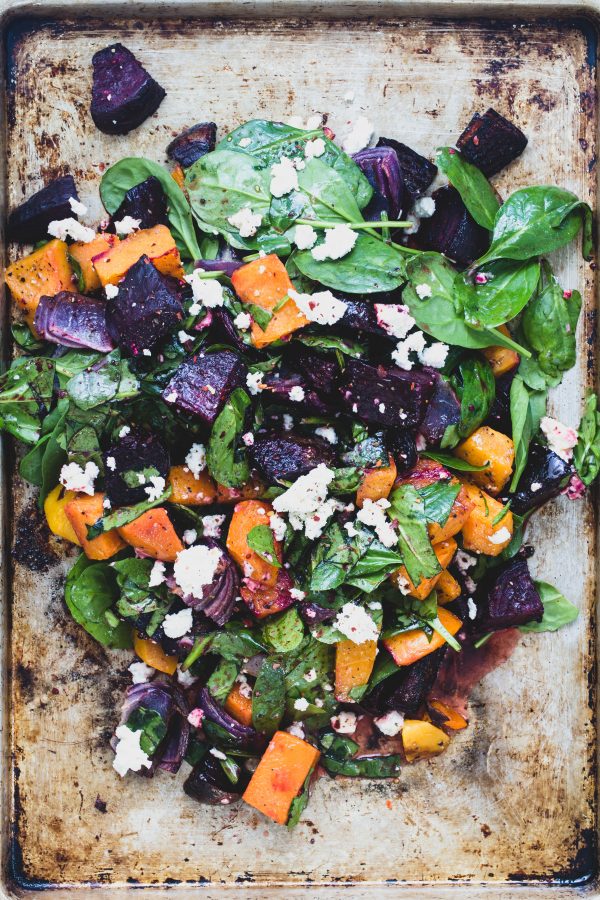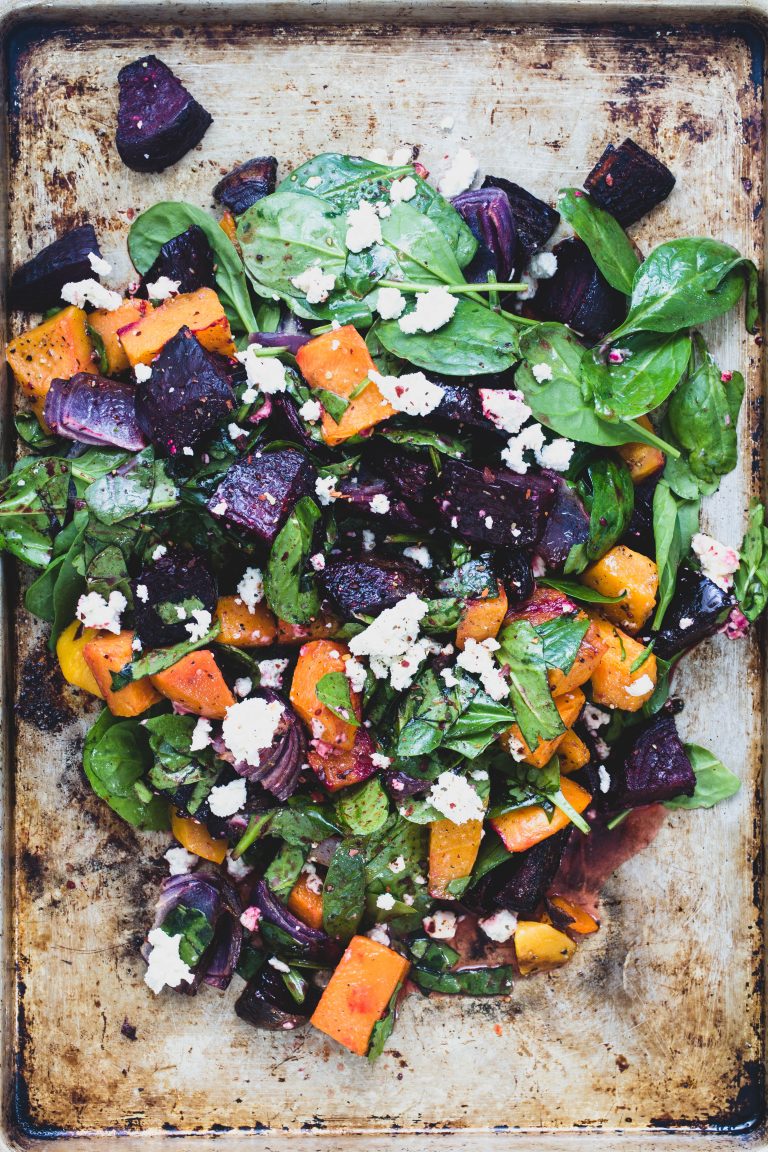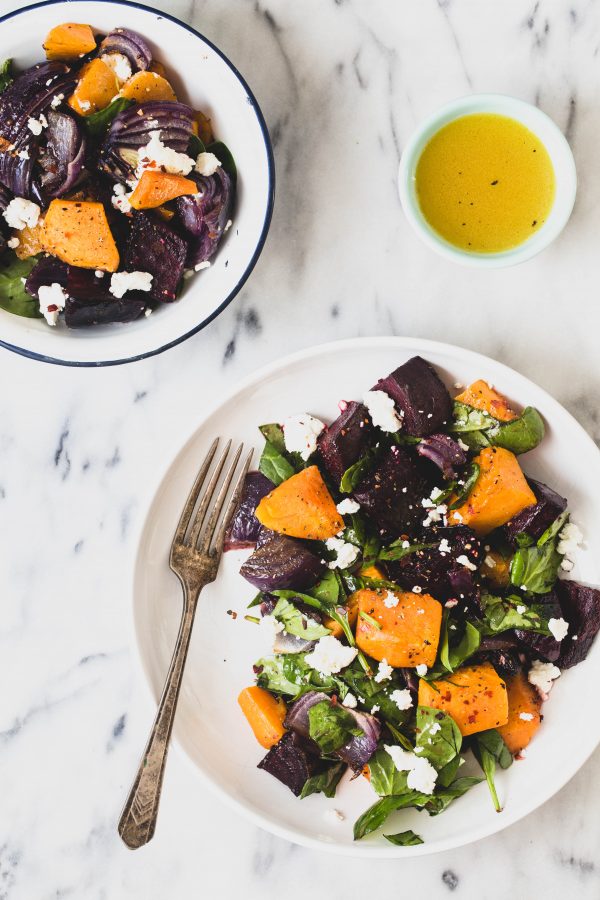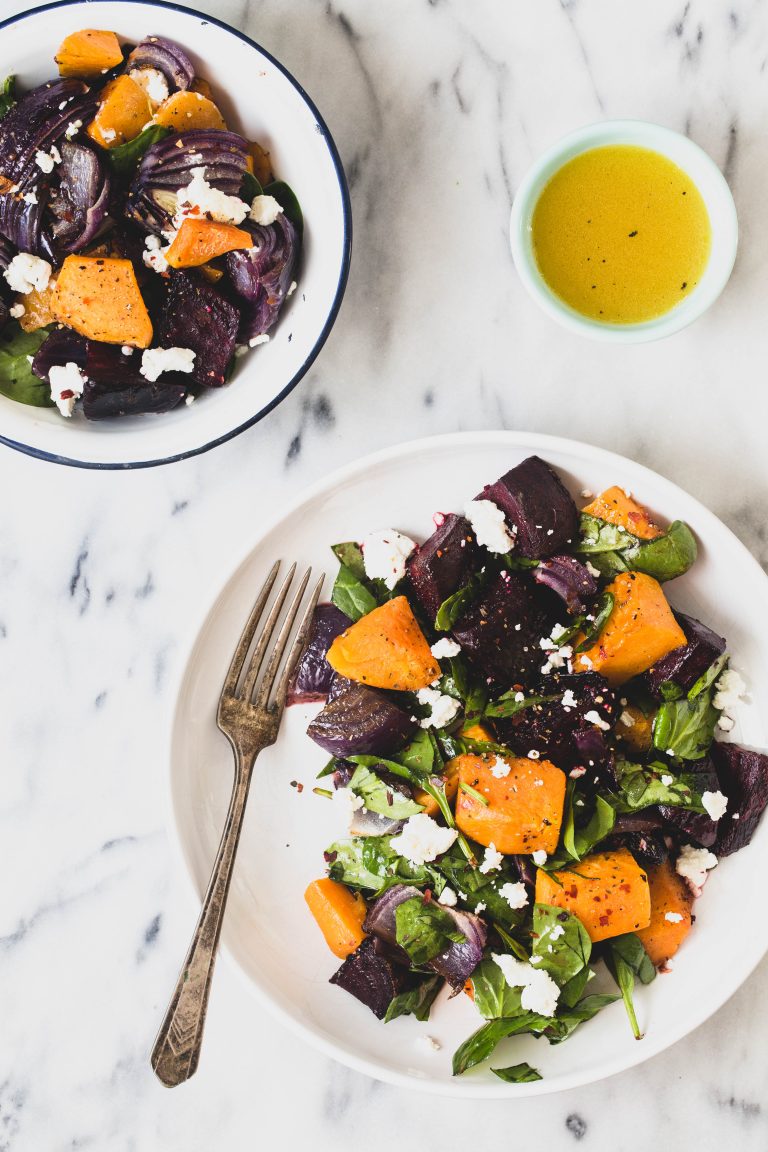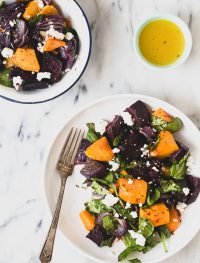 Roasted vegetable salad with orange vinaigrette
Yield: 4 servings
Prep Time: 15 minutes
Cook Time: 30 minutes
Total Time: 45 minutes
Ingredients:
4 red beets, cubed
2 large red onions, cubed
1 lb butternut squash, cubed
6 oz fresh spinach
4 tablespoons olive oil divided
8 oz goat cheese
1 tsp Celtic salt
1/2 tsp black pepper
For the dressing
Directions:
Preheat your oven to 450 degrees F
Place the sliced beets on a baking sheet and drizzle with 1 tablespoon of olive oil. Sprinkle with salt and black pepper.
In another baking sheet, place the sliced butternut squash and red onions. Drizzle with 3 tablespoons of olive oil. Sprinkle with salt and black pepper. Roast the veggies for 20 minutes or until tender. Set aside to cool for at least 10-15 minutes.
While the beets are roasting, prepare the dressing. Combine dressing ingredients in a small bowl. Set aside.
In a large bowl, add the roasted veggies. Add the fresh spinach and salad dressing, then toss to combine. Divide salad among four plates and sprinkle the goat cheese over the salad. Serve immediately.
I like to store my salad dressings in salad dressing jars. So convenient!!