Roasted garlic spinach white pizza
OK so a few days ago it was my first time roasting garlic, holy moly why on earth did I wait so long to do such a thing? This roasted garlic spinach white pizza was to die for.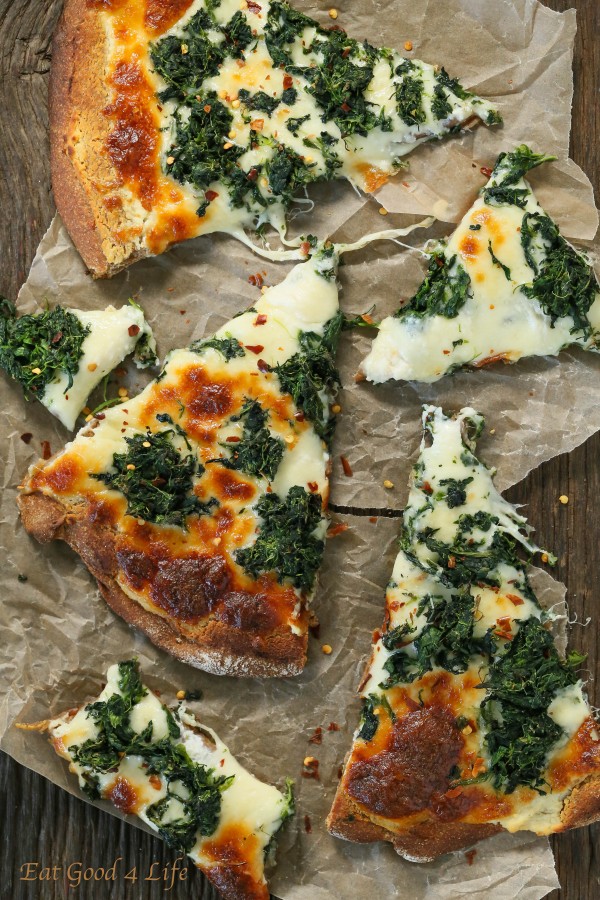 Granted I used quite a bit of garlic for this roasted garlic spinach white pizza but when you roast garlic the flavor kind of becomes a lot milder. Don't be afraid of all the garlic in this recipe, well unless you don't like garlic!
I used Cascadian Farm organic spinach. I love their products.They not only have organic fruits and vegetables but they also have granola bars, fruit spreads and much more. You can browse their many products here. Besides having top of the line products they are also enrolled on their non-GMO project. Something that I actually love since it gives me peace of mind when eating their products.
I don't buy everything organic but the products that I always do are the ones in the dirty dozen list such berries, apples, potatoes, spinach and such.
Fridays it is usually pizza night in my household. We sort of skip it sometimes but for the most part I always make pizza on Fridays. This roasted garlic spinach white pizza I think has become one of our top contender pizza recipes simply for the fact that we love garlic and spinach.
What is your favorite pizza recipe? I want to experiment with more variations so I welcome ideas if you have some!
On another note, I am thinking of developing an app for my blog. I have thought of adding categories for especial diets such as vegan, gluten free, diabetic etc as well as shopping lists, does anyone have any input as to what would they like to see in the app? I would want to come up with something practical so if you have any ideas I would like to know about them, after all the app is for you!
Anyways, I hope you like this roasted garlic spinach white pizza, my kids sure enjoyed it. I added some pepper flakes for the adults for some added heat, it was to die for.
Enjoy!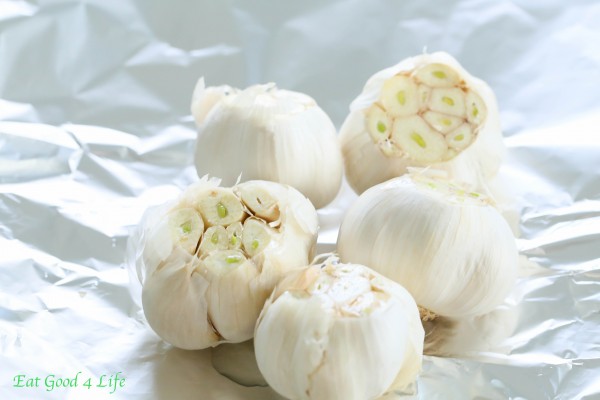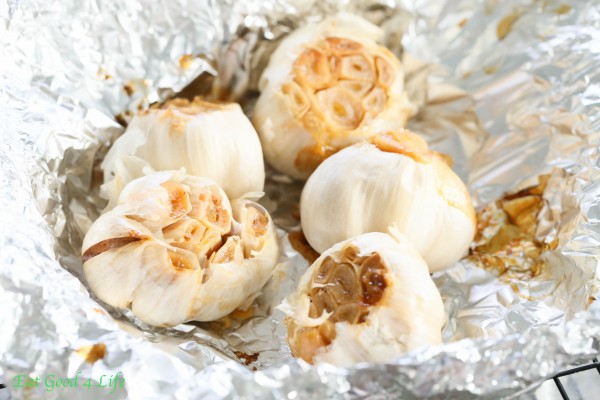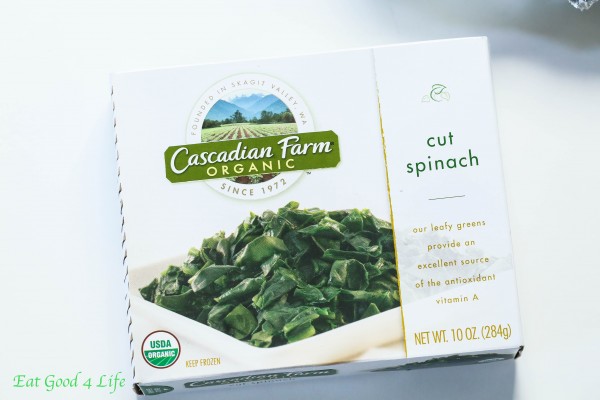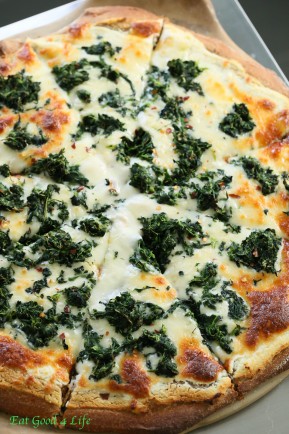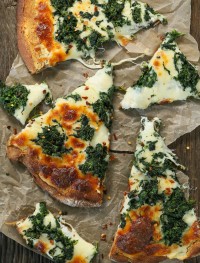 Roasted garlic spinach white pizza
Yield: 2 pizzas, 16 slices
Total Time: 1 hour
Ingredients:
4-5 heads of garlic
4 tsp olive oil
2 whole wheat pizza dough
32 oz part skim mozzarella cheese
16-22 oz ricotta cheese
20 oz Cascadian Farm frozen spinach, thawed and liquid squeezed
Pepper flakes, optional
Directions:
Heat your oven to 400°F. Use your fingers to peel away all the loose layers around the head of garlic. With a knife, cut off about 1/4 inch from the top of the head to expose the cloves.
Drizzle 1 teaspoon of olive oil over the exposed surface of each garlic head. Wrap the garlic in aluminum foil and roast for 30-40 minutes. The garlic is done when a center clove is completely soft.
Let the garlic cool slightly. Press the bottom of the entire clove to push it out of its paper. Place it in a bowl and mash with the back of a fork. Combine the roasted garlic with the ricotta cheese and set aside.
On a flat surface, like your kitchen counter, place some whole wheat flour to prevent the dough from sticking. Roll out your pizza dough with a rolling pin. Place the pizza dough onto the pizza stone making sure you reach the edges. You can also use a pizza baking sheet or a cookie sheet. Repeat this with the second pizza dough.
Spread half of the ricotta cheese mixture over each pizza dough followed by the mozzarella cheese and spinach. Bake the pizzas at 425F in a preheated oven for 18-2o minutes.
When the pizzas are done top with pepper flakes if using. Serve immediately.