Pumpkin spiced baked donuts with caramel sauce
I love baked donuts and these Pumpkin spiced baked donuts are nothing but perfect.
What could I say about these Pumpkin spiced baked donuts. Nothing else but that they are just out of this world… and a big bonus, these are just 215 calories each!
I know fall is right around the corner, however, I can't wait until then to bake fall related things like these donuts. It seems like I have been doing none stop though… oh well, I am sure you don't mind.
These donuts come from one of my old recipes, triple chocolate donuts, that I made a long time ago. I just tweaked the recipe up a bit and came out with these sensational pumpkin donuts instead.
There are few pointers to consider before you try these donuts. I actually learned after a few tries so if you make them for the first time it will save you some headache.
Make sure you grease the donut pan generously, the little round donut hole included. I used butter for this step.
Let the donuts cool in the pan between 5-10 minutes before removing them and letting them cool completely on a wire rack.
Make sure you remove the donuts carefully, running a knife around the edges before attempting to get them out.
You can use any type of caramel of your choice to glaze the donuts. I just wanted to keep it extra healthy so I used the caramel sauce made out of dates.
Even though these Pumpkin spiced baked donuts have a donut form, they pretty much taste like a pumpkin muffin. I just like the donut form because it is more fun for the kids. They really think they are having the real deal, just a much better option instead.
I have still to make different versions and perhaps, even one day, I will make the fried type again.
Let me know if you get to try these pumpkin donuts, I hope that you enjoy them as much as we did.
Enjoy!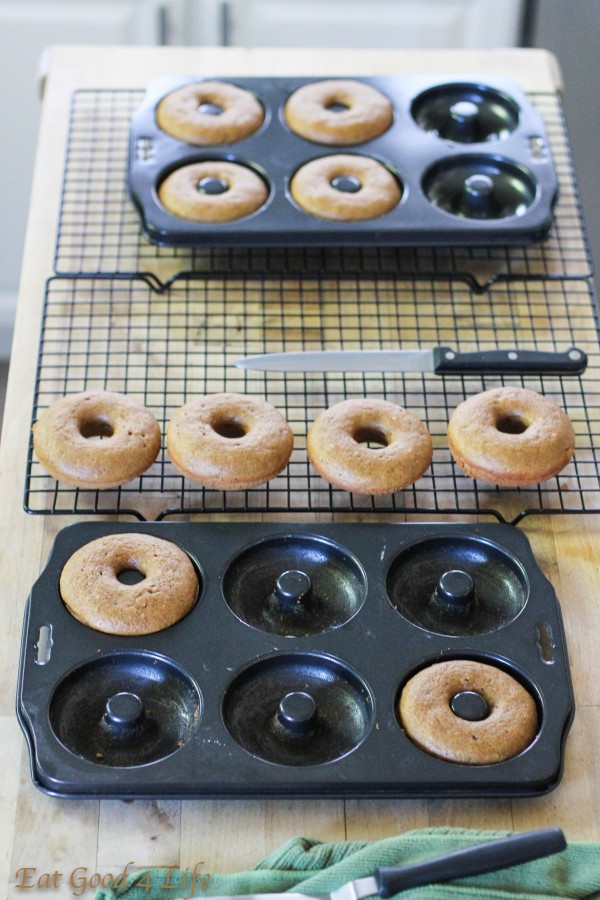 Here you can see the donuts being taken out of the pan. You have to do it nice and slow, running a knife all around the edges. Just make sure that you grease the pan generously so that the donuts don't stick to donut pan too much.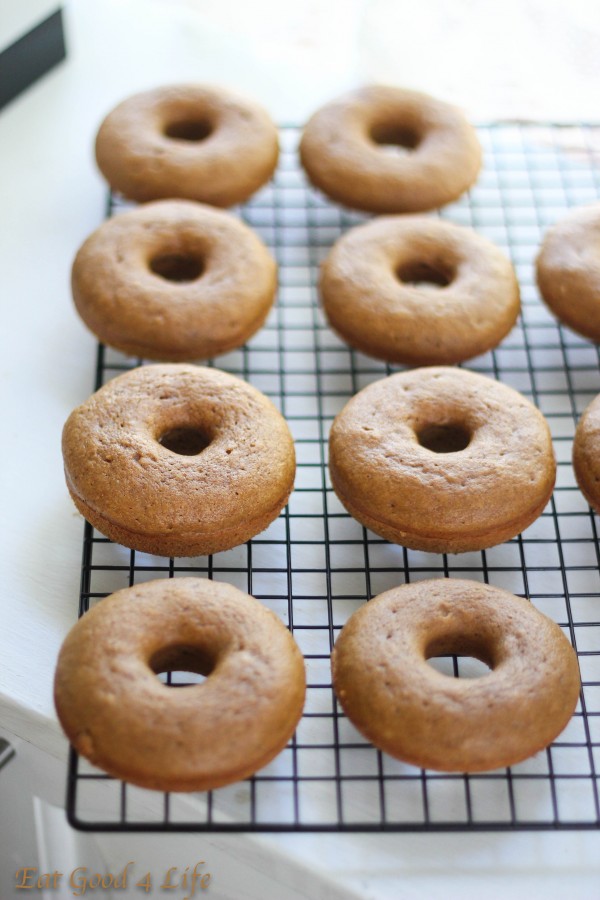 Let the Pumpkin spiced baked donuts cool on a wire rack until they are cool completely before glazing them with the caramel. You can actually decorate them as you wish. The donuts are not that sweet at all so some sort of sweet glazed would be good.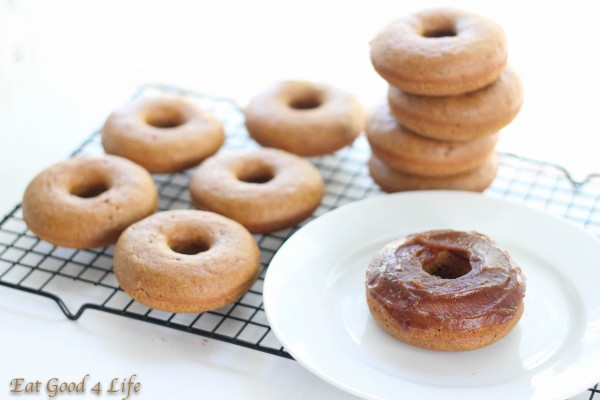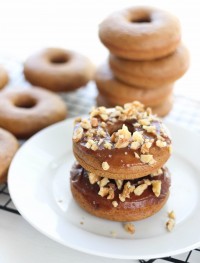 Pumpkin spiced baked donuts with caramel sauce
Yield: 10 donuts
Total Time: 30 minutes
Ingredients:
Caramel
11 pitted dry dates
1/3 cup almond milk, more if you like the caramel runny
2 tbsp raw honey
1 tsp cinnamon
Directions:
Preheat oven to 325°F. Grease the donut pan and set aside.
In a bowl, with a wire whisk, whisk eggs, milk, sugar, vanilla extract, pumpkin and oil. Add flour, baking powder, baking soda and spices. Whisk until combined. Fill each donut hole 2/3 full.
Bake for 17-22 minutes. Cool donuts in the pan for about 10 minutes and remove them to a wire rack to cool completely.
To decorate, place caramel ingredients in a food processor and pulse until smooth. Glaze each donut with it and if you like sprinkle some chopped walnuts over each donut.
Store on a cake stand for up to two days.
Tip: Make sure you grease the pan all over specially in the middle round donut piece otherwise they will stick when getting them out of the pan, probably breaking apart in the process.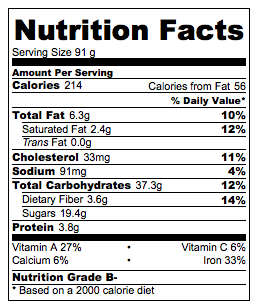 Nutrition facts calculated based on the recipe giving 10 servings. 1 donut = 1 serving