Out Of This World Strawberry Cupcakes
I love cupcakes and these Strawberry Cupcakes are nothing but superb.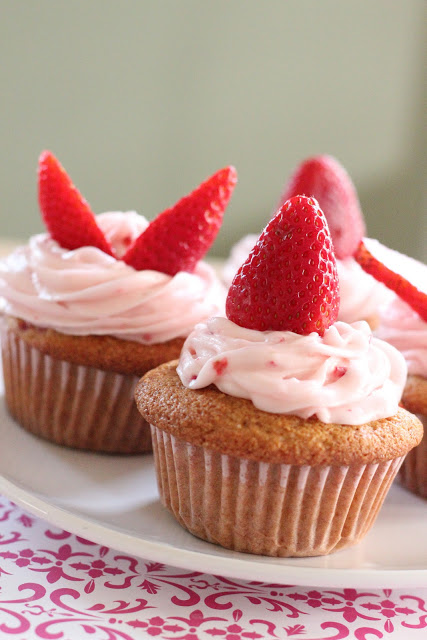 What can I say about these amazing strawberry cupcakes? well, the title, OUT OF THIS WORLD……secret ingredient?….. STRAWBERRY EXTRACT :-) as well as using organic strawberries. Not only are organic strawberries better for you, but their flavor is much more intense. Wild berries are one of the staple foods to get organic so if you can find organic strawberries at your grocery market go for them.
I could not believe how moist, light and tasty these Strawberry Cupcakes were. I actually got the recipe from the orange and cranberry cupcakes I made a few weeks back and changed a few things, AMAZING……
I am thinking about using this batter for my son's birthday party cake coming up in April and frosting it some other way.
I have seen a lot of strawberry cupcake recipes out there but this one I think tops them all. You don't miss the butter and all of the sugar that are in other cupcake recipes and let's just say that the fact that these cupcakes have the whole wheat pastry flour, SUPERB…and most importantly, you can't even tell it is whole wheat.
This is how I trick my friends and some family members. First they have a taste and then I tell :-)
I bet you can even use maple syrup or honey instead of sugar for the batter. Something to think about….Also if you don't feel like you want to bother with the frosting or want the cupcakes to be even healthier, you can just skip the frosting all together and sprinkle some sugar on top of the Strawberry Cupcakes before baking.
Enjoy!
Here you can appreciate the strawberry pieces. You can leave as is and just sprinkle some sugar on top of each cupcake before baking.
I think this batter can be made as a cake and will do that next time as I have been looking for a strawberry cake for quite some time. I am so glad I made this, super happy :-)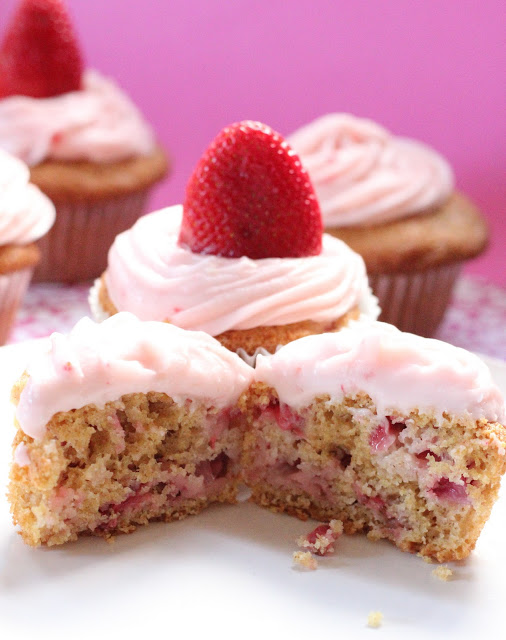 Here you can see the strawberry chunks. These cupcakes are just out of this world…..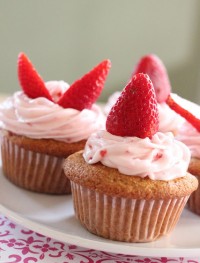 Out Of This World Strawberry Cupcakes
Yield: 18 cupcakes
Total Time: 30 minutes
Ingredients:
2 cups whole wheat pastry flour
1/2 cup unrefined sugar, if frosting 1/3 cup will be sufficient
1 1/2 teaspoon aluminum free baking powder
1/2 teaspoon aluminum free baking soda
1 organic egg
1 1/2 cup diced strawberries, organic are better
1/4 cup olive
1 cup almond milk
2 teaspoons strawberry extract, try not to leave it out it makes a huge difference although you can still use vanilla extract
Frosting
8 tablespoons butter
8 oz reduced fat cream cheese
4-5 cups confectioner's sugar
1/4 cup finely chopped strawberries
Directions:
Preheat oven to 350F. Line a cupcake pan with cupcake liners.
In a bowl beat, with a wire whisk, mix egg, oil, milk, strawberry extract, and sugar. Add flour, baking powder and baking soda. Fold in the the strawberries.
Spoon batter into cupcake liners 3/4 of the way. Bake for 18-22 minutes until golden and tester comes out clean. Remove immediately from the pan after baking and let cool completely on a wire rack.
For the frosting, mix all of the ingredients ( I normally use a hand mixer when doing this) and frost cupcakes. Use whichever pattern you like!
Left nutrition facts label calculated based on the recipe giving 18 servings using frosting. 1 cupcake = 1 serving
Right nutrition facts label calculated without using frosting.