Oatmeal, raisin and walnut cookies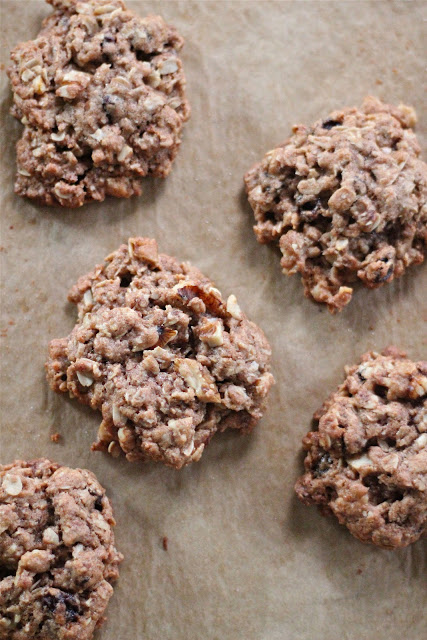 This recipe is slightly different than the original raisin and oatmeal cookies because of the walnuts in them. I do like them better with the walnuts because of the crunch it gives to the cookie but most importantly because of the addition of the healthier fats like the omega 3's they contribute to.
This fat is anti inflammatory and it also lowers your cholesterol, a very good thing, so try the cookies with the walnuts, they are really good!!
These oatmeal and raisin cookies are soft and chewy, which I love. If you have time I suggest you marinate the raisins in brandy for 30 minutes to 1 hour and drain the brandy before adding to the cookie batter. You will see how much better the cookies taste :-)
I hope you get to try these raisin and oatmeal cookies, they are really good, otherwise I wouldn't be posting the recipe :-)
Enjoy!!
Like drop cookies, these are pretty much straight forward. If you like you can omit the walnuts but I just like the cookie better this way, plus it adds some healthy fats like the omega 3's that should be essential in every one's diet!!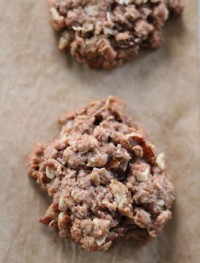 Oatmeal, raisin and walnut cookies
Ingredients:
3/4 cup unrefined sugar
1 egg
4 tablespoons butter, at room temperature
1/4 cup olive oil
1 teaspoon real vanilla extract
3/4 cup whole wheat pastry flour
1/2 teaspoon baking soda
1 teaspoon cinnamon, more if you like
1/2 cup raisins
1/2 cup walnuts,  chopped
1 1/2 cup oats
Directions:
Preheat oven to 350°F. Line two cookie sheets with parchment paper.
In a large bowl combine sugar, butter, olive oil, egg and vanilla. Blend well.
Add flour, baking soda, and cinnamon. Mix well.
Add nuts, oatmeal and raisins. Drop dough by rounded teaspoonfuls 2 inches apart, flatten slightly with the back of the spoon, and bake between 8-10 minutes.