No-bake strawberry lemonade cheesecake
This recipe is sponsored by Florida's Natural® I used their product to make this No Bake Strawberry Lemonade Cheesecake. The opinions and text are all mine. The end.
Summer is here and baking is something that I try to avoid in the hot summer months. That is why I came up with these No-Bake Strawberry Lemonade Cheesecakes which are perfect when you just don't want to turn on your oven. No bake, easy to make, and delicious. I just made a batch and my family is already asking to have them again next week–they are that good!
What I love about these no-bake cheesecakes is that they only require a few ingredients and come together in minutes. And the best part is that for this recipe you don't have to turn on your oven. How great is that?
The recipe filling is made from a mixture of sweetened condensed milk, cream cheese and Florida's Natural® Brand Lemonade, which makes the filling very creamy and silky. If you would like to use maple syrup or honey instead of the condensed milk, you could. I wanted to try with something that was more of a creamy, silky consistency, and sweetened condensed milk was the perfect ingredient to achieve this texture.
These individual cheesecakes can be put into any size serving dish you like. How many servings you get will depend on the size of the jars you use. I had old glass yogurt containers, so I used them for these individual cheesecakes, but you can use any type of jars you like.
I normally make this type of dessert at night and ahead of time so that they can sit in the fridge overnight and be nice and cold the next day.
These individual cheesecakes are perfect for a summer BBQ, a family gathering or even for any 4th of July parties you may be hosting. These no-bake cheesecakes are sweet, bright and have a fabulous, tangy flavor.
To get this flavor, I used Florida's Natural Brand Lemonade. Florida's Natural Lemonades are a family favorite of ours: delicious and refreshing on their own, or used in marinades, salad dressings or desserts, like these cheesecakes! They come in five tasty flavors to play around with in whatever recipe you make, including traditional Lemonade, Lemonade with Strawberry, Lemonade with Raspberry and Peach, Lemonade with Blackberry, and Zero Sugar Lemonade.
These No-Bake Strawberry Lemonade Cheesecakes are a breeze to put together. You just need just a few ingredients and the fact that they are no bake makes them even more convenient. This is the perfect individual dessert to serve your guests this upcoming holiday.
Enjoy!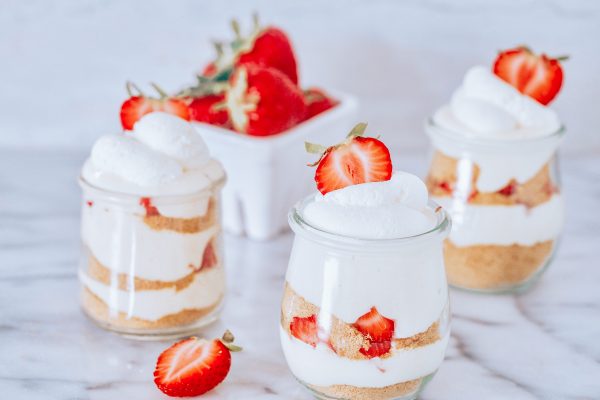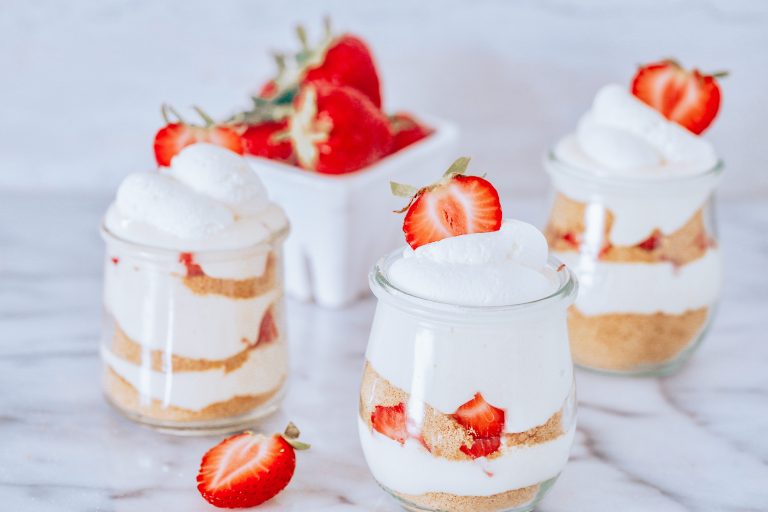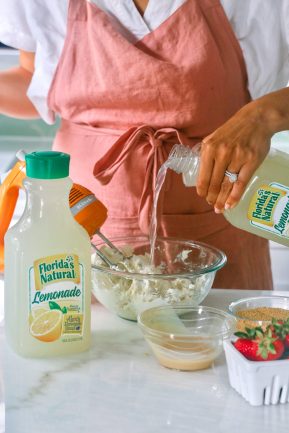 .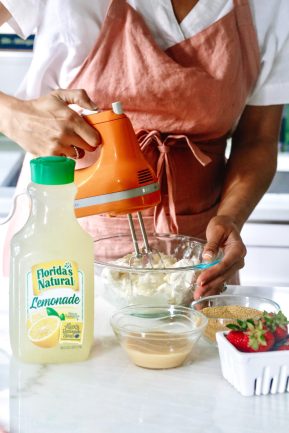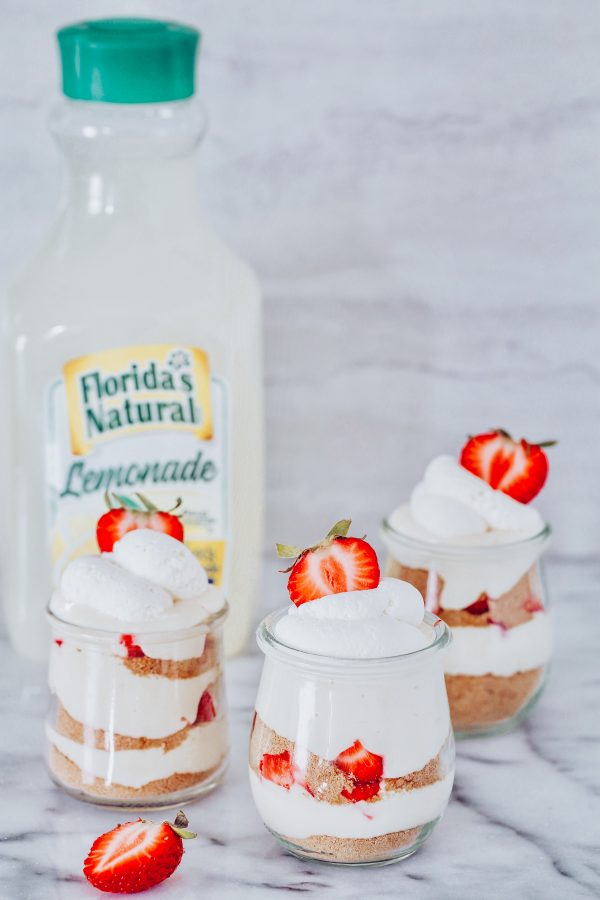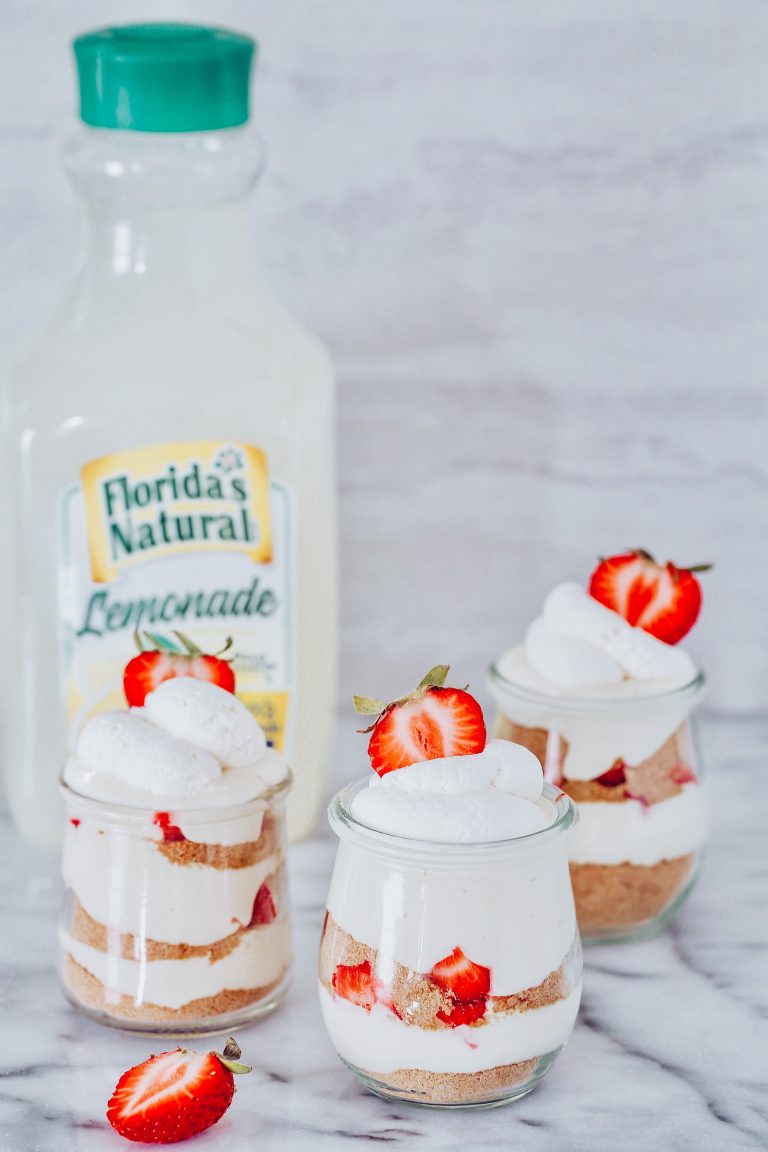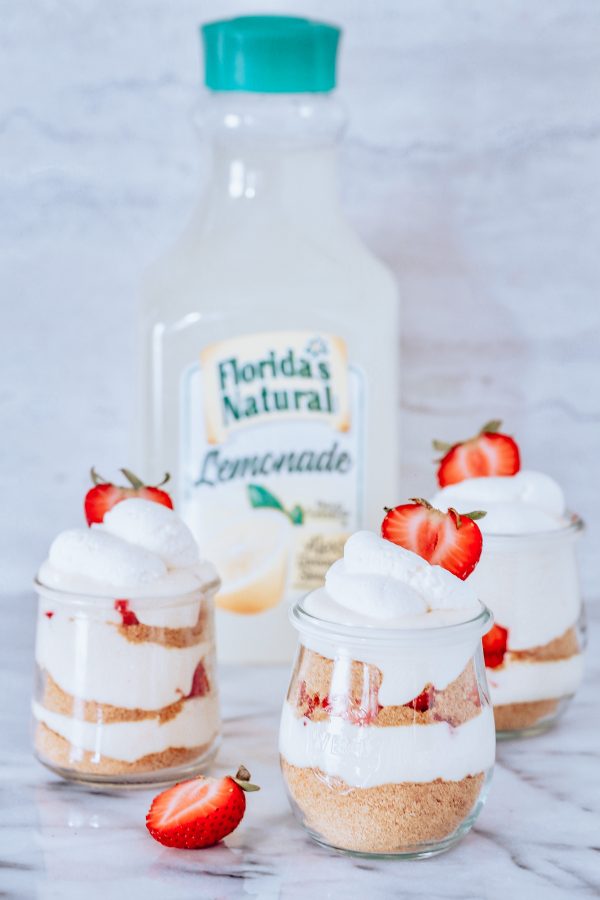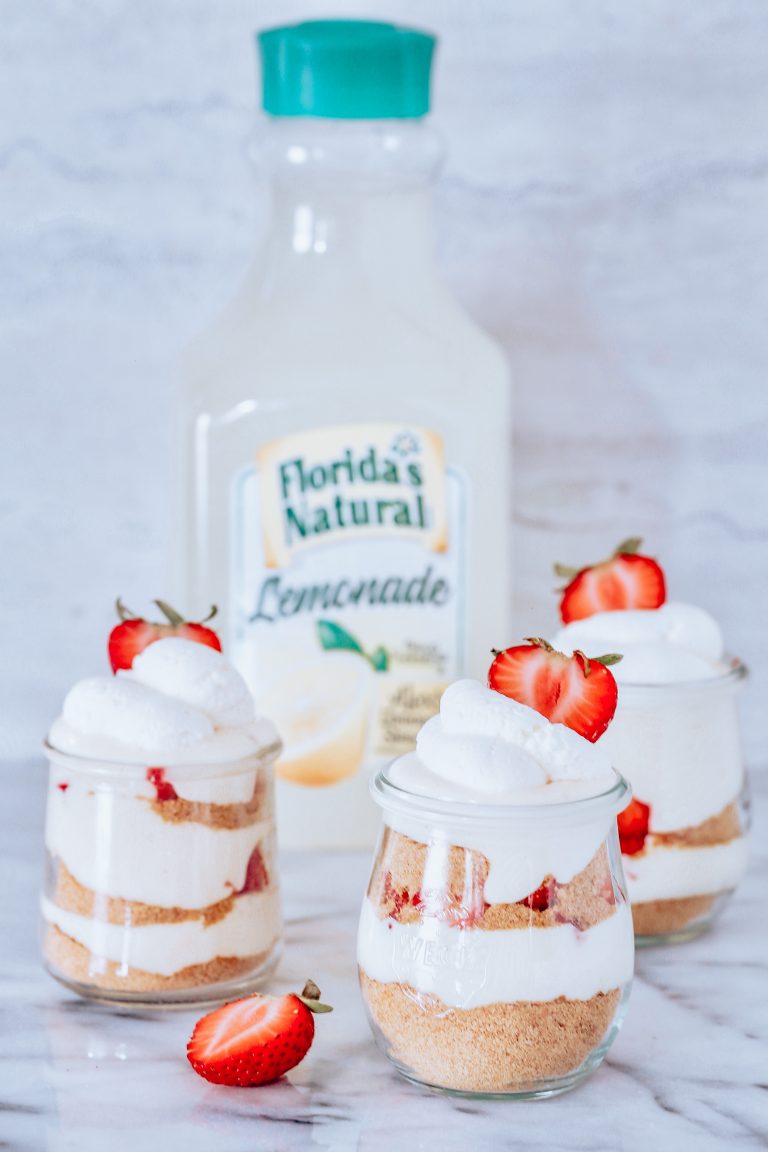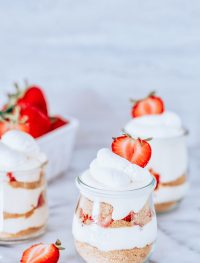 No-bake strawberry lemonade cheesecake
Yield: 10 servings
Prep Time: 5 minutes
Total Time: 20 minutes
Ingredients:
For the Crust:
1 cup graham cracker crumbs
For the Cheesecake:
16 oz cream cheese, room temperature
14 ounce can sweetened condensed milk
1/2 cup Florida's Natural® Brand Lemonade
1 teaspoon pure vanilla extract
2 cups hulled and chopped strawberries
For the Garnish:
whipped cream
strawberries
Directions:
Evenly divide the crumbs between 6 individual serving dishes, this will be the bottom crust layer.
In a large bowl with a hand mixer, beat cream cheese for 2-3 minutes. Add in sweetened condensed milk mix until smooth.
Add in Florida's Natural® Brand Lemonade and vanilla and beat for an additional 2-3 minutes until smooth and creamy.
Evenly spoon cream cheese mixture into prepared serving dishes. Add chopped strawberries and repeat layer. Refrigerate for at least 4 hours.
Before serving, top with whipped cream and strawberries.