No bake double chocolate and prune energy bars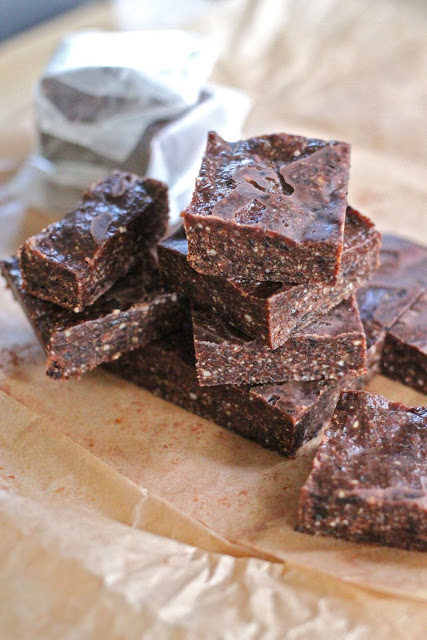 These no bake double chocolate energy bars are SPECTACULAR. I will start by saying that not only these bars are versatile but they are simple to make and super super nutritious.
Do you have high cholesterol? well if you do or know someone that does these bars are the perfect treat. Prunes have the soluble fiber you need to lower cholesterol. I am sure you have heard about cheerios or oatmeal doing such right? That is because they contain soluble fiber (cheerios not that much, oatmeal its sort of ok) but there are other better food options that can lower cholesterol much better, and this is one of them.
Not only prunes have quite a lot of soluble fiber but they are very rich in antioxidants as well.
These bars are a really easy way to get soluble fiber in, not to mention the amount of flax seed meal that it is also included in the recipe and that it also contains tons of soluble fiber :-) THESE BARS ARE A SUPER SUPER POWERFUL NUTRITIOUS TREAT.
Just a little FYI note about how soluble fiber lowers cholesterol: Lowering cholesterol through diet it is pretty simple. Because cholesterol is recycled in the body and it is not excreted the only way you can lower it is by adding soluble fiber foods in your diet. Why? cholesterol will get attached to the soluble fiber and then excreted. It is as simple as that!!
Anyhow, I was thinking of getting my husband some protein energy bars for Christmas. I was thinking of getting them in bulk since they are super expensive. Instead, I am going to make him some home made energy bars using this recipe since he already likes them a lot.
They will be pretty much like these ones but I will add the protein powder he always has for breakfast in the morning so that they can be protein energy bars :-) I will make him a bunch. He is going to be super pleased…….
Well enjoy this super food. They may not look good but they taste awesome :-) or at least we think so…..
Enjoy!!
You can cut the energy bars as you wish. I cut them as squares some times rather than bars :-)
Here you can see one of the first steps. The flax seed, the dark chocolate chips and the almonds already made into a meal texture, all being mixed together. The right picture is after all of the ingredients are blended together in the food processor.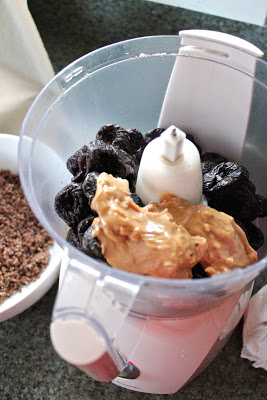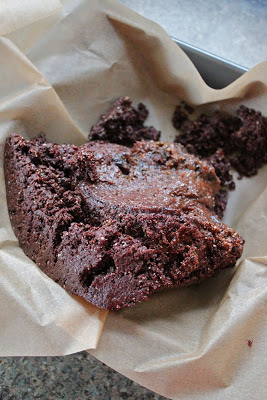 The next step is the peanut butter, prunes and honey. The right picture is after all of the ingredients are mixed together including the previous almond mixture.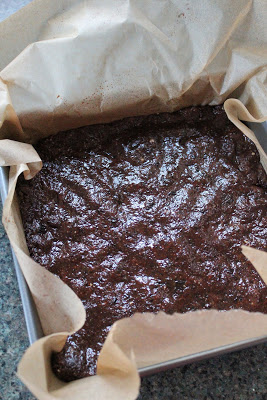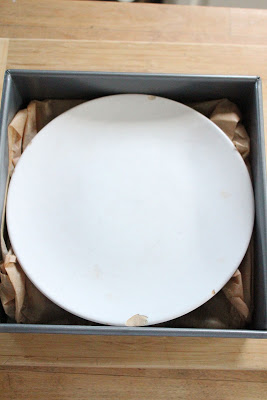 Then I pad it down in the square baking pan, place the parchment paper over it and top it with a small plate. I place in the fridge for about 2-3 hours before I cut the bars.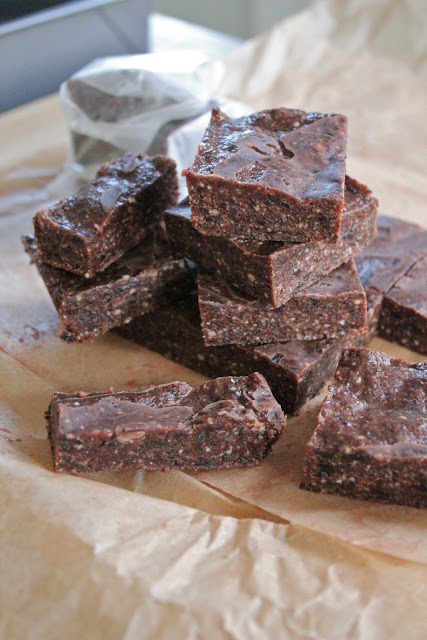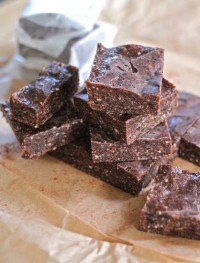 No bake double chocolate and prune energy bars
Yield: 14-16 bars
Total Time: 20 minutes max!
Ingredients:
1 lb whole pitted prunes
1 cup raw or toasted almonds
1/2 cup dark chocolate chips
1/2 cup flaxseed meal
1/2 cup cocoa powder
2-3 tablespoons honey
2 tablespoons organic peanut butter, you can use any brand you like but make sure it has no hydrogenated oils
Directions:
Line a 8 by 8 inch square pan with a piece of unbleached parchment paper so that the paper hangs over the long edges (you can use any other size square pan you may have). Set aside.
In a food processor, with the metal blade, add almonds and pulse until coarse bread crumbs have formed. Add dark chocolate chips and flax seed meal and pulse until finely chopped. Place this mixture in a bowl and set aside.
Place prunes, honey, peanut butter and cocoa powder into the food processor and pulse until mixture is finely chopped and it comes together nicely. Add previous almond mixture into the food processor and pulse for a few seconds until everything come together.
Press the mixture evenly over the pan and fold excess parchment over the bars. Place a plate to cover the bars, like in the picture, and refrigerate for at least 2 hours.
Transfer the mixture to a cutting board and cut as desired. I keep my bars wrapped in wax paper in the fridge. Unrefrigerated bars are good for about a day or two.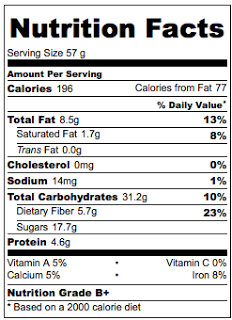 Nutrition facts are calculated based on the recipe giving 14 servings. Notice this is high in fiber.