Lime cheesecake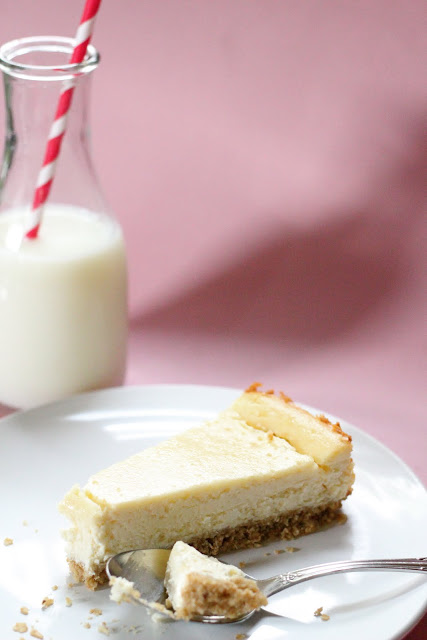 Here you have it, my most popular cheesecake recipe to date. This one is always a pleaser not only because it tastes good but because it is extremely easy to put together as well.
This cheesecake is superb because is not powerfully sweet but it is also very refreshing. It is a perfect summer dessert sure to please anyone.
For this I used 1/3 less fat cream cheese. I know it is a big no no but for us it works better. I also don't bake the cake on a water bath, I have never done it before, and the cake turns fine. Maybe a little cracking here and there but we couldn't care less :-)
I am not a professional baker and the cake still looks good.
Enjoy!!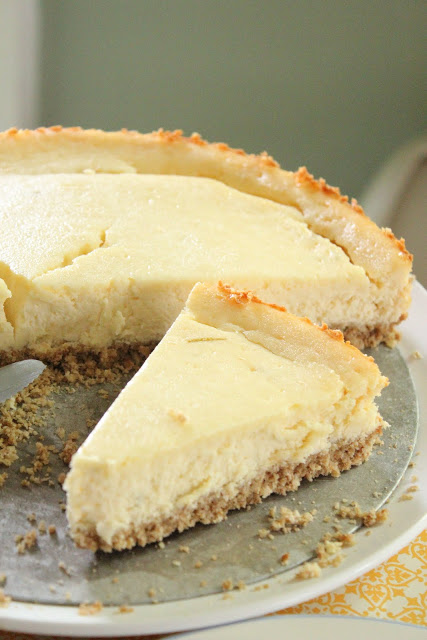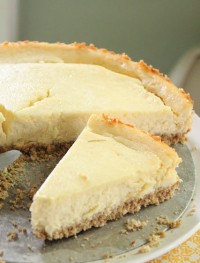 Lime Cheesecake
Ingredients:
3 8oz cream cheese, room temperature
3/4 cup sugar
3 organic eggs, room temperature
1 tablespoon lime zest
1/4 cup lime juice
Crust
1 1/2 cup rolled oats
1 1/2 cup honey nut cheerios without high fructose corn syrup, any other cereal is fine
4-6 tablespoons butter, melted
1-2 tablespoons almond milk
Directions:
Preheat oven to 325°F. Place cheerios and oats on a food processor and pulse until pulverized.
In a large bowl beat cream cheese until smooth. Beat in the sugar, lime juice and zest and combine. At low speed incorporate the eggs. Blend until smooth.
On a cheesecake pan with removable bottom or springform pan place crust ingredients and mix thoroughly. Press down onto the pan.
Pour cheesecake batter over the crust and bake for 50-55 minutes or until set. Turn oven off and let cheesecake set for about 30-45 minutes before placing in the fridge.
Refrigerate cheesecake for at least 4-6 hours before serving.