Lime and coconut Butter Cookies round 2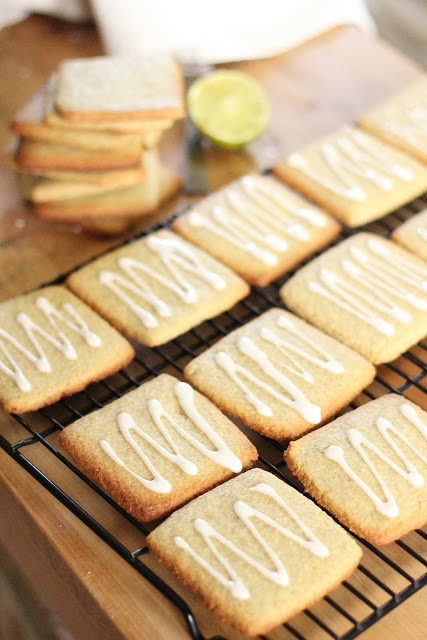 Here you have it, the recipe for my second attempt to this cookie recipe posted last week. I was able to replaced all of the white flour and use whole wheat pastry flour, much better. I was also able to decrease the sugar content by 1/4 cup, not bad…..
I must admit that the cookie was not as crunchy as the first one but still very good. The fact that this cookie recipe was way better for you than the first one, well, I couldn't really care less of the cookie not being as crunchy ;-)
I also experimented with another flavor rather than leaving the cookie plain like the first recipe attempt. It was a great success, although you can just leave it plain if you would like as well as omit the glaze. I just thought it would be more festive and pretty.
Enjoy!
Here you can see both stages of mixing in the ingredients.
Dough divided between plastic wrap before being placed in the fridge and the final result. It was yummy ;-)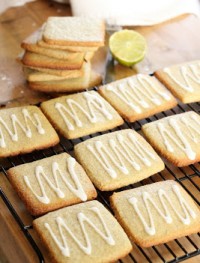 Lime and coconut Butter Cookies round 2
Ingredients:
Directions:
Beat butter and sugar until fluffy, about 2-3 minutes. Beat in egg, oil, zest and lime juice. Add flours, shredded coconut and baking powder.
Divide dough into two and flatten out with a rolling pin like in the pictures. Chill dough for at least 4 hours. I did over night.
Preheat oven to 350F and line two baking cookie sheets with parchment paper.
Roll out the dough to about 1/4 inch thick and stamp out rounds or squares using a cookie cutter (I roll out the dough in between plastic wrap which I find very easy to do. You can use any other cookie cutter shape you like as well).
Bake cookies for 14-17 minutes. Cool on sheets for 2-3 minutes and transfer them to a wire rack and cool.
If using the glaze mix ingredients to obtain desire consistency and drizzle over cookies.
Tip: Dough can be chilled for up to 5 days or frozen wrapped in a double layer of plastic wrap for up to 1 month. If frozen, thaw dough in the fridge before using.