Kale and soy chorizo hash
I love chorizo but some of my readers are vegan so using soy chorizo to make this kale and soy chorizo hash was a good alternative in this case!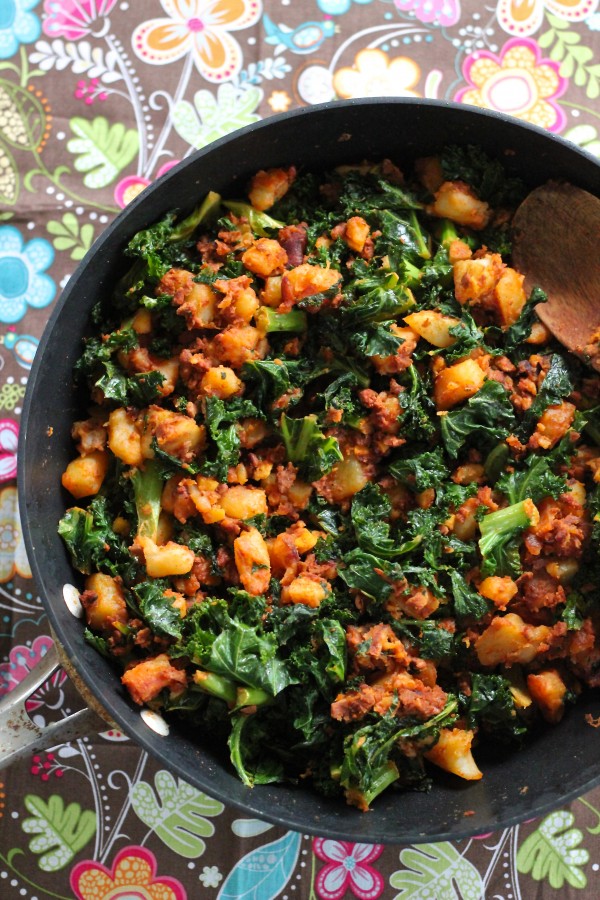 I haven't used kale for a while but the past week I kind of went on a kale obsession.
I have actually made another version of this but used extra firm tofu instead of potatoes. It was also very good so I will post that recipe perhaps in a week or so. I have a few recipes to get through first and post in the blog.
I am not much of an imitation meat consumer however this soy chorizo is an exception. This kind doesn't contain any weird or fake ingredients. This soy chorizo is one of the only things I have found that is actually edible. I got it at Trader Joes but maybe you can try some other stores if you don't have Trader Joes around where you live. Just read the food label to make sure it doesn't contain any fake ingredients. If it does, don't buy it.
You can also use real chorizo if you like, but make sure it doesn't contain any sodium nitrates/nitrites which is carcinogenic, a cancer causing agent.
You can also add some other veggies of your choice. Maybe onions or peas will be a good addition. Either way I think this was great as is. Get a couple of eggs with it, and you are good to go.
At last we are getting some nice weather here in NJ. I think it was about time given the fact that we are almost in May!
Stay safe and enjoy!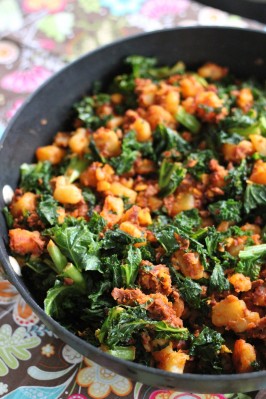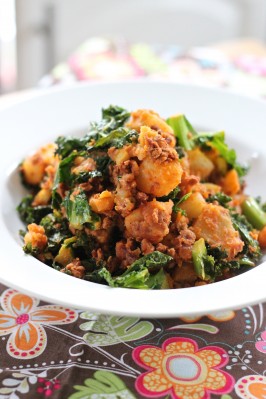 This is the first time I have done hash and it will not be the last. If you prefer you can use real chorizo instead of the meatless version. Just make sure the chorizo that you buy is sodium nitrate/nitrite free.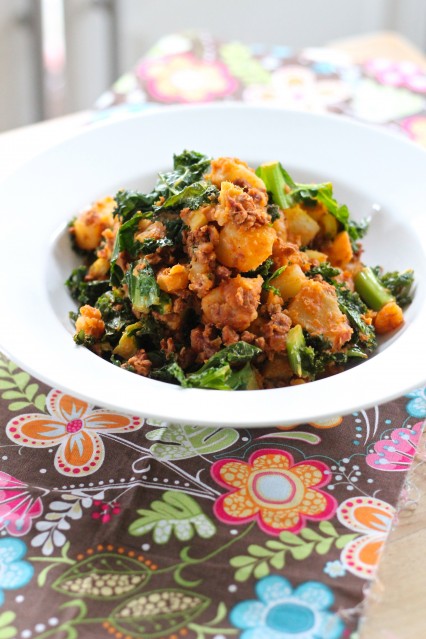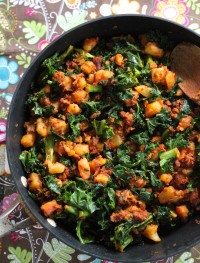 Kale and soy chorizo hash
Yield: 4-6 servings
Total Time: 20 minutes
Ingredients:
2-3  lbs organic diced peeled rosette potatoes
12 oz fresh kale, I use more
12 oz soy chorizo, I got mine at trader joes
1 large piece fresh ginger, chopped
2-4 Tbsp olive oil
Pinch of salt
Directions:
In a large skillet, over medium heat, place 2 tablespoon olive oil. Add the chopped potatoes and stir occasionally making sure all the potatoes get cooked through. You may have to add more oil as the potatoes cook through.
When the potatoes are almost done add the chopped ginger. Cook for a couple of minutes. Add the soy chorizo and kale and stir cooking until the kale softens a little bit. About 3-4 minutes.
Add a pinch of salt if desired. Serve while still warm with some eggs or as desired.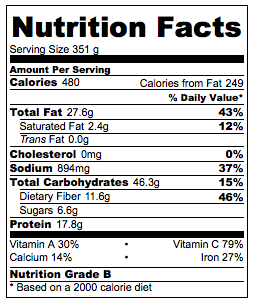 Nutrition facts calculated based on the recipe giving 6 servings.