Instructions on becoming an affiliate
Click on the following sign-up link,  Join Eat Good 4 Life Affiliate Program and obtain 50% of the sale
If you are not already logged into E-junkie, this will take you to E-junkie's login/registration page where you can:
Log into your existing E-junkie account;
…OR…
Register for a new account if you don't have one. It is FREE.
You will arrive at your Affiliate Admin;
If you registered a new account, go to Edit Profile and type the PayPal Email where you want to receive commission payments;
Click Get Affiliate Code;
The Select Merchant menu lists the affiliate programs you have joined*;
Select the merchant whose link codes you want to get;
Click Get Affiliate Code, then:
Click Get Affiliate Code to obtain product-specific link code:

Hop Link: works like the Common Hop Link, where your link redirects the buyer to the seller's page (see more about Hop Links below);

Paste your link code into the HTML source of your own Web page, wherever you want the picture to appear among your own text, images and layout;
For a choice of different size adds see the HTML codes below. You can choose from a 125×125, a 300×250 or a 160×600 book add. If none of these sizes are suitable contact me and I will make you a customize size add for your blog space.
Here is a visual on how to sign up as an affiliate:

1. Click here to access my affiliate account;
If you are not logged in the following screen will appear: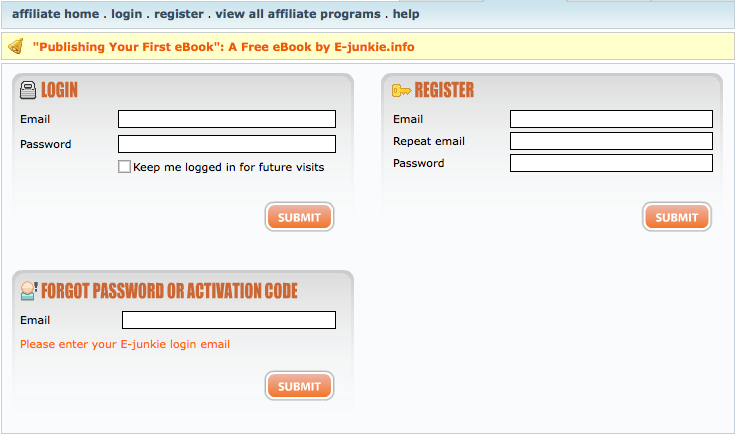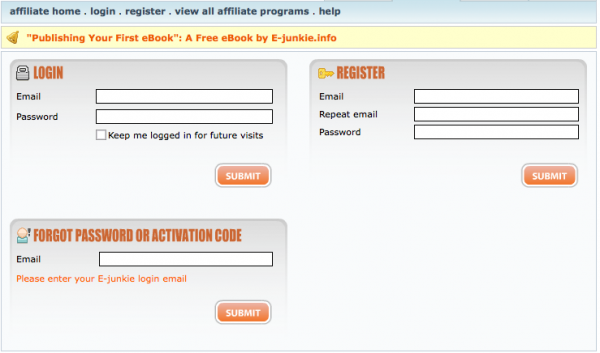 If you have an account already just sign in otherwise register for a new account, it is FREE.
2. Once you are in make sure you click on profile settings and update your information to include your paypal email. It's important that you have a PayPal account, as this is how you will get paid for your earnings. If you do not have a PayPal account you can set one up here. Click submit.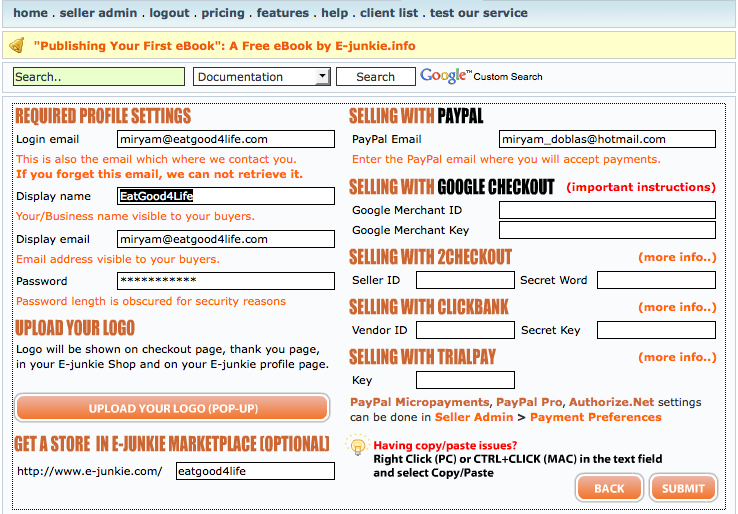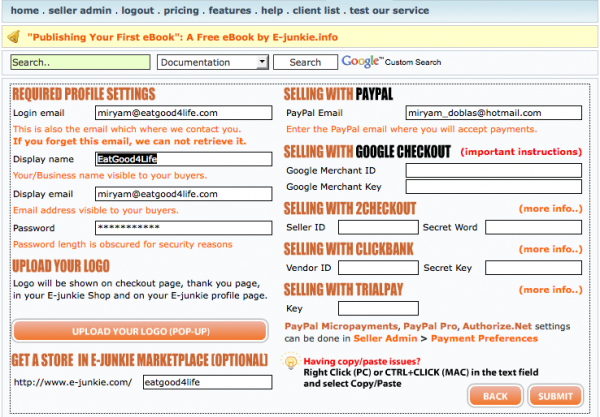 3. Now got into affiliate admin, this is what you will see. Click on get affiliate code.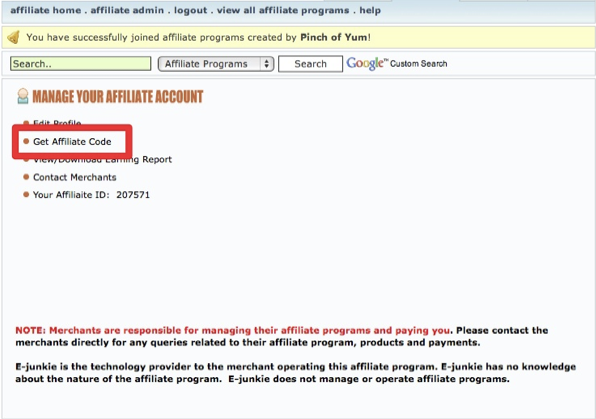 4. Once you click on get affiliate code you will be prompted to the following screen. Click on get affiliate code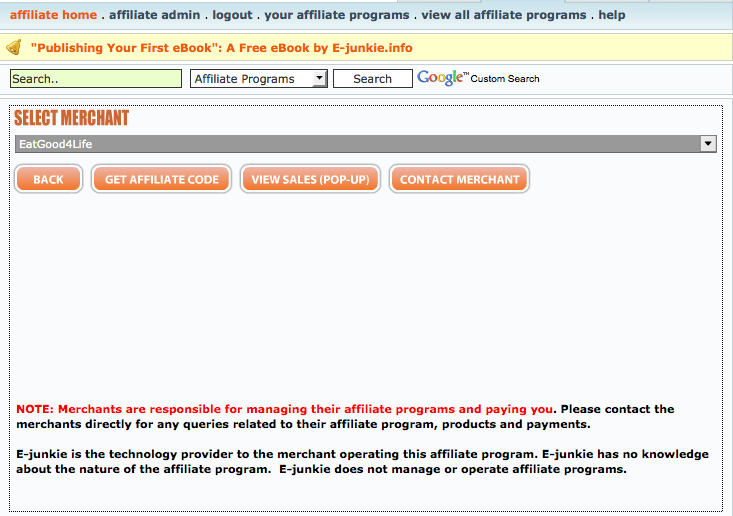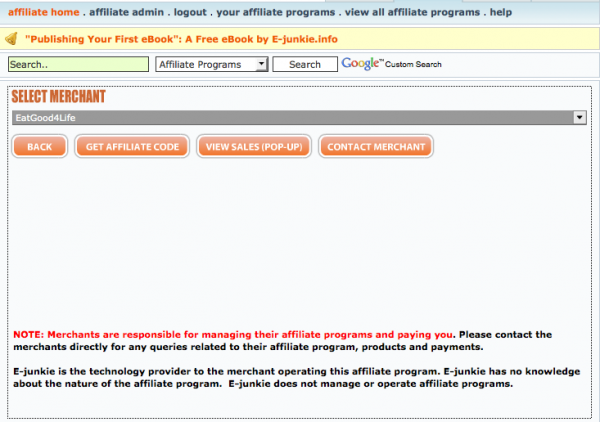 5. Copy the code underneath the words that say "get common affiliate hop link" and paste this code into your blog or website. However if you would like to have a picture of the book in your site you will have to complete step 6.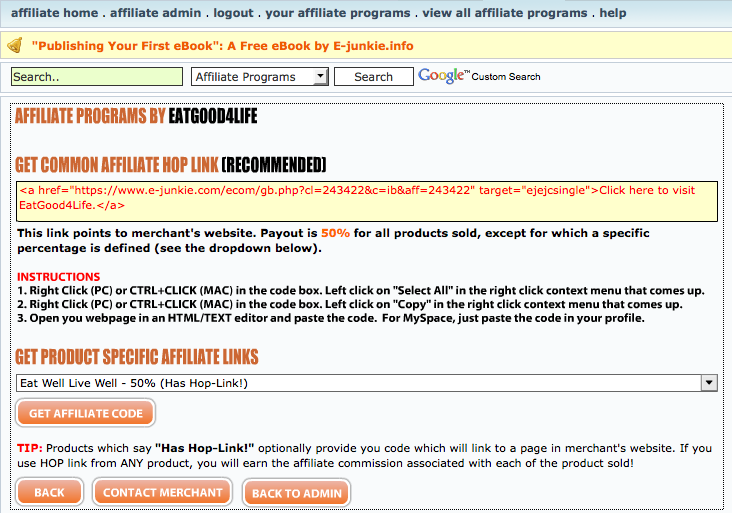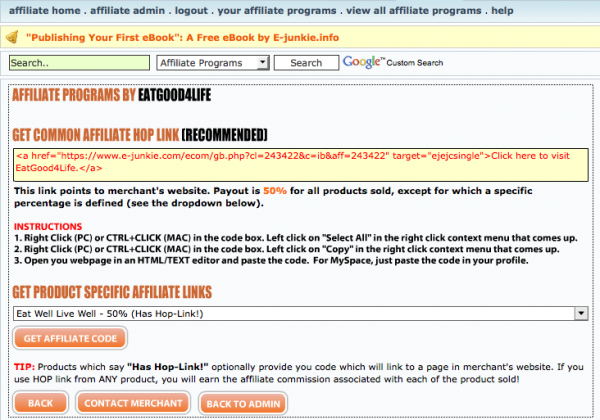 6. In order to have a picture of the affiliate link you must edit this code on the following way:
Replace the highlighted text (Click here to visit EatGood4Life.) shown below by any of the three size add codes also shown below. All you have to do is copy the code below the image and paste it into your affiliate link (replacing the text that says "Click here to visit EatGood4Life.")


For example if you decide you want to use the 350×200 size book picture this is how the code that you will have to paste onto your website will look like: The highlighted blue area is the code for the 350×200 size book picture that I have put in place of the "Click here to visit EatGood4Life."

300×250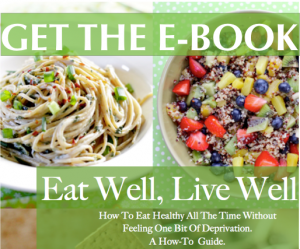 Code
<img src="https://www.eatgood4life.com/wp-content/uploads/2013/04/Screen-Shot-2013-04-06-at-9.58.08-PM2-e1365699231159.png" alt="Screen Shot 2013-04-06 at 9.58.08 PM" width="300″ height="250″ /></a>
160×200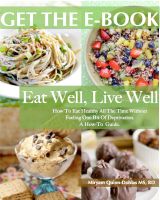 Code
<img alt="160×200″ src="https://www.eatgood4life.com/wp-content/uploads/2013/04/160×2001.jpg" width="160″ height="200″ /></a>
125×125

Code
<img alt="125×125″ src="https://www.eatgood4life.com/wp-content/uploads/2013/04/125×125.jpg" width="125″ height="127″ /></a>