Gluten free bourbon pecan bars
I can't rave enough about these gluten free bourbon pecan bars. As I said before, I made three different versions of a pecan dessert this past week. This was my second version and I think they are my favorite ones!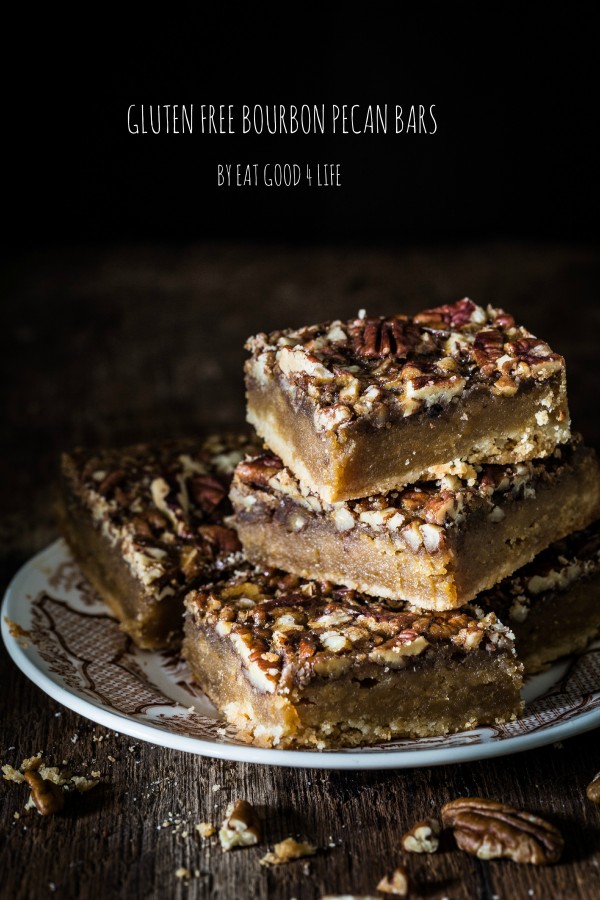 I am making these gluten free bourbon pecan bars again this week and then for thanksgiving dinner. I am actually doubling the batch each time I make them because they lasted no time. They were gone within a day they are so good.
The addition of bourbon was just plain awesome. While you can still use vanilla extract if you like the bourbon gives it a unique flavor so try it, you will be surprised.
These gluten free bourbon pecan bars is not something that I would be eating every day but given the holiday season I am giving them a few tries.
I am planning on making a few other desserts as well, most likely holidays cookies. I have a couple of sugar cookie recipes I like a lot but I want to try to make something new and perhaps something that is also gluten free and vegan, will see!
There is not much I can say about these bars, but that you have to try them for yourself. I was skeptical at first but it turns out that these gluten free bourbon pecan bars have become one of my favorite desserts lately. So darn good!
Enjoy!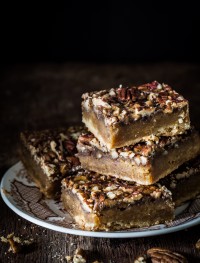 Gluten free bourbon pecan bars
Yield: 8 bars
Total Time: 45-50 minutes
Ingredients:
Crust
Filling
3 eggs, room temperature
1/2 cup maple syrup
1/2 cup unrefined sugar
1/2 cup chopped pecans
3 tbsp coconut oil, or butter
3 tbs bourbon (I used maple flavor)
Directions:
Preheat your oven to 350 degrees Fahrenheit.
To make the crust, mix ingredients in a medium sized bowl until combined.
Line a 8x8 square baking dish with unbleached parchment paper. Press crust mixture into the baking pan and bake for 10 minutes or until the crust starts to brown. Remove from the oven and allow it to cool.
Using a stand mixer, add the eggs and coconut sugar and whisk until you get a pale brown foam, about 2 minutes. Transfer the mixture to a saucepan. Add the coconut oil, bourbon and maple sugar. Cook over medium to low heat for about 6-8 minutes, stirring constantly until the mixture is thickened. Turn off the heat and allow filling to cool for 5-10 minutes.
Pour filling mixture over the crust and decorate with the pecans. Bake for 20 minutes. Let cool to room temperature and refrigerate for at least 6 hours before serving.
NOTE: For a GF version use one part vanilla extract plus two parts water for each tablespoon of bourbon.