Devil's Chocolate Cake with Candy Cane Frosting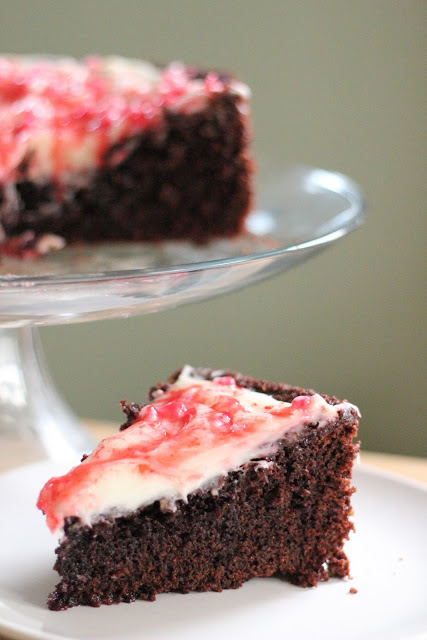 Another cake indicative of the holidays. Chocolate and a hint of mint with the candy canes makes this a simple addition sure to make this chocolate cake even better. You can see that the color of the candy canes leaked into the frosting because I baked the cake at night and took the pictures the following morning :-)
We really liked this cake, who doesn't like chocolate and mint together right?
I still to bake some cookies for the holidays though. I planned to do so this week or the next as I have to get my Christmas goodie bags ready. On the mean time enjoy this recipe and stay tuned for the other goodies to come :-)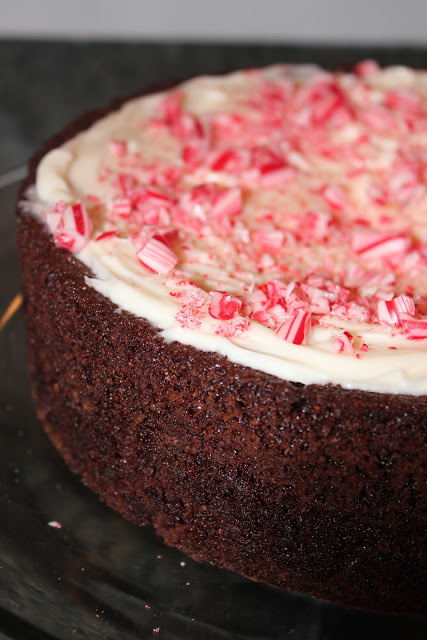 I baked the cake at night so the lighting, as you can see in the picture, was not ideal. The following morning the coloring of the candy canes made the frosting a little bit red but the cake was still delicious!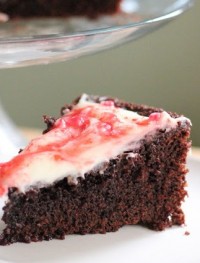 Devil's Chocolate Cake with Candy Cane Frosting
Ingredients:
2 cups pastry whole wheat flour
3/4 cup cocoa powder
1 1/2 teaspoon aluminum free baking soda
1/2 cup olive oil
1 cup sugar
4 eggs
2 teaspoons real chocolate or vanilla extract
1/2 cup buttermilk
1/2 cup brewed coffee, at room temperature
Frosting
1 8oz container 1/3 less fat cream cheese, at room temperature
1 cup powdered sugar
Candy canes, crushed
1/2 teaspoon peppermint extract
Directions:
Preheat oven to 325F and grease and flour a springform pan.
In a bowl mix eggs, buttermilk, extract, coffee, oil, and sugar. Add cocoa powder, flour, baking soda and combine.
Pour batter in the prepared pan and bake for 1 hour or until tester comes out clean. Cool on a wire rack for about 1 hour.
For the frosting, mix all ingredients except candy canes. When the cake is completely cool pour frosting over the top and smooth it out. Sprinkle candy canes and serve.