Dark chocolate and hazelnut cinnamon rolls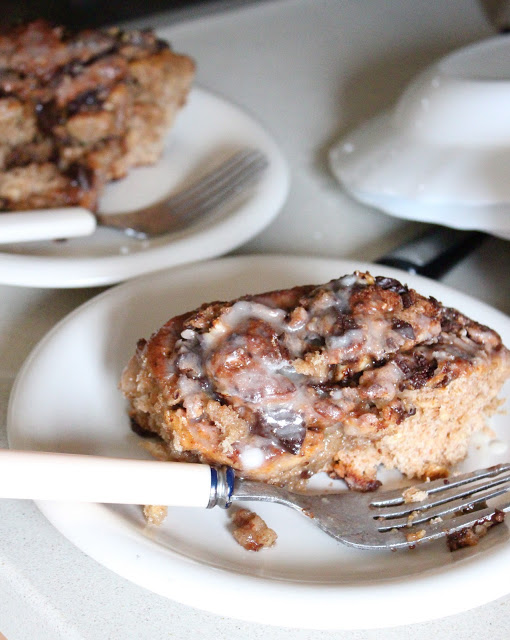 I am back…..again…..I just had surgery so I have not been cooking or baking much. Just a couple of hernias I got from the pregnancies…..how lovely right?
I am still under the weather a bit but I figured I post these amazing rolls I made while in Spain that I am so excited about. I wanted to make them here again but I guess I couldn't wait so I went ahead and posted them :-)
What can I say about these rolls. They where just insanely good. The combination of the chocolate and the hazelnuts was just superb!!
The only thing about these rolls is that I made them using fresh yeast. I like it way way better, but so far I have not had a chance to get my hands on any. I am still looking though!! and by the way if you would like to use fresh yeast I used 25gr.
I also used my old recipe which you can check out here although I made a few changes here and there. I did not have gluten to use while in Spain so I replaced it with baking powder.
You can use any nuts of your choice and even dark chocolate chips instead. They didn't have any chocolate chips in Spain so I used a chopped block of dark chocolate which was the closest thing I could use to chocolate chips, it actually worked really well :-)
Anyhow, I hope you like them and if you make them please let me know how they turned out for you!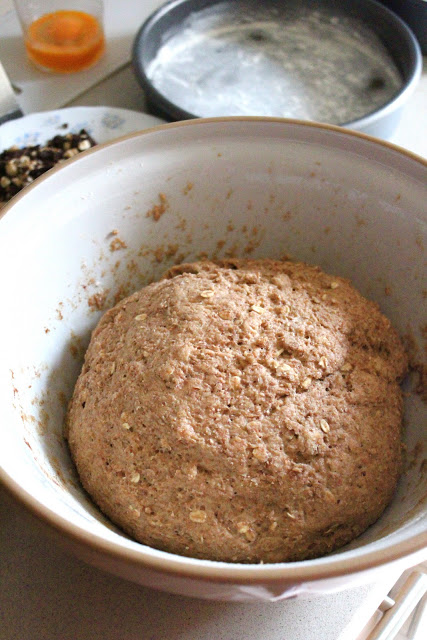 This is how the dough looks like after the first rising. About 1 and 1/2 hours.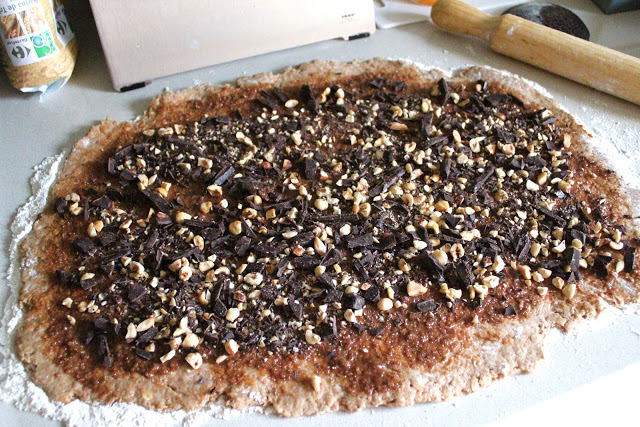 Rolling of the dough, where I placed the egg white mixed in with the cinnamon and sugar and pour chopped dark chocolate and hazelnuts over.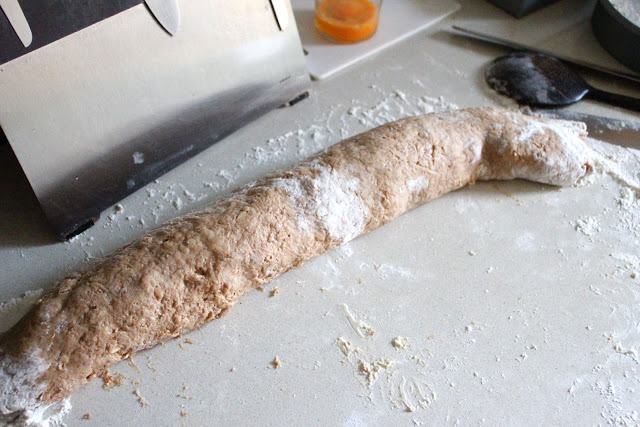 Here you can appreciate the rolling of the roll. Just make sure you do it loosely.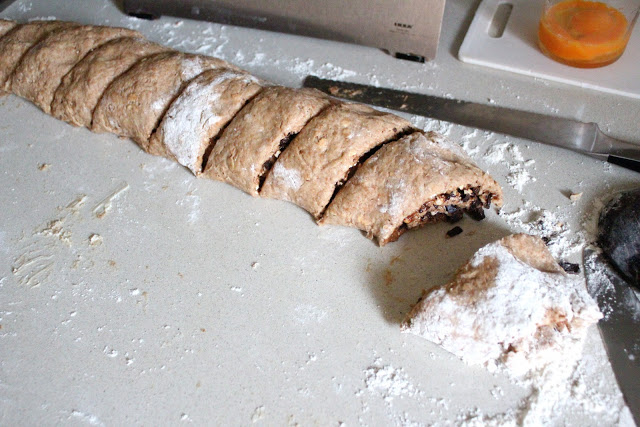 Here I cut the rolls before placing them into the prepared pans. I didn't have a big enough pan at my mom's so I had to divide the rolls between two different baking pans.
Left picture depicts the rolls right before the second rising of the dough. The right picture right after the second rising. You can see the rolls have hardly any room left :-)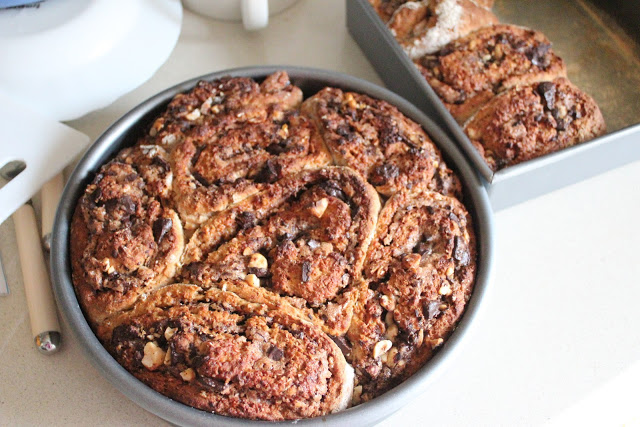 Right before placing the glaze over the rolls. I used lots but you don't have to :-) I also like my rolls on the golden side but you can decrease the baking 5-10 minutes for a less toasty rolls.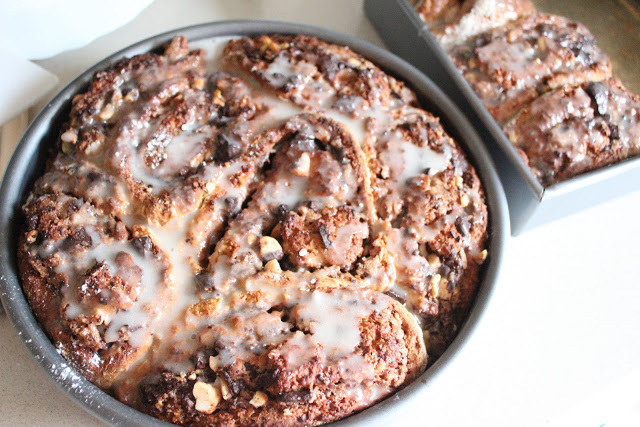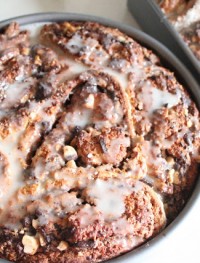 Dark chocolate and hazelnut cinnamon rolls
Ingredients:
1 cup low fat milk or soy milk
1/4 cup orange juice
1/2 cup sugar,  I used a little bit more and I used sucanat
2 teaspoons instant yeast
1 teaspoon baking powder
4 tablespoons butter, softened
2 eggs
Pinch of salt
1/2 cup rolled oats
4 1/2 cups whole wheat pastry flour plus 2-4 tablespoons
1 tablespoon cinnamon, optional
Filling
1 egg white
1 cup brown sugar, I used sucanat
2 tablespoons cinnamon
1/2- 1 cup hazelnuts, chopped
1 cup dark chocolate chips
For the glaze
2 cups confectioners' sugar, less if you like them not so sweet
3-5 tablespoons low fat milk, enough to make a spreadable icing
Directions:
In a bowl mix all of the dough ingredients. Knead it with your hands 2 to 3 minutes. Form the dough into a ball and transfer it to a lightly buttered bowl covered with plastic wrap. Let it stand for 1 1/2 h to 2 hours until double in bulk.
Deflate the dough and transfer to a lightly greased work surface. Roll and pat it into a rectangle (or sort of) and spread the filling over the dough (the filling may seem too sticky to spread easily so wetting your hands may help)
Roll the dough into a log, and using a serrated knife cut it into pieces. Place the buns on a greased and floured pan (or parchment paper) spacing them evenly making sure they won't touch each other. Cover with plastic wrap and let them rise for another 1 1/2 hours.
Preheat oven to 375F. Bake buns for 25-35 minutes. Remove them from the oven and after 5 minutes invert the rolls onto the rack and invert them back again onto a platter.
In a small bowl, whisk the confectioners' sugar with the the milk until the glaze is thick and spreadable. Dollop glaze over each roll and spread. Serve warm or at room temperature.