Crazy Good Cauliflower Mac and Cheese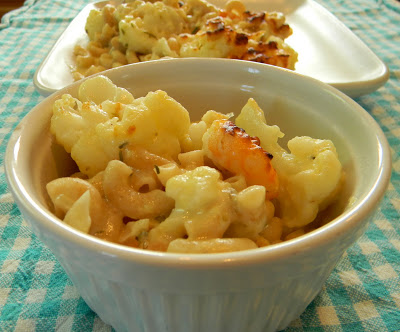 OK so here it is, a better healthier way to prepare Macaroni and cheese.
I have made this recipe several times at gatherings and everyone always asks for the recipe.
The fact that cauliflower is incorporated into this recipe, well, it makes it a a bit healthier. If your kids don't like veggies, hide the cauliflower cutting it into small pieces, that is what I do when we have other kids eating this besides my kids.
This is really a crowd pleaser, you can also add shrimp, crab meat, and a different variety of cheeses. More than often I include crumbled Gruyere and blue cheese among other types. We are big cheese eaters. Hope you enjoy this mac and cheese :-)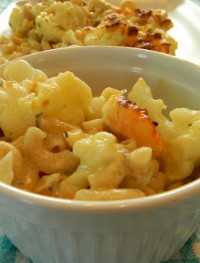 Crazy Good Cauliflower Mac and Cheese
Ingredients:
12 ounces whole wheat elbow macaroni
1 head cauliflower, chopped
3 tablespoons olive oil
1 onion, finely chopped
1 garlic clove, we use more
1 1/2 cups reduced fat extra-sharp cheddar cheese
1 cup low-fat plain yogurt
1 tablespoon Dijon mustard
1/2 cup nonfat milk
2 tablespoons fresh cilantro
Directions:
Heat oven to 400°F. In a pot cook together the pasta. When the pasta has about 3-4 minutes to be done add the cauliflower, drain.
In a saucepan add the oil and cook the onion and garlic until soft, about 4-5 minutes.
In a bowl mix in the pepper, salt, low fat yogurt, milk, 1 cup of cheese, and mustard. Incorporate the pasta with the cauliflower to the cheese mixture.
Transfer the pasta to a shallow baking dish and sprinkle with the remaining 1/2 cup of cheese. Bake until golden brown, about 12-15 minutes. Sprinkle with the fresh cilantro.
You can broil for 3-5 minutes to brown the top. Enjoy.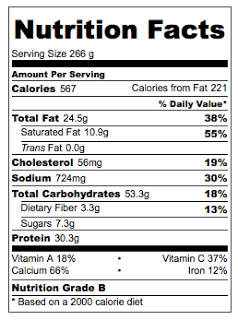 Nutrition facts calculated based on the recipe yielding 6 servings.