Chicken Stir-Fry with Snow Peas and Mixed Bell Peppers
Para poder ver el contenido en espanol pinche al traductor que ahi en la derecha de la pagina seleccionando el idioma correcto.
To be able to see the content in Spanish, click on the translator on the right side of the page, selecting the correct language.

This recipe is sponsored by the American Heart Association the opinions and text are all mine. The end.
February is #HeartMonth and what better way than to start a healthier lifestyle and create healthy habits that work best for you by learning how to cook easy healthy recipes. Cooking meals at home is an important component when adopting a healthier lifestyle. This Chicken Stir-Fry with Snow Peas and Mixed Bell Peppers recipe is a great example that healthy eating doesn't have to be boring or complicated.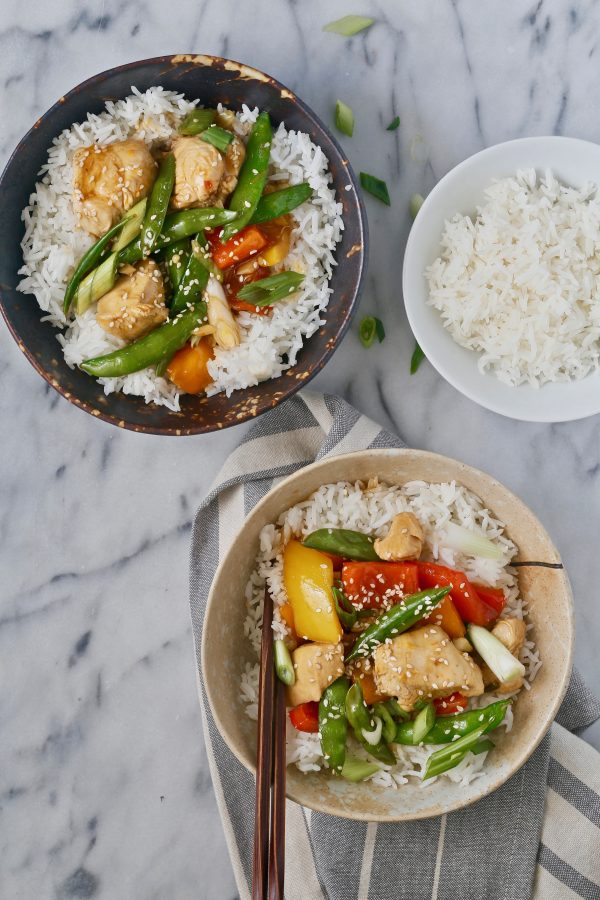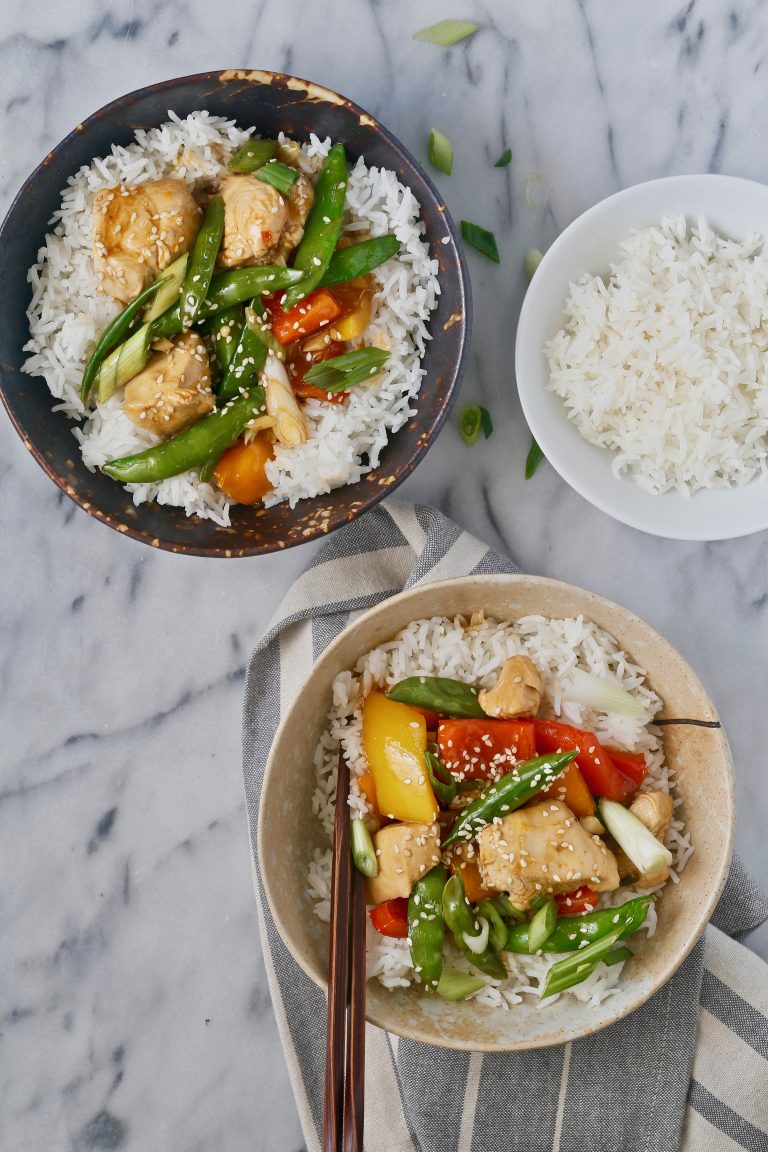 Deciding to start a healthier lifestyle can be daunting Having the right mind set is everything, however not having the right tools can make it complicated.
@american_heart wants to help you create healthy habits that work best for your life, to give you the best chance at life during #HeartMonth. You can visit this link to help you navigate tools and "Reclaim your Rhythm" by making one simple change, to live a longer, healthier, fuller life.
Now more than ever it is very important to maximize your health. Healthy foods to keep in mind are vegetables, fruits, nuts, whole grains, healthy fats, and omega-3 fatty acids. Unhealthy foods to avoid are red and processed meats, sugar-sweetened beverages, trans fat, and sodium.
When adopting a healthier lifestyle, you can start with small steps at first. Rather than changing everything at once, try to make small changes and switch bad lifestyle create healthier habits one at a time. Something as simple as starting to cook your own meals can greatly make a big impact . Cooking meals yourself helps you control what is in your food.Also, exercising whenever possible, walking, running, swimming, biking, will help your heart health. When it comes to hydrating yourself,water is the best choice. In addition, getting enough rest and sleep can also improve the new you.
"Reclaim Your Rhythm™" and start the new you!
Enjoy!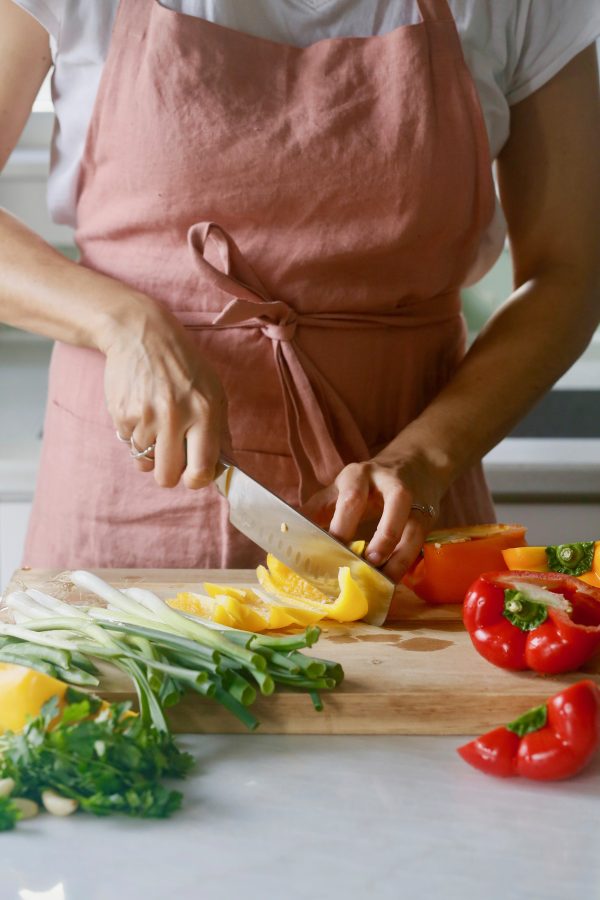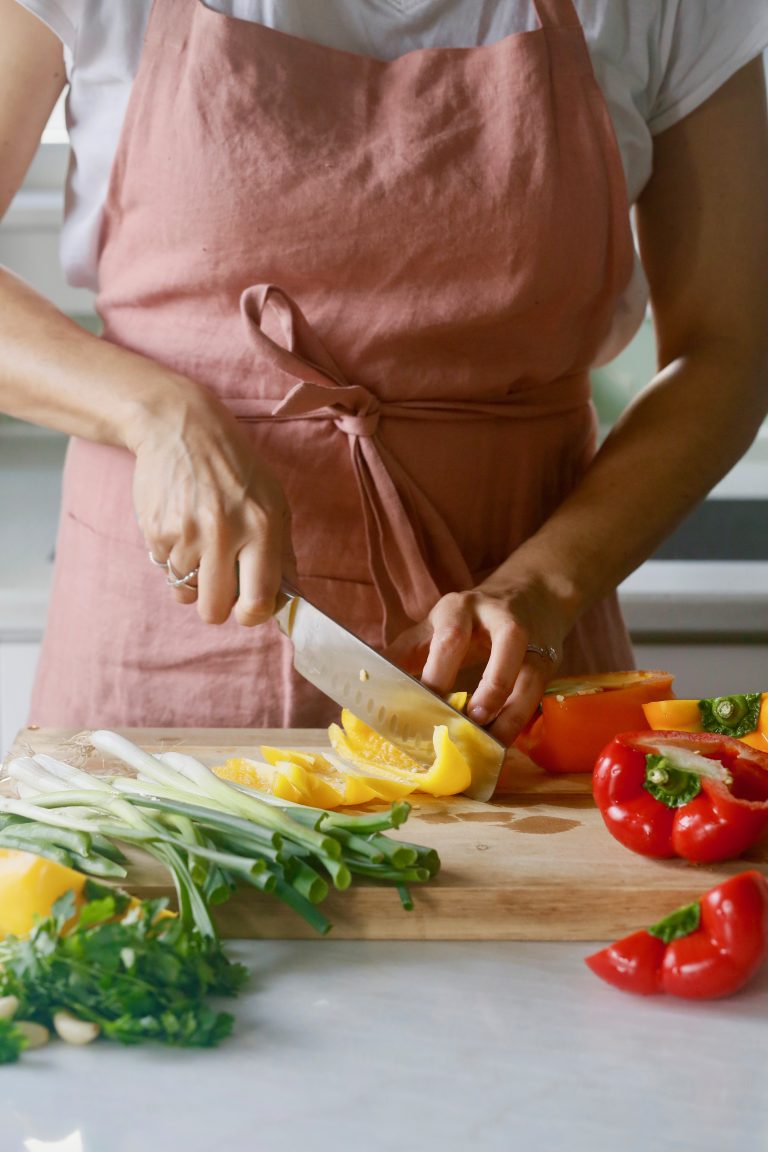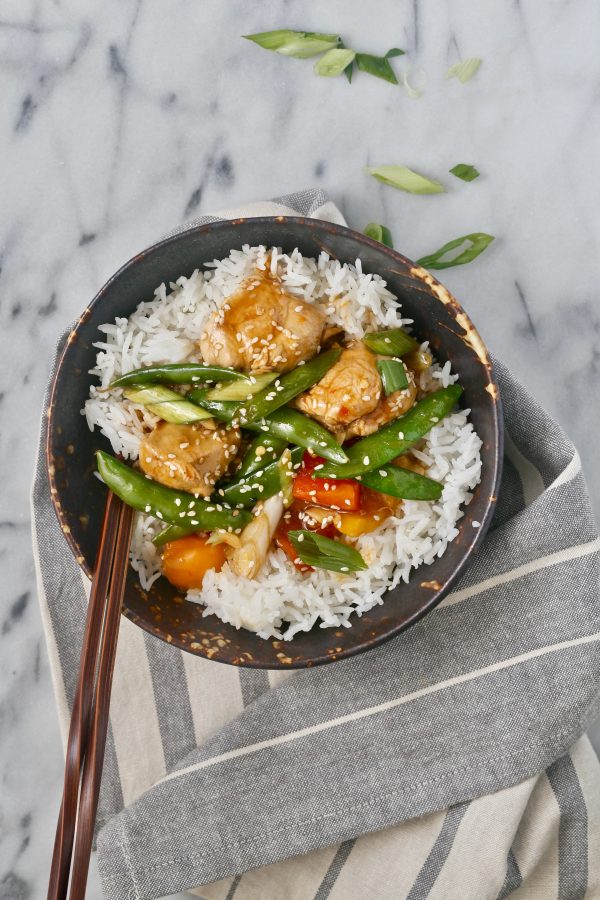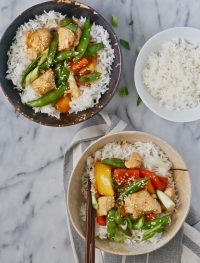 Chicken Stir-Fry with Snow Peas and Mixed Bell Peppers
Yield: 4 servings
Prep Time: 5 minutes
Cook Time: 12 minutes
Total Time: 15 minutes
Ingredients:
1/2 cup fat-free, low-sodium chicken broth
2 tablespoons plain rice vinegar
1/4 cup water
2 teaspoons cornstarch
1 1/2 tablespoons soy sauce (lowest sodium available)
1 teaspoon grated peeled gingerroot
2 medium garlic cloves, minced
1/4 teaspoon pepper
Cooking spray
2 cups fresh or frozen snow peas or sugar snap peas, trimmed if fresh or thawed if frozen
1/3 cup chopped green onions
1 medium red bell pepper, chopped
1 medium orange bell pepper, chopped
1 medium yellow bell pepper, chopped
2 teaspoons canola or corn oil
1 pound boneless, skinless chicken breasts, all visible fat discarded, cut into bite-size pieces
1/2 tsp sesame seeds, optional
Directions:
In a small bowl, whisk together the broth, water, corn starch, vinegar, soy sauce, gingerroot, and pepper. Set aside.
Lightly spray a large skillet or wok with cooking spray. Over medium-high heat add the chicken and cook for 3–4 minutes, stirring frequently. Add the bell peppers and cook for an additional 2 minutes. Add the snow peas, green onions, and cook further for 1 more minute, stirring occasionally.
Stir in the broth mixture. Bring to a boil over medium-high heat. Boil for 1 minute, stirring occasionally or until thickened. If using sprinkle the sesame seeds. Serve over rice or as is.