Butternut squash black rice bean salad
I have been into salads lately especially into butternut squash. The past week I have made three different salads using this ingredient and this Butternut squash black rice bean salad with curry coconut dressing is just my favorite.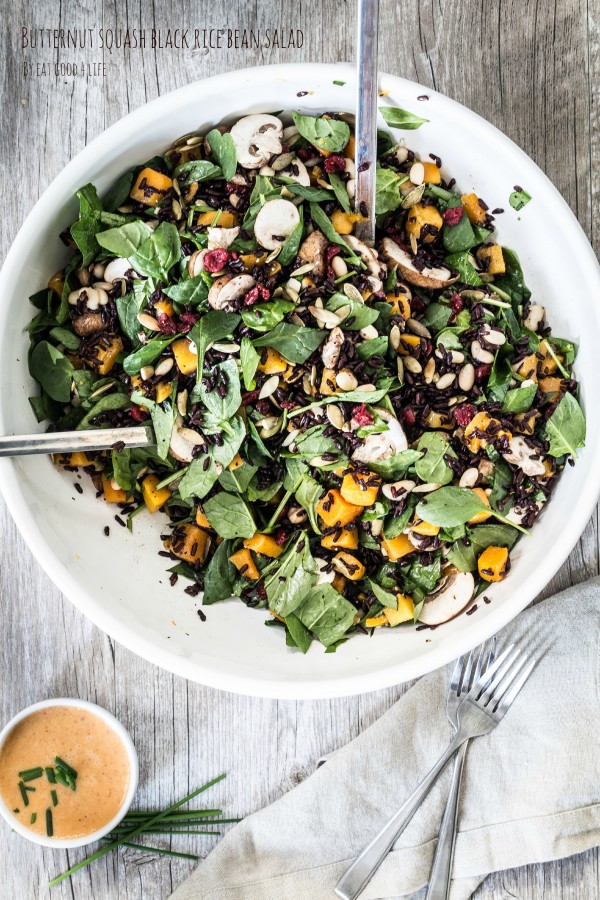 I love Thai curries so I thought, why not incorporate the flavor into a salad? I have seen salad dressing recipes using coconut milk but in my version I used a mixture of coconut cream and almond milk because that is what I had on hand. It turned out better than I thought. This salad dressing is one of the ones that I am going to keep stocked in my fridge for when ever I make a salad. Together with my honey mustard dressing this dressing has become one of my favorite ones.
By using Silk unsweetened almond milk I kept the dressing dairy-free. I like using this type of milk mostly because it is very neutral in flavor, has no added sugar, it is Non-GMO, and has no artificial colors, or flavors. This is my to go type of milk not only for when I bake and make desserts but I also use it when making smoothies and eat cereal. In addition, almond milk is lactose free and it has 50% more calcium than dairy milk.
I purchased the butternut squash already chopped so the only thing I had to do was to roast it in the oven with some olive oil and black pepper. Surely you can peel and chop it yourself but getting already prepared butternut squash save me a bit of time.
I am in love with butternut squash lately. I think I am going to make a macaroni and cheese version using this vegetable. It will give the pasta such a beautiful color and flavor. I think my kids are going to love it too.
If you like Thai flavors you are going to love this salad. I have a couple more salads in store for you using butternut squash, like I said, I am obsess with it lately.
If you are looking for a heathy dish for your Thanksgiving table this butternut squash black rice bean salad will make a great contender.
I hope you like it.
Enjoy!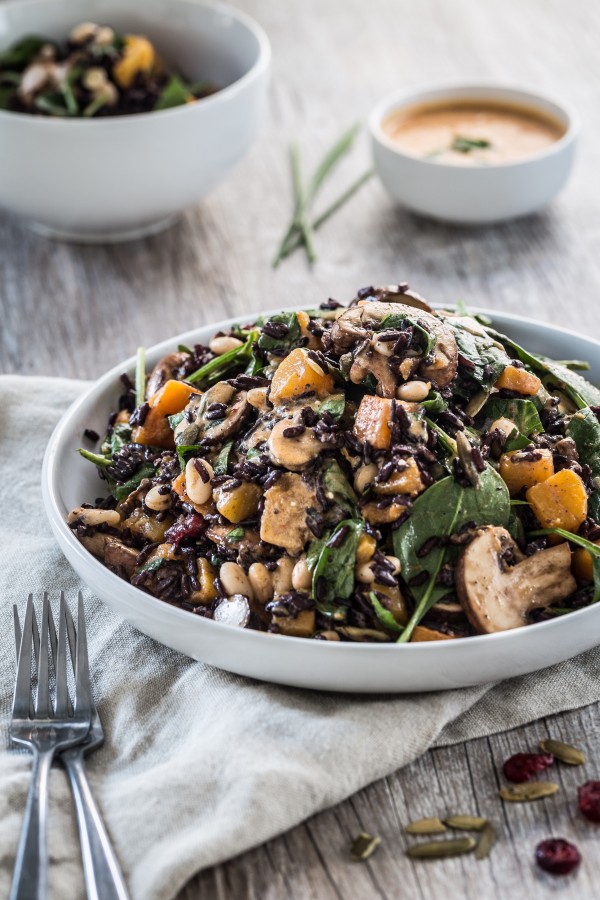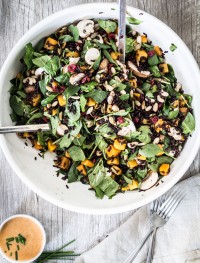 Butternut squash black rice bean salad
Yield: 8 servings
Total Time: 25 minutes
Ingredients:
2 cups dried black rice
2 lb butternut squash, chopped
6 oz fresh spinach, chopped
15 oz white beans, cooked
10 oz sliced mushrooms
1/4 cup pumpkin seeds
1/4 cup dried cranberries
2 tbs olive oil
black peeper
Dressing
1  cup coconut cream
1/4 cup almond milk
1/4 cup extra virgin olive oil
1/3 cup rice wine vinegar
2 tbsp red curry paste (I used panang curry paste)
Directions:
Preheat oven to 400 degrees Fahrenheit.
Place the butternut squash, olive oil and pepper in a baking pan and coat the butternut squash with the olive oil. I use my hands for this step. Roast in the preheated oven for 15 minutes and cool.
On the meantime, cook the black rice. I do this in my rice cooker. Let the black rice cool once it is cooked. In a small bowl mix the dressing ingredients and set aside.
In a large bowl add the cooled butternut squash and black rice and the rest of the salad ingredients. Combine. Add the dressing and mix through. Serve.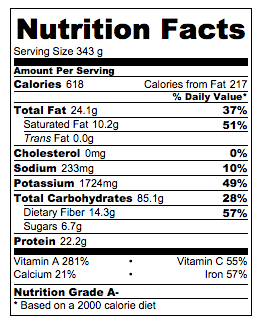 This conversation is sponsored by Silk. The opinions and text are all mine.