Blueberry Whole Wheat Baked Donuts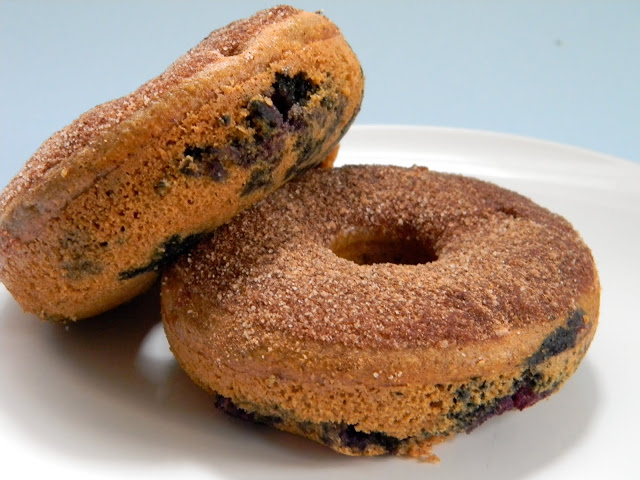 So one of the desserts I have always loved are donuts. The month I started this blog I had a donut recipe as well, here is the link for that. I pretty much used the same one but tweaked it just a bit. Of course we know that donuts tend to be fried therefore not very healthy for you although this is a much better alternative.
Also changing the ingredients for this recipe makes it even better for you like using whole wheat flour vs white flour (enriched and stripped out of all the goodness).
I would say that these donuts taste more like a muffin though but never the less pretty good. My son thinks he is having the real deal so for sure I will be keeping this recipe on hand.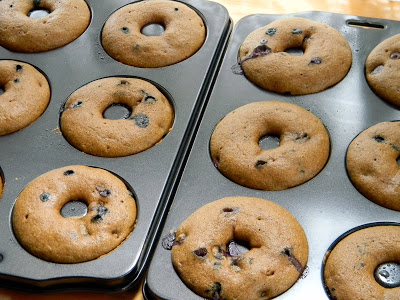 This is how the donuts look after getting them out of the oven. Let them cool in the pan for about 5 minutes before removing them. Running a knife carefully around the edges will help you get them out.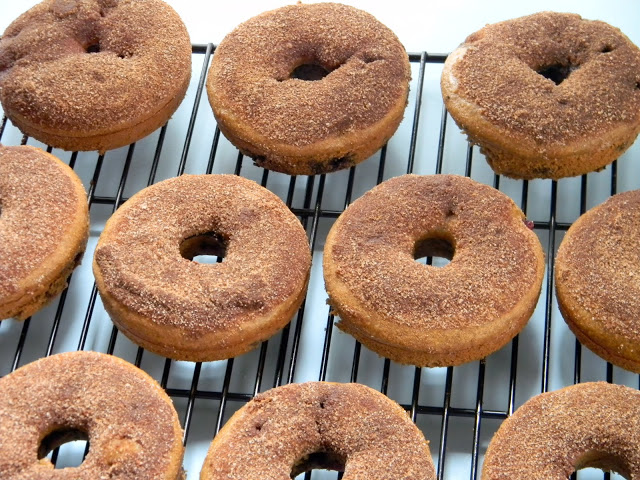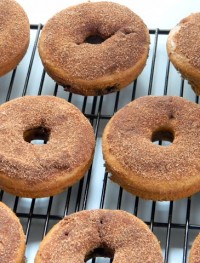 Blueberry Whole Wheat Baked Donuts
Ingredients:
2 cups whole wheat pastry flour
1/2 cup sugar
2 eggs
1 to 1 1/2 cup of fresh blueberries
1 teaspoon baking powder
1/2 teaspoon baking soda
1 cup low-fat milk plus 2 tablespoons
2 tablespoons olive oil
1 teaspoon vanilla
1 pinch cinnamon
1 pinch nutmeg
For the sugar coating
3 tablespoons of melted butter
1/2 cup sugar
1 tablespoon of cinnamon
Directions:
Preheat oven to 325°F. Spray donut pan with cooking oil. In a bowl, whisk eggs, milk, sugar, vanilla, oil, nutmeg and cinnamon. Add flour, baking powder and baking soda. Whisk until combined. Carefully fold in blueberries. Fill each donut hole 2/3 full.
Bake for 15-20 minutes. Cool for about 5 minutes and remove from pan to a wire rack. Cool completely.
In a bowl combine sugar and cinnamon. In another bowl place melted butter.
Dip each donut on the butter followed by the cinnamon sugar. Enjoy
Tip: Make sure you grease the pan all over specially in the middle round donut piece otherwise they will stick when getting them out of the pan, probably breaking apart on the process. Mine did a little bit.