Mixed berry and granola parfait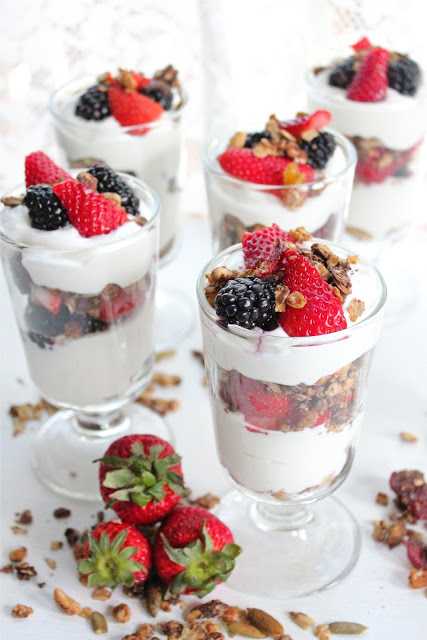 I have seen many versions of parfaits before and I think since it is a very simple, luxurious and nutritious dessert it was time for me to make my own.
While I have made different versions, ones healthier than others, I figured I post the healthiest variation I have made so far. In these parfaits I used a mixture of heavy cream and Greek yogurt, more Greek yogurt than anything really. You can opt for choosing to make them all with Greek yogurt. I think they would still be good since Greek yogurt is rather thick in consistency.
Like many of the recipes I post in my blog, this one is also very versatile. You can add any type of berries, or fruit for that matter, you may prefer and use what ever granola you like. Also these parfaits weren't that sweet at all so you can add more sugar if you like.
If you are having company over and want to make a quick, luxurious and nutritious dessert, this is it. For breakfast, for lunch or dinner, this is the perfect sweet treat that won't pack up much guilt :-)
Enjoy!!
Hulled the strawberries. I used a thick straw to do that. A very easy and simple way of doing so!! I always use organic berries. They don't only taste better but pesticides do affect berries much more than any other fruit so if you can afford it and can find them, get them!!
You can add more granola or make the parfait entirely just Greek Yogurt. I did a mixture of heavy cream and Greek yogurt that was really yummy but if you want to decrease the saturated content of it go ahead and just do Greek Yogurt!!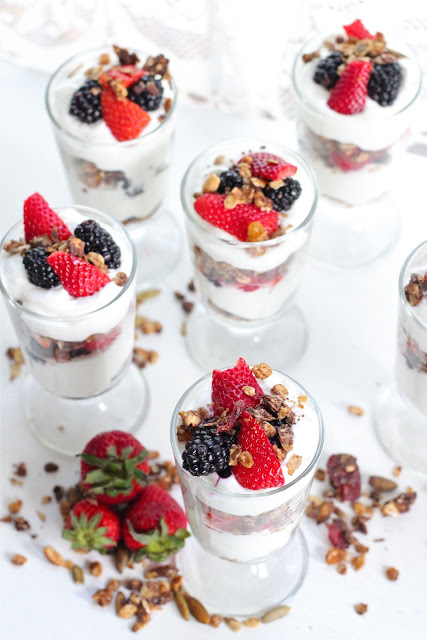 These parfaits are simple, nutritious, and super tasty. You can have them for breakfast, as a sweet treat or just because :-)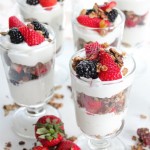 Mixed berry and granola parfait
Ingredients:
1 1/2 cups heavy cream
1 lb Low fat Greek yogurt, I used 2%
1 cup granola (I used dark chocolate and peanut butter home made granola
4-6 tablespoons confectioner's sugar, honey may work as well but I have not tried it though
2 cups mixed fresh organic berries, strawberries, raspberries, blueberries, blackberries....
Directions:
In a bowl, whip the heavy cream with the sugar. Fold in the Greek yogurt. In a parfait glass, or any glass container for that matter, place 1 tablespoon of Granola followed by 2 tablespoons of the Greek yogurt mixture. Place some berries over the yogurt and repeat layer.
Refrigerate parfaits until it is time to serve.
Nutrition facts calculated based on the recipe giving 6 parfaits. 
The right nutrition facts is using just Greek yogurt, but 1.5 lbs instead of 1 lb. The left nutrition facts is using the mixture of Greek yogurt and heavy cream.
Related Posts
10 Responses to "Mixed berry and granola parfait"
Leave a Comment