hummingbird cake
Does any one know where the name hummingbird cake comes from? I did a web search and found that back in the 1970′s there was a cake featured on a magazine and was called hummingbird cake although even then the name still was a mystery. Oh well…..
I have seen many different variations of this cake. I think this cake resembles this Coconut and pineapple cake I made a while ago, mine just didn't have bananas :-).
Anyhow, this cake was rather delicious, maybe too rich for some followers although for me it was OK. This is not a dessert I would have every day though but once in a while is OK.
I baked the cake with walnuts and decorated it with pecans. You can use whatever you may like and as for the frosting, I think you can also omit the butter. I only used 4 tablespoons but in my opinion I think it can be omitted. I have made cream cheese frosting many times without butter and it has turned out OK.
Enjoy!!
Here you can appreciated before and after baking the cakes. I only used two layers. I think that was enough!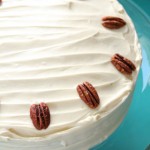 hummingbird cake
Ingredients:
2 cups whole wheat pastry flour
1 teaspoon baking soda
1/2 teaspoon ground cinnamon
1/2 cup olive oil
1 teaspoons vanilla extract
1 cup sugar
2 eggs
2 ripe bananas
2/3 cup crushed pineapple plus 4-6 tablespoons pineapple juice
2/3 cup chopped walnuts or pecans.
Cream Cheese Frosting
16 ounces cream cheese
4 tablespoons unsalted butter, at room temperature
1 to 1 1/2 cups confectioners' sugar
Directions:
Preheat oven to 350°F. Grease and flour two 9 inch round cake pans and set aside.
In a bowl, with a wire whisk combine oil, vanilla, eggs and sugar. Mix in the mashed bananas. Add the flour, baking soda, and cinnamon. Fold in the pineapple, and nuts.
Divide the batter between the prepared pans and bake for 25-30 minutes, or until a cake tester inserted in the center comes out clean. Let cake cool in the pans for 10-15 minutes and transfer the cakes to a wire rack to cool completely.
To make the cream cheese frosting, in a bowl, combine the cream cheese and butter. Beat on medium-high speed until the frosting is well combined and smooth. Gradually beat in the confectioners' sugar until well incorporated.
To assemble the cake, place one cake in the bottom and spread 1/3 of the cream cheese frosting. Place the other cake on top and finish frosting the top and sides of the cake with a rubber spatula. Decorate with pecans or walnuts.
Keep cake refrigerated.
Nutrition facts calculated based in the cake giving 10 servings.
Related Posts
4 Responses to "hummingbird cake"
Leave a Comment