creamy pumpkin pasta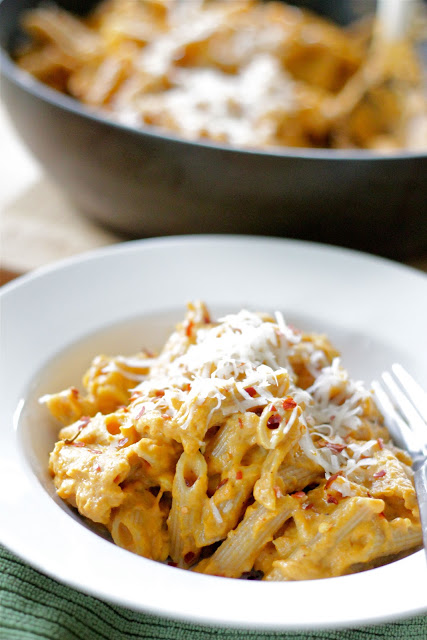 I went for a stroll down town the other day and went into William-Sonoma. I must admit I love that store, however, just as inspirational purposes. Prices there are nothing but unfriendly!!
Anyhow, I came across this creamy pumpkin pasta sauce while in there, looked at the ingredient list and thought, I can make this? So the next day I did. I must admit I am not a big pumpkin fan but I always try to find ways to be able to eat it, as it is very high in Vitamin A.
Well, this is the pasta that I came up with. Not only this pasta is super easy to put together but it is really comforting. My family actually enjoyed it quite a bit. I am thinking about freezing my left over for future consumption :-)
One thing I must make note of is that my pumpkin sauce was sort of on the thicker side. Maybe because I added tons more cheese, who knows, but if you like a thinner sauce just add a bit more milk. I liked mine thick!
I hope you get to try this. I am not a big pumpkin fan but this pasta was superb.
Enjoy!
On the left picture you can see the garlic and pumpkin before I added the vegetable stock on the right picture.
After you add the chicken stock add the milk, heavy cream and cheese. Mix through. My sauce was sort of thick but if you like a thinner sauce just add more milk until you reach your desired consistency.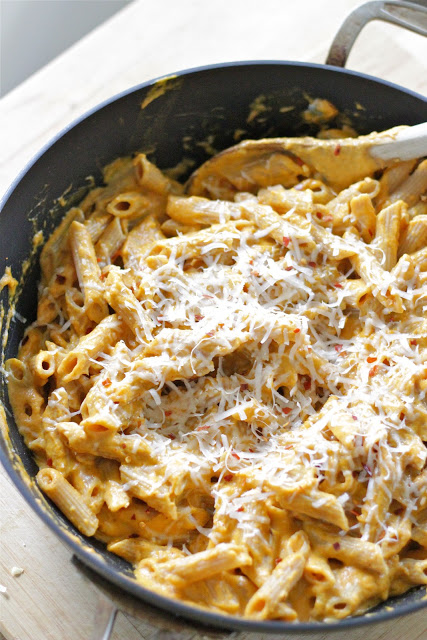 This was rather a very simple, fast and comforting pasta dish. I hope you enjoy it as much as we did.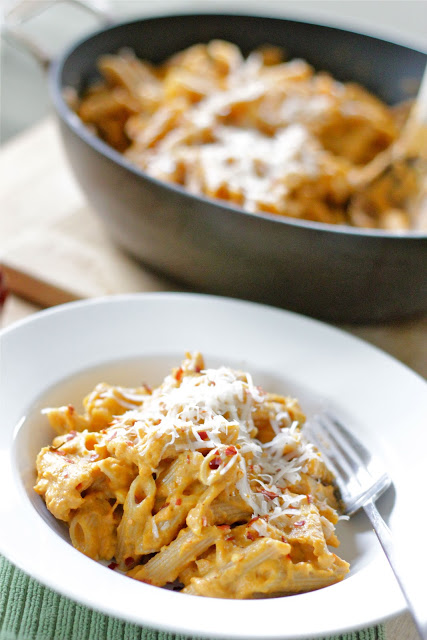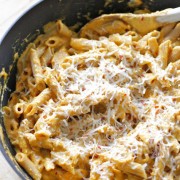 creamy pumpkin pasta
Ingredients:
1 lb whole wheat penne
2 garlic cloves
2 Tbsp olive oil
1 cup pumpkin puree, depending on your personal taste
1 cup vegetable broth
1/2 cup heavy cream
1/2 cup milk, more if you like a thinner sauce
1 tsp salt
1/2 tsp nutmeg
1 cup parmigiano reggiano, I used about 2 cups, we like cheese! You can also use Parmessan
1 tsp pepper flakes, optional.
Directions:
Cook pasta according to box instructions.
In a large skillet heat the oil over medium to high heat. Add the garlic and cook for 30 seconds, just until fragrant. Add the pumpkin puree, vegetable broth and mix through. Add heavy cream, milk, nutmeg and salt and cook over medium heat stirring occasionally for about 5 minutes.
Add the the cheese and pepper flakes if using. Stir, turn off heat and incorporate the pasta. Serve with some extra cheese and pepper flakes.
Nutrition facts calculated based on the recipe giving 6 servings.