Cheesecake Flan
I don't know if I have said it before but flan is one of my favorite desserts. In Spain, ever since I was a little girl this is what I used to have as a treat, so making this takes me way back.
This time around I figured I'd make the flan but with a twist, with cream cheese in the flan, which I have seen before, called cheesecake flan and, oh boy! This is just magnificent to say the least.
This is a must try recipe, you have to make this. It is so simple, and so delicious…..I think I am going to make it every day of the week it is that good :-)
If you have never made a dessert in a water bath don't be discouraged, it is just not that big of a deal. I just hope you try this one and like it as much as I did. Enjoy!
This is how the flan looked like after chilling it in the refrigerator, right before inverting it onto a plate.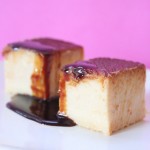 Cheesecake Flan
Ingredients:
1 14oz can sweetened condensed milk,  I found this organic at Trader Joes'
1 13oz can 1% evaporated milk
3 eggs, I always use organic
8 oz reduced fat cream cheese, at room temperature
2 teaspoons vanilla extract
For the caramel
2 cups sugar
1/4 cup water
Directions:
For the caramel, combine the sugar and water in a medium saucepan and stir just to moisten the sugar. Place over medium heat and bring to a simmer. Reduce the heat and simmer about 10-15 minutes without stirring, until the sugar has melted and caramelized and is medium amber in color.
Immediately pour the caramel into the bottom of the baking pan to coat the bottom. (I used an 8 inch pampered chef pie dish but you can use a 9 inch round baking pan as well)
Preheat oven to 325°F.
In a bowl, using an electric mixer beat the cream cheese with the eggs. Add the condensed milk, evaporated milk, and vanilla extract and continue to beat together until everything is well incorporated. Pour the custard over the caramel into the baking dish.
It will need to bake in a water bath in the oven. Set the baking dish into a large baking pan with tall sides and pour water around the flan baking dish to come 2/3 the way up the sides.
Bake for about 1 hour and 30 minutes (I baked mine for 1 hour and 40 minutes) until the flan is set and the center only jiggles a little bit. Remove flan from the oven and water bath and let cool. Chill in refrigerator for at least 8 hours.
To serve turn the flan out onto a flat serving platter and cut into slices. Store in the fridge for up to 2-3 days.
Nutrition facts calculated based on the recipe giving 8 servings.
Related Posts
3 Responses to "Cheesecake Flan"
Leave a Comment